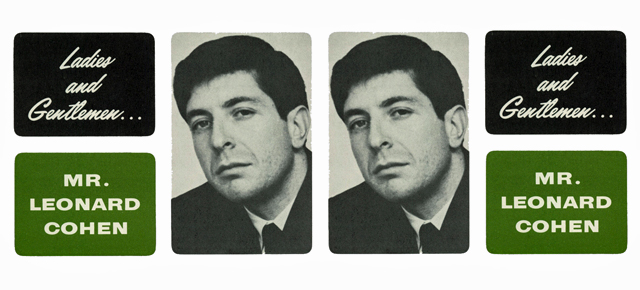 4 Leonard Cohen Films on the Occasion of His 78th Birthday
Leonard Cohen, like Bob Dylan and Sean Connery, belongs to that elusive and blessed class of people who spend their lives self-assuredly and elegantly unspooling a capital of awesomeness already captured in youth.
The Montreal-born singer-songwriter, musician, poet, and novelist has been around seemingly forever and yet, no one seems to have had enough of his words – written, sung or both.
As Cohen celebrates his 78th birthday today, check out these 4 films that hark back to days when the singer was still chiefly a poet, and all the rest – Rock and Roll Hall of Fame, Order of Canada and those 200 + cover versions of "Hallelujah" – still a twinkle in his ink pot.
Ladies and Gentlemen… Mr. Leonard Cohen
Ladies and Gentlemen… Mr. Leonard Cohen , Donald Brittain & Don Owen, provided by the National Film Board of Canada
This film is the real gem of the bunch. Directed by Donald Brittain in 1965, it truly is, after Joyce, a portrait of the artist as a young man. Over three quarters of an hour, it follows the prodigal son on one of his visits back to Montreal. (The rest of the time, the young artist dwells in Greece with a doe-eyed blonde.) Cohen is 30, dapper, confident to the point of cockiness. He already has 4 books out, a way with women, and a growing reputation.
The camera tags along as Cohen reads poems in front of crowds, hangs out in bistros (where girls in beehives sip on stout Molson Export bottles), wistfully walks around Mount Royal Park, and enjoys a shave and a bath in a "$3 hotel room" (where he is seen in turn 1- bare-chested, 2- sporting a pair of tightie-whities, and 3- ordering a cheese sandwich and a glass of milk in flawless French.)
Between discussions about the I-Ching, being vegetarian (something that helps him "feel honest about petting a dog"), and visiting Havana at the height of the Bay of Pigs fiasco, the film suggests Cohen is nothing but perfectly poised for even greater success. Captured by Brittain, the man's very being – eyes, hunched shoulders, hands and all – appear to already contain the seeds we now know sprouted, proliferated and bloomed so brightly thereafter. A must-watch for any Cohen fan.
Angel
Angel, Derek May, provided by the National Film Board of Canada
Angel falls in the broad and uncanny category of "NFB experimental film." Here, a girl, a man and a dog are messing around with a giant pair of polka dot wings. That's pretty much as far as it goes, in terms of storyline, but the highly stylized black-and-white visuals please the eye and yes, Leonard Cohen wrote the music. (The song is performed by the Stormy Clovers.)
Poets on Film No. 1
Poets on Film No. 1, Bozenna Heczko, Elizabeth Lewis, Gayle Thomas & Janet Perlman, provided by the National Film Board of Canada
This film's part of a series of animated shorts illustrating works by Canadian poets. Cohen's poem, "A Kite is a Victim," read by Paul Hecht, is paired with vivid colour drawings by Elizabeth Lewis. You'd do well in watching the whole thing, but if your attention span is Cohen-exclusive, you'll find what you're looking for between 1:50 and 3:17.
Poen
Poen, Josef Reeve, provided by the National Film Board of Canada
How many words is a picture worth, again? Poen, a peculiar film with a peculiar premise, gently pokes at this question. What you have here is one same poem (a prose poem from Cohen's novel, Beautiful Losers) being read by Cohen 4 times in a row. What makes it fresh and thought-provoking, instead of the most mind-numbing film out there, is the image sequence that illustrates each rendition. Not only are the visuals are quirky and interesting to look at, in and of themselves, but tracking the degree to which the evolving word-image pairings shifts the poem's meaning, or at least open new avenues for interpretations, is deeply intriguing. The result's trippy, but definitely good trippy.