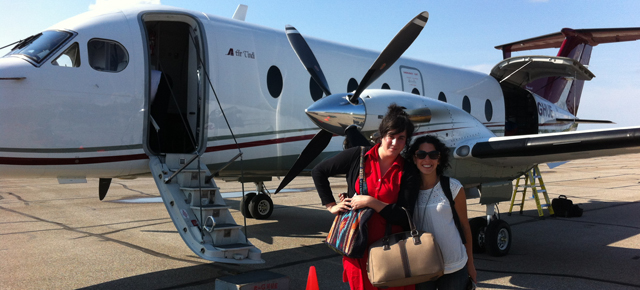 NFB Education Takes the Show on the Road: A Visit to the Northwest Territories
Written by NFB Education Team Leader Claudia Sicondolfo and NFB Education Specialist Lolo Desrosiers-Guité
In August 2012, NFB Education was invited to the Northwest Territories to give workshops and presentations to educators and youth. As members of the newly formed education team, we were eager to take our show on the road and embark on our first trip across Canada! We travelled through 4 provinces and took 3 flights to get to our first destination in the NWT—a small but engaged community in the Deh Cho Region called Fort Simpson. There, we presented 2 workshops to 80 teachers from the Deh Cho Board. We were also invited to share in the Board's celebratory feast, where we had the opportunity to meet teachers over delicious home-cooked meals. While in Fort Simpson, we worked with youth from the Deh Cho Friendship Centre as they created lively and personal digital stories. A digital story—as you'll see below—is an edited audiovisual media piece that uses photography, narration and sound layering.
The rest of our week was spent in Yellowknife, where we met with youth of all ages and teachers and librarians specializing in diverse subject areas. As we met educators from Yellowknife's various educational institutions, we shared with them the NFB's new and exciting educational programming. We demonstrated our Digital Storytelling workshop, some of our stop-motion animation tools (like StopMoStudio and PixStop for the iPad 2) and our online educational screening room, CAMPUS. We also became engrossed in the city's vibrant cultural life, in particular the colourful Yellowknife houseboats and some exceptional local art projects, like the glass-blowing workshop in Old Town.
Our first NFB Education road trip was unforgettable. Between our encounters with the educators we met and the youth who created projects with us, we came to understand the true meaning of "northern hospitality," experiencing first-hand the warmth that goes with it.
Below is the digital story of our experience in the NWT, featuring photographs taken during the visit. We hope you enjoy it!
Be sure to follow the NFB Education Blog for more travel stories, as we continue to take NFB Education on the road.