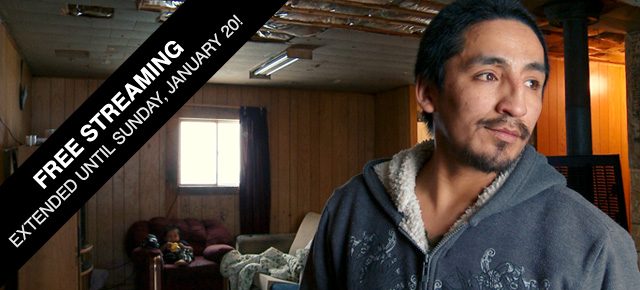 7 Days Only! Watch Alanis Obomsawin's New Doc on Life in Attawapiskat for Free Online
Alanis Obomsawin's documentary
The People of the Kattawapiskak River
will be streamed free of charge for 7 days beginning Friday, January 11, on the NFB's
Aboriginal Peoples online channel
. This documentary will be showcased along with a new online playlist, programmed by the NFB to provide multiple perspectives and historical background on First Nations issues.Written and directed by a legendary First Nations filmmaker,
The People of the Kattawapiskak River
explores the housing crisis inside the Cree community of Attawapiskat in Northern Ontario, which today is at the centre of a much larger national debate on the living conditions and rights of First Nations people across Canada.
The playlist will also feature Alanis Obomsawin's landmark 1993 work Kanehsatake: 270 Years of Resistance, as well as her 1988 documentary No Address, Richard Desjardins and Robert Monderie's 2007 documentary The Invisible Nation, and Peter Pearson's 1967 classic Encounter With Saul Alinsky – Part 2: Rama Indian Reserve.
The NFB is a world leader in producing works by Aboriginal filmmakers and digital media artists. Its website features documentaries, animation, fiction films and interactive works by acclaimed First Nations, Inuit and Métis artists, available for streaming or download, as well as educational resources developed for and with Canadian teachers, for use in classrooms.
The People of the Kattawapiskak River
Alanis Obomsawin's new documentary exposes the housing crisis faced by 1,700 Cree in Northern Ontario, a situation that led Attawapiskat's band chief, Theresa Spence, to ask the Canadian Red Cross for help. With the Idle No More movement making front page headlines, this film provides background and context for one aspect of the growing crisis.
The People of the Kattawapiskak River is the first in a series of films by Obomsawin on the rights of Aboriginal children in Canada, and is written and produced by Obomsawin and executive produced by Ravida Din.
In a distinguished career spanning more than four decades, Obomsawin has made over 35 uncompromising documentaries on issues affecting Aboriginal people in Canada. One of Canada's most renowned artists, Obomsawin is an Officer of the Order of Canada and a member of the  Canadian Film and Television Hall of Fame, and her many personal honours include the Governor General's Performing Arts Award for Lifetime Artistic Achievement.
The People of the Kattawapiskak River, Alanis Obomsawin, provided by the National Film Board of Canada