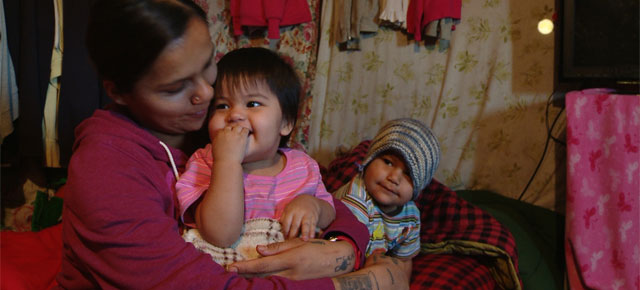 5 films about Aboriginal issues
Last Friday, we launched Alanis Obomsawin's latest film, The People of the Kattawapiskak River, as a way to provide background and context for what's taking place in the news and across the country with the Idle No More movement. In the film, Attawapiskat's residents opened up to Alanis and talked about their first hand experiences as they struggle with the housing crisis. Reaction to the film was incredible. It was widely shared, and proved to be a conversation starter for people on both sides of the debate.
Here at the NFB, we have one of the most extensive collections of films that deal with Aboriginal issues, as well as films made by Aboriginal filmmakers. In addition to the films that celebrate art, culture and a way of life, we also have titles that deal with the housing crisis, poverty, constitutional and human rights. As a result of what's going on right now, we decided to present the following films, as they each touch on today's issues in some manner.
And don't forget – if you haven't seen The People of the Kattawapiskak River, it will only be streaming until this Friday, January, 18. As Charlie Angus wrote in the Huffington Post, this films shows "the housing crisis through they eyes of the people at ground zero" from the "woman who is the documentary voice of Canada's First Nation communities."
The People of the Kattawapiskak River, Alanis Obomsawin, provided by the National Film Board of Canada
Also by Alanis Obomsawin, we have Kanehsatake: 270 Years of Resistance, her seminal film on the Oka Crisis in 1990:

Kanehsatake: 270 Years of Resistance, Alanis Obomsawin, provided by the National Film Board of Canada
We have Richard Desjardins' film The Invisible Nation, about the vanishing Algonquin population:
The Invisible Nation, Richard Desjardins & Robert Monderie, provided by the National Film Board of Canada
No Address is another film by Alanis Obomsawin that looks at the plight of Native people who come to Montreal searching for jobs and a better life:
No Address, Alanis Obomsawin, provided by the National Film Board of Canada
And finally, Encounter with Saul Alinksy – Part 2: Rama Indian Reserve, a film in which the American community organizer meets with a group who are seeking to revise the Indian Act by peaceful persuasion:
Encounter with Saul Alinsky – Part 2: Rama Indian Reserve, Peter Pearson, provided by the National Film Board of Canada