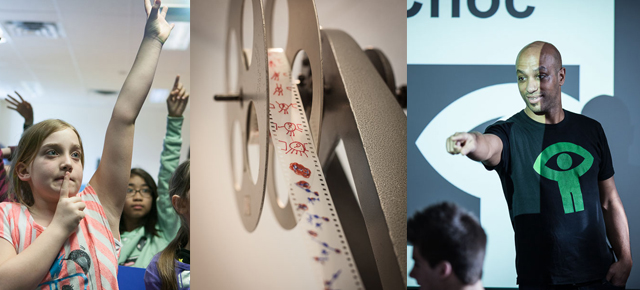 NFB Educational Workshops: For the Love of Making Movies
Educators have the opportunity to take their students on a field trip to the NFB Educational Workshop Spaces. Here, they will meet our team of experienced media and education specialists, who facilitate animation and documentary workshops for students of all ages in both Montreal and Toronto. We offer stop-motion animation, Norman McLaren animation, documentary and digital storytelling workshops. Check out our Educational Workshop offers!
It wasn't until my 2nd year of university that I discovered my love of filmmaking. I took my very first film class, Introduction to Film and Video, at UBC. I had an extremely passionate and dynamic teaching assistant who spoke with wide eyes and rigour about cinema, and who ultimately inspired me to make films. I was keen and quickly became involved with the UBC Film Society. I even taught myself how to make a stop-motion animation, using a book by the famous Aardman Animation studio and an old camera. Instantly, I knew that I would commit to this craft and become a filmmaker and share my new passion with others.
That was 10 years ago, and since then I've been making films, teaching film and animation and, of course, I am still learning about this constantly changing medium. Now I work at the NFB Education offices in Montreal: a place where I can share my passion for film and animation and provide a space for students to become inspired and make their own films (yes, dream job). To be honest, I don't know if I would be here if it weren't for the teacher at UBC who shared his passion for filmmaking with me.
Who knows where one of our workshops will take your students?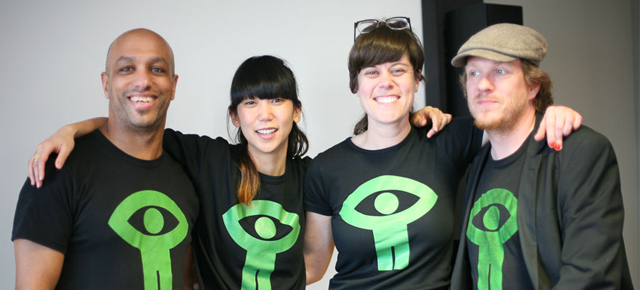 Here are the bios of the incredible NFB workshop team members in Montreal and Toronto:
Fouad Sassi, Education Specialist/Workshop Facilitator, Montreal
After completing a BA in Psychology and a BA in Film Studies at University Paris 8 in France, Fouad Sassi came to Canada in 2004 for an MA in Film Studies at l'Université de Montréal. In 2006, he worked on a feature film (On the Trail of Igor Rizzi) as production manager and first assistant director. He completed his Master's degree in 2008.
Anne Koizumi, Education Specialist/Workshop Facilitator, Montreal
Anne Koizumi completed her undergraduate studies in Film Production at the University of British Columbia and her MFA in Film Production at York University in 2011. In 2006, she was invited by the National Film Board of Canada to participate in Hothouse 3, an intensive animation program for emerging animators, where she completed her first professional film, A Prairie Story.
Jessie Curell, Education Specialist/Team Leader, Montreal
Jessie Curell holds a BA in Anthropology, a Graduate Diploma in Communications and an MA in Media Production. She combines her educational background with her prior work experience in various Canadian communities, with organizations such as CBC Radio, the Klondike Institute of Art and Culture, Leave Out Violence Media Education, and Regent Park Focus Media Center.
Marc-André Roy, Education Specialist/Workshop Facilitator, Montreal
Marc-André has worked at the National Film Board for nine years as a workshop facilitator. He is highly involved in the development and design of the educational workshops at the NFB. He continues to develop his skills as a workshop facilitator and education specialist through extensive film and video training. He studied visual arts at Cégep du Vieux-Montreal and UQAM. He is also a painter, writer and photographer.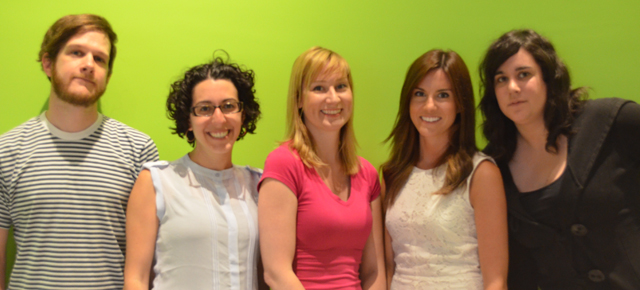 Dan Thornhill, Technical and Production Coordinator Education Programs, Toronto
Dan Thornhill is an OCAD graduate who is always keeping up with new technologies and user experiences. Starting at the NFB in 2003 he has had various roles and been involved in a number of interactive installations, frequently incorporating video, sound, sculpture, electronics and programming. His most recent project was the "How to Build an Igloo" exhibit which has appeared at the Canadian Museum of Nature and the NFB Mediatheque in Toronto, and can be experienced at Jacques-Cartier Park on Canada Day.
Claudia Sicondolfo, Education Specialist/Team Leader, Toronto
Claudia completed her BA Honours degree in English and Film Studies at Carleton University in Ottawa, and is an MA graduate of the Cinema and Media Studies program at York University in Toronto. Her MA research focused on emerging media's relationship with community engagement and pedagogy.
Renée Lottridge, Education Specialist/Workshop Facilitator, Toronto
After receiving an undergraduate degree in Fine Arts Cultural Studies from York University, Renée pursued her passion for education and language arts by teaching English as a Second Language for several years in Montreal, Mexico and her hometown of Toronto. Following two glorious months travelling around South America, Renée once again returned to Toronto to pursue her Master's degree in Adult Education at University of Toronto.
Ashley Catania, Education Specialist/Workshop Facilitator, Toronto
Ashley Catania recently completed her BA degree, with a focus in film and gender studies, at Ryerson University, and has a Visual Arts Certificate from Sheridan College. Passionate about social justice and media criticism, Ashley plans to pursue further education, studying social representations within cinema.
Laurence Desrosiers-Guité, Education Specialist/Workshop Facilitator, Toronto
Laurence Desrosiers-Guité, or simply Lolo, is a Montreal native who migrated to Ontario almost 10 years ago. She studied anthropology and international development at the University of Ottawa. Culture, children and art are her heart and soul. In addition to working for the National Film Board of Canada, Lolo is a visual artist.