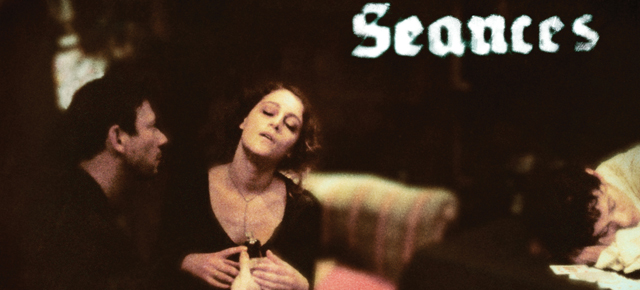 Guy Maddin to Shoot 12 Films in 13 Days in Montreal
After the Centre Georges Pompidou in Paris in 2012, Guy Maddin is now setting his sights on the Phi Centre to film and bring to life his Seances, an entirely novel experience that will culminate in the production of an interactive work (NFB) and a feature film coproduced by Phi Films, Buffalo Gal Pictures and the NFB.
From July 4 to 20, the celebrated Manitoba director will shoot 12 films in 13 days with local actors in front of a live audience. These films will serve as the subject matter for 2 new productions slated for completion in 2014.
The public is invited to attend the filming for free. (Tuesday to Saturday, during Phi Centre opening hours.)
Seances
Seances is a film shoot, an experience and an installation, which will subsequently become a film and an interactive work. The basic premise of Seances is that most silent filmmakers lost at least one film to a twist of fate. Ever since, these films have hovered like ghosts in search of their final resting place.
And now Guy Maddin has decided to recreate these lost films. Every day, he will call on the spirits to take hold of the actors, plunging them into a deep trance that will enable them to act out the lost film of the day.
The most amazing part: the public is invited to attend these Seances of cinematic spiritualism. Cameras will be set up to transmit—live and in closed circuit—the shoot taking place inside the Phi Centre.
About Guy Maddin
Guy Maddin is a Canadian multidisciplinary artist, screenwriter, filmmaker and producer. He has more than 10 features to his credit and numerous short films.
A Member of the Order of Canada and of Manitoba (his home province), Guy Maddin has won several awards for his work, including Best Canadian Feature Film at the 2007 Toronto International Film Festival (TIFF) for My Winnipeg.
Guy Maddin has also collaborated with the NFB on the creation of Night Mayor, an experimental film presented at TIFF in 2009 to commemorate the 70th anniversary of the NFB.
About the Phi Centre
The Phi Centre is a versatile space with venues that adapt to accommodate many types of events. It has creative studios and production suites equipped with the latest technology for all artistic needs. It is also a multifunctional centre where art can express itself in its various forms.
The Phi Centre is an initiative of Phi and its founder, Phoebe Greenberg. Phi's mission is to provide the public with excellence in all types of art from every possible horizon. Phi is also at the head of 3 dynamic art world entities: Phi-Music, Phi-Films and Phi-Creation.
* Read the full press release.