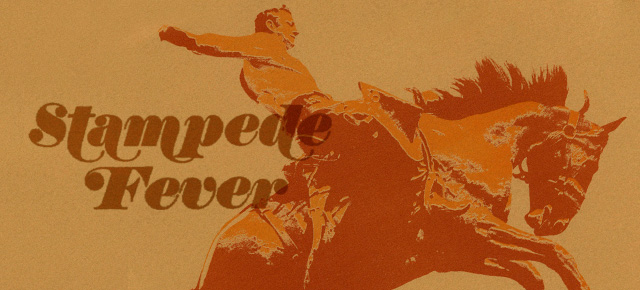 Stampede Fever Forever: Watch 3 Films About Cowboys and Rodeos
Despite the fact its grounds and racetrack were recently under water, the 101st edition of the Calgary Stampede opened today as planned.
Even as floodwaters from the nearby Elbow River submerged large swaths of Southern Alberta, Stampede chairman Bob Thompson said last week the Stampede would proceed no matter what.
"Throughout our entire history, we have never cancelled a show, despite 2 wars and a Great Depression — 2013 will be no exception," he said. "We will be hosting the Greatest Outdoor Show on Earth, come hell or high water."
Whether you're in Calgary this weekend, or just wishing you were there, here are 3 docs to get you in a stomping Stampede mood.
A 3-part homage to the great ruggedness and resilience of the Western character.
Every Saturday Night (1973)
Every Saturday Night, Tom Radford, provided by the National Film Board of Canada
This lively 27-minute doc from the West television series zooms in on a peripheral yet integral aspect of stampede culture: the music. The film follows members of the Badlanders, a Drumheller-area band that formed during the "Dirty Thirties," when local musicians – most of them farmers – were looking for ways to lift the gloom and make an extra buck.
By then, we're well into the Oh So Stylish Seventies, and plaid pants in loud colours and strange, synthetic fabrics are everywhere. We're invited to honest-to-god country hoedowns, held in local schoolhouses, where young and old square dance the night away. There's also crisp footage of the Prairies (the photography is stunning), as well as informal chats with original band members and dancers.
We meet, amongst others, "drunken drummer" Charles, who has the best laugh I've heard in years and incredible stories about the dances they used to have in the old days. We also hear from local teenagers who hate the old-time dances – "polka, and stuff like that" – and complain the only entertainment available to them is bars and pool halls. An old-timer we hear from moments later has the perfect retort. Modern music, he says, sounds like "throwing a bunch of ball bearings on a tin roof." So there.
Corral (1954)
Corral, Colin Low, provided by the National Film Board of Canada
Corral is a short Colin Low classic that was shot on the Cochrane Ranch, in Southern Alberta. The film follows a strapping cowboy named Wallace Jensen as he rides around the land's majestic foothills, rounding up horses. The film was supposed include a narrator, but some enlightened soul nixed that idea at the last minute and the film is a simple juxtaposition of black and white footage and Western ballads played on guitar. The prairie is lush and undulating, the horses strong and free. Will our cowboy succeed in saddling and riding one of the half-broken horses he has gathered? Watch and see.
Hard Rider (1972)
Hard Rider, Josef Reeve, provided by the National Film Board of Canada
This feature doc is a portrait of Canadian cowboy Kenny McLean. McLean, who is part-Native, part-Scottish, is a champion bronc rider and a doting husband and dad. The film follows him and his cute little family on the stampede trail, from Huston, Texas all the way to Calgary, by way of South Dakota and BC. In 12 years on the circuit, the narrator informs us, the rodeo man has driven a million miles.
Between footage of McLean's RV life, be it poker with the boys or driving with his sweet toddler son Guy on his lap, the film documents every aspect of cowboy culture our little caravan encounters on the road. There's gun fighter shows, boot makers, cowboy hat makers, saddle makers, saloons, Japanese photographers fascinated with cowboys and even a Malboro ad photo shoot. (Phew!)
But the real draw, of course, are the rodeos themselves. McLean – an ex-world champion – is a joy to watch. He seems to win every competition he enters, be it calf roping, steer wrestling or bronc riding. He just flies! There are some hard-to-watch scenes, however. Not that PETA activists and stampede enthusiasts usually overlap, but the plain answer to the question "they shoot horses, don't they" is yes. (Severely injured ones, that is.)