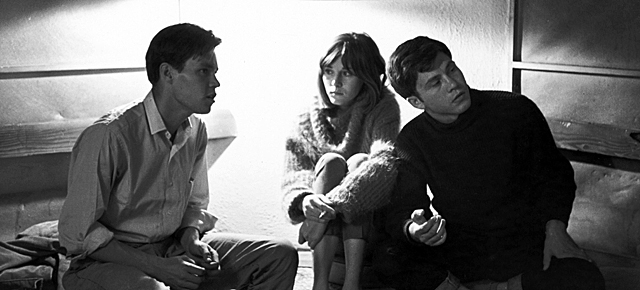 Nobody Waved Good-bye: The Little Film That Could
In 1984, the Toronto International Film Festival ranked Nobody Waved Good-bye number 9 on their list of the top 10 Canadian feature films of all time. That's quite a feat for a film that was initially supposed to be a short documentary. How the film evolved and how it became such a seminal work is the subject of my blog post today.
Filmmaker Don Owen had planned to shoot a half-hour film on probation officers for Canadian television, using only the occasional fictional scene to best tell the story. As shooting began, he decided he could do even better and turned the project into a feature.
He had been allocated $35,000 for the short (provisionally called First Offence) and given permission to shoot some scenes with actors. He used a small crew of only 5 people and came up with a short outline that he would discuss with the actors before shooting each scene. No screenplay was ever written for the film. The actors would discuss the scene with Owen and the cameraman and rough out what they wanted to do. All the dialogue was improvised based on the discussions, and the shooting would begin.
Owen decided to focus his film on a young man from the suburbs growing painfully into adulthood, thinking (rightly, in my opinion) that this would interest audiences more than a film on probation officers. He cast up-and-coming actor Peter Kastner as the young man in question and lovely young actress Julie Biggs as his girlfriend. Sean Sullivan played the probation officer assigned to help this angry and confused young man who is rebelling against his middle class upbringing and, by extension, his parents. The great John Vernon also appears in the film.
There were many stories circulating in the film industry at the time, suggesting that Owen's producers were hoodwinked by the young filmmaker into believing that he was actually making a short, and that he later came to them and announced that he had shot a feature instead. This is pure fiction. Executive producer Tom Daly knew what was going on and allowed additional funds to be made available so that Owen could complete his film, knowing full well that he was making a feature. The total budget grew to $75,000, which even in 1963 was considered ridiculously low budget.
Owen shot for a total of 3 weeks in the summer and winter of 1963, going through some 60,000 feet of film. Cameraman John Spotton shot on 16mm in order to give the film a more realistic documentary look. Owen later said that he was heavily influenced by the work of fellow NFB filmmakers Michel Brault and Gilles Groulx, who had made excellent Direct Cinema documentaries. Owen admitted that he re-shot certain scenes as many as 20 times in an effort to get exactly the right tone and feel.
One scene, in which Peter is working at a parking lot, was shot with hidden cameras. All the patrons are real, and they don't know they're being filmed. One woman recognizes Kastner and, surprised to see the actor working at the lot, has a conversation with him without realizing that she is in a movie! This kind of thing would never happen nowadays, when everyone would be made to sign a waiver before appearing in the film.
Once the film was finished, Columbia Pictures was quite impressed and decided they wanted to distribute it in Canada. First the film premiered at the international festival in Montreal on August 13, 1964. It then played at a New York festival in September where it got terrific reviews. Judith Crist of the New York Herald Tribune loved it and called it "A film that you should not miss."
In November of that same year, Columbia released it at the Kent Theatre in Montreal where it bombed, barely grossing $700 in a week. It was quickly pulled and then released in Toronto over Christmas where it did moderately better. Canadian reviews were mixed, which certainly did not help the box office. In the meantime, Cinema V distribution in the USA had seen the film at the New York festival and requested the theatrical rights for the rest of the world minus Canada. The NFB refused, as there were some pending sales in Europe. Cinema V then agreed to buy the American theatrical rights and released the film in New York on April 21, 1965, to huge acclaim.
The film subsequently played in Washington, Boston, Los Angeles and many other American cities where the reaction was the same: people loved the film's honesty and raw performances. All this acclaim south of the border was not lost on Columbia, who decided that they had not given the film a proper chance in Canada. It was then released in Ottawa, Regina, Calgary, Edmonton and Vancouver to a much better response.
On July 23, 1965, a French-subtitled version (Départ sans adieux) was released in Montreal and throughout Quebec, and met with an excellent response. Foreign distributors also loved the film and it played theatrically in Czechoslovakia, the United Kingdom, Israel and Yugoslavia among others. This was followed by TV sales to dozens of countries as well as the BBC. Interestingly, an Irish distributor wanted to buy the film but was denied by the Irish censor, who asked that the film be cut to omit all references to sex and pregnancy. The NFB refused and the sale fell through. The film went on to have a very successful career on television and home video.
Twenty years after its release, Owen shot a sequel focusing on the 17-year-old daughter of the protagonists from Nobody Waved Good-bye and her transition into adulthood. Titled Unfinished Business, the film was panned by critics and disappeared from view quickly. The spontaneity of the first film was not present in its follow-up, killing its chances to score with audiences who had so much enjoyed its predecessor. The NFB had very little involvement in the production of this film and obtained no distribution rights.
To this day, watching Nobody Waved Good-bye is a treat. The story of youth in revolt is universal, and it is treated in a realistic, caring way. There is no sensationalism here, just honest emotions. I cannot forget to mention Biggs' subtle performance as Julie, the young woman who, though also rebelling, is leaps and bounds more mature than her angry boyfriend. There are many moments in which you can see her resisting the urge to roll her eyes when he discovers some new subject that irritates him and talks incessantly about it. Kastner is also very good in the difficult role of Peter, the film's protagonist. His interactions with his mother are very well done, as are his dealings with the owner of the parking lot (John Vernon) where he works.
I strongly recommend this film to you. If you have never seen it, you are in for a great experience. The honest portrayals of youth in revolt will touch a chord in everyone. It is rightly considered to be one of the best Canadian features ever made.
Enjoy the film.
Nobody Waved Good-bye by Don Owen, National Film Board of Canada