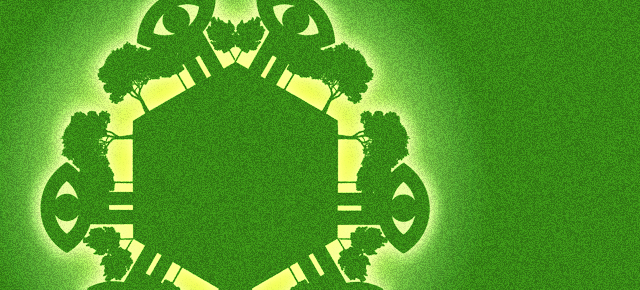 Music Has the Right to Children
"Film is the medium to express my feelings about music." – Norman McLaren
Our sense of hearing is essential to our everyday lives, yet the rich world of sound that surrounds us is often ignored. We are immersed in a steady stream of audio information that frequently goes unnoticed. For educators taking a multimedia approach to teaching, sound can be an invaluable tool, and one that is easy to record, create, share and manipulate. It can cross cultural and linguistic boundaries and be used to tell stories and evoke moods as well as new and exciting worlds. Whether employed on its own or combined with other mediums, sound is an excellent means of teaching alternative ways of storytelling.
One standout example of the inventive use of sound has a strong NFB connection: the work of electronic music duo Boards of Canada, made up of brothers Michael Sandison and Marcus Eoin, who started making music together as children. Their family moved from northern Scotland to Alberta and back again, and their music conjures images of the imposing landscapes of these two places while also eclectically incorporating the sounds of local public television.
http://www.youtube.com/watch?v=pmqQx-HwtHg
NFB 16mm educational documentaries had such a big influence on their music that the band paid homage to the Board through its very name (we've returned the favour with the quirky title of this blog, which is borrowed from their debut album). According to the band: "Yes, the NFB films were one of our influences when we were younger. The thing about the older films is that the quality of picture and soundtrack wasn't perfect, it was grainy and wobbly. We used to record compositions on cheap tapes which gave a similar rough quality, and we've always returned to that sound because it feels personal and nostalgic." Indeed, their work, which spans a period of 25 years, is filled with raw, lo-fi samples and audio clips. The song "Pete Standing Alone" (which takes its title from an NFB documentary trilogy) showcases this approach to music making.
http://www.nfb.ca/film/standing_alone
Norman McLaren shares both his Scottish roots and NFB connection with Boards of Canada. A visionary in the field of animation, McLaren won the NFB's first Oscar in the form and earned over 200 awards throughout his career. Although he received prestigious honours for his animation, McLaren is also an important pioneer in sound manipulation and electronic music. Music was a central love in McLaren's life and work. He claimed that more than half of his films attempted to capture the spirit of music, commenting that "some of the pieces I heard excited me so much I wanted to express them visually." In the late 1930s, he accidentally found that he could make music by drawing directly onto the soundtrack area of the film strip; he called this new tool for generating sound synthetic or animated sound. Extensive experimentation led him to discover that scratching patterns onto the soundtrack area offered a means of creating "electronic music." Examples of this technique can be seen (and heard) in the short films Synchromy and Mosaic.
http://www.nfb.ca/film/synchromy
It is easy to detect the influence of McLaren's playful electronic sounds in the music of Boards of Canada. And although they no longer live in Canada, the Scottish brothers often give a nod to their childhood home. The duo's six-track concept EP, Trans Canada Highway, begs to be the soundtrack of a road trip across this vast country. The group's sound has a strong connection to film as well: from their synthetic tape-loop sounds to scrambled vocal samples pulled from documentaries, their work evokes vintage, decaying films of deserted landscapes. Their first official video, "Dayvan Cowboy," appears to have been compiled from found documentary footage. It could also be argued that the beginning of the video was inspired by This Is a Recorded Message, yet another NFB film. And their seminal debut album features tracks with links to NFB films, such as "Kaini Industries," a reference to the Kainai, or Blood Tribe, First Nations of southern Alberta, of which NFB documentary subject Pete Standing Alone was a member.
http://www.youtube.com/watch?v=A2zKARkpDW4
Students should consider sound to be a central component of their film or media projects. Educators can introduce students to the notion that sound and image go hand in hand, and that one can inspire the other. A trip through McLaren's filmography will reveal how much of a role music played in his films, which in turn influenced one of the most respected electronic music bands. Educators who want to take a multimedia approach to music, geography, technology or social studies courses may consider incorporating works by McLaren and Boards of Canada into their curriculum. It would be a great way to introduce their students to field recordings, soundscapes and acoustic ecology.
http://www.onf.ca/film/ceci_est_un_message_enregistre 
Here are some ideas for other audio projects:
Project A: Educators demonstrate how to capture audio with a digital recorder. Students can then collect sounds and build their own soundscapes.
Project B:  Students can create audio documentary stories featuring interviews, narration and ambient sound.
Project C:  Students can create a video collage or animation to accompany a song.
Project D:  Students can use still images to tell a story contained within a song, or use cut-outs as in This Is a Recorded Message.
How do these projects fit in with the Canadian curriculum? Students will learn to explore and experiment with various kinds of audio and found sounds, as well as present and share their projects with others. The integration of still and video photography, sound recordings, and other digital technologies into the arts curriculum is also integral to learning expectations.
Creative Process: Norman McLaren, Donald McWilliams, provided by the National Film Board of Canada
Additional resources, tools and software:
McLaren's Workshop iPad app – www.nfb.ca/film/mclarens_workshop / www.appstore.com/McLarensWorkshop (Use McLaren's techniques to creating animation, or even a soundtrack)
Audacity – http://audacity.sourceforge.net (Free multi-track audio recording and editing software)
Soundation – http://soundation.com / www.youtube.com/user/SoundationStudio/videos (Create sample-based music)
Other ideas for videos – www.screencast-o-matic.com / or  www.screenr.com (To create simple accompanying videos)
Field recording – Use a digital audio recorder, camera or even a smartphone
For more info on Norman McLaren, go to: www.nfb.ca/explore-all-directors/norman-mclaren
For more info on Boards of Canada, go to: www.boardsofcanada.com
Good luck with your projects, and maybe we'll see your students pioneering techniques of their own!
– Dan Thornhill, NFB Education Technical Coordinator, and Luke Richards, PhD Student & Research Assistant at University of Victoria