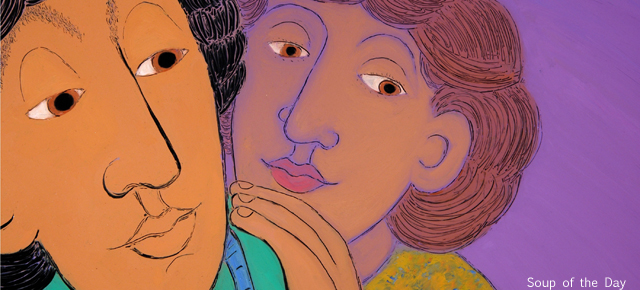 Public Libraries | NFB Film Club Reveals Winter 2014 Programming
This winter, the NFB Film Club's programming offers up a rich and varied selection of recent shorts and feature-length films, including several new releases. There are 5 different film programs available: four for the general public and one for children. These movies will take you places, make you think, and provide many opportunities for discovery.
In Chi, larger-than-life Vancouver-based actress Babz Chula convinces director Anne Wheeler to join her on a journey to Kerala, India, where she will seek cancer treatment from a renowned Ayurvedic healer. It's a journey into the unknown… and into the depths of her being.
Directed by 4-time Emmy® award winner John Kastner, NCR: Not Criminally Responsible is a provocative examination of violence and mental illness, and the rights of victims. The film explores the many sides of this difficult issue, providing a human context to the complicated ethical questions it raises.
To mark Black History/African Heritage Month, we are presenting the documentary Hue: A Matter of Colour, directed by Vic Sarin. The film is a personal, heartfelt investigation into the history and often-tragic effects of colourism—the phenomenon whereby people within the same ethnic group discriminate against each other based on differences in skin tone. It's a complex social problem that affects people in many cultures. Hue is preceded by Martine Chartrand's award-winning short Black Soul, which offers an exhilarating voyage through the defining moments of Black history.
Bad Coyote, directed by Jason Young, looks at a hybrid type of coyote—thought to be part wolf—which has migrated to Eastern Canada. Trappers, scientists, farmers, and the mother of a coyote attack victim weigh in on the subject, some calling for a measured approach seeking mutual respect between humans and these animals.
The animated short films Assembly and Soup of the Day round out the season's programming for a general audience.
Children will love the program designed especially for them, featuring 5 animated short films: the new releases Soup of the Day and The Clockmakers, along with the favourites Ludovic: The Snow Gift, The Long Enchantment, and The Orange.
For more details on NFB Film Club programming, and to watch clips from the films, click HERE.
The NFB Film Club is a turn-key initiative created specifically for Public Libraries. It grants FREE, privileged access to new, relevant and thought-provoking documentaries as well as award-winning and entertaining animation for the whole family.
For more information on the NFB Film Club, please contact:
Marianne Di Domenico | 514-283-8953 | m.didomenico@onf.ca