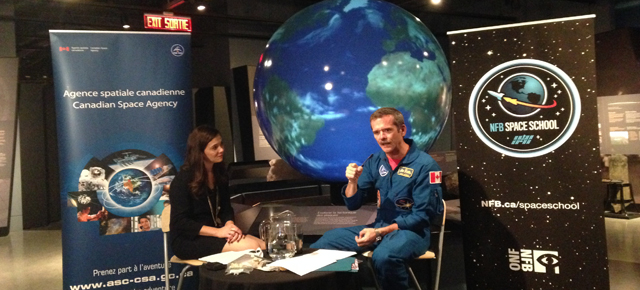 Blast Off! Connecting Students with Chris Hadfield in an Exciting Virtual Classroom
In mid-October 2013, the NFB Education team, The Canadian Space Agency (CSA) and The Canadian Museum of Nature (CMN) in Ottawa, teamed up to bring over 260 schools across Canada and Commander Chris Hadfield together for an engaging and inspirational Virtual Classroom. Commander Hadfield was joined by our lively host, NFB Education's own Michèle Tredger. Together with thousands of students across Canada, they discussed students' questions arising directly from the NFB's Interactive Documentary NFB SPACE SCHOOL.
After receiving hundreds of questions from schools across Canada, the NFB Education Team chose 20 eager and bright English-speaking Canadian students and 15 French-speaking Canadian students to pose questions directly to Commander Hadfield. Questions ranged from queries about his personal struggles, to understanding how Hadfield lived aboard the International Space Station (the ISS), to discussions about the evidence of environmental changes from space. Each event ran an hour in length and students left exhilarated from the opportunity to connect live, with a living Canadian hero.
Following the event, Mrs. Thirell Trottier from Kelset School in Victoria, BC, had this to say about her students' experience:
"Thank you!  Thank you !  Thank you!   It was a most interesting program.  We all learned so much and now we're going to learn even more!   All your work, time and effort really paid off.  Please thank Chris, Commander Hadfield, too!  He is an inspiration!"