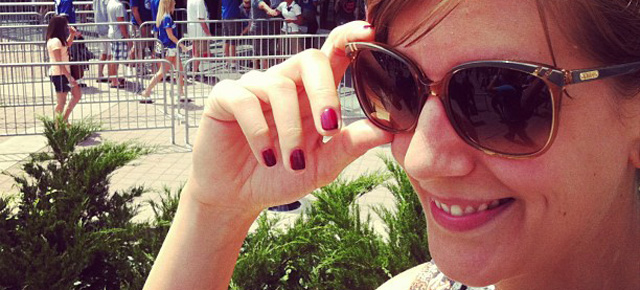 Here I am!
Allow me to take a minute to introduce myself to you, dear readers. My name is Jovana and I'll be taking over the NFB's blog for the next year while my colleague Carolyne is on leave (fear not: she will return). I'll also be writing the weekly NFB film newsletter (subscribe here, if you haven't already) as well as short descriptions for the films featured on NFB.ca. I'm so thrilled to be throwing myself into this undertaking! I love nothing more than firing up a discussion about the arts, and film in particular, so I hope we'll have a stimulating and collaborative dialogue here on the NFB blog for the next year. But first, let me take a few minutes to introduce myself.
I've just relocated to Montreal from Toronto, where I lived for the past five years. I grew up mostly in Ottawa, although I was born in Belgrade, Serbia, and I've also spent a couple of years living in Victoria and Vancouver. As you may already be able to tell, I love traveling and exploring new places. Two years ago, I spent a semester studying abroad in Weimar, Germany—an incredibly historically rich and charming little place. Eight years ago, I completed my Bachelor of Arts degree at Carleton University (Ottawa) with a double major in Film Studies and English. I'll never forget the excitement and curiosity I felt while discovering the history and theory of film. We now find ourselves in an especially intriguing era, as traditional filmmaking evolves into fields like interactive storytelling and games. The communicative potential of the media arts is truly endless, and I'm eager to explore what the implications of these new media are for Canadian communities, art and artists, the NFB, and all kinds of storytellers and visionaries worldwide.
I moved to Toronto five years ago to pursue graduate studies at York University in the Joint Graduate Program in Communication and Culture. This interdisciplinary program really widened my perspective on issues I'm passionate about: I began to explore the social and political implications of media arts and technologies, and I wrote my M.A. Major Research Paper on the media politics of privacy and memory, with a particular focus on surveillance video in narrative cinema. Throughout my studies, I was also regularly blogging and writing in print publications about film, video, new media, and contemporary art. My writing has appeared in Afterimage, C Magazine, and the Canadian Journal of Film Studies in print, as well as in a number of online outlets, including Toronto Film Scene, In Review Online, Pretty Clever Films, and Exclaim!.
But I'm not just a bookworm, I swear! I have lots of other interests, including (but not limited to) cheese, wine, tennis, volleyball, board games, trivia, feminism, etymology, baking, fashion, design, and karaoke. I am currently perfecting my performance of Aerosmith's "Dream On"—it's a tough one, but I won't give up until I nail it! Here I am playing in a room full of balloons (having fun and maintaining a childlike sense of wonder about the world are also a couple of my major interests):

Join me, readers, as we explore the seemingly endless depths of the NFB's archives while also premiering exciting new NFB projects that are pushing the boundaries of film and media production at home and abroad. We have an exciting year ahead, and I welcome all your comments, feedback, and critical engagement in all that the NFB has to offer.
You can reach me at j.jankovic@nfb.ca or follow me on Twitter: @J_Jankovic