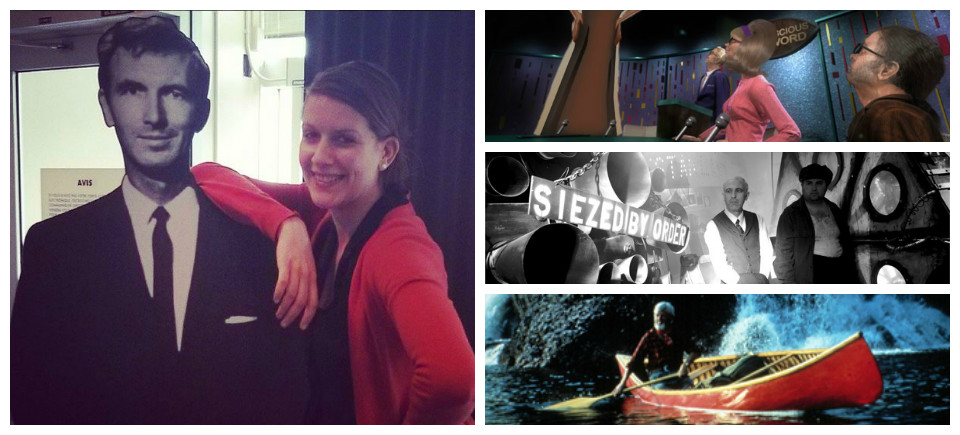 Gotta go! Say goodbye to NFB blogger Jovana with a few of her favourite flicks
Well, dear readers, it's been quite an exciting year (that's me with a life-sized cardboard cut-out of Norman McLaren… #dreamcometrue). But now I must bid you adieu as I wander off to another exciting adventure in my life. Your friendly blogger Carolyne Weldon has returned, and she's ready to regale you with juicy cinematic tales from the NFB archives.
And yet… we've been through so much together, you and I. There was that time I made fun of the amount of cat pictures on the internet. Ah, sweet memories. Then there was those other times I told you all about my fantastical vacations to Mexico and Norway (and, of course, the films that go along with these spectacular countries). And what about that thought-provoking interview with filmmaker Mark Sandiford about his hilarious satire Qallunaat: Why White Poeple Are Funny? That thing went positively viral!
Those were some good times we had, readers. Good times indeed. But nothing compares to that magical moment when we all discovered that Russell Crowe was in a couple of NFB films. (Whaaaaat?!)
Remember when I first started blogging at the NFB? I was just a crazy kid with dreams. And in the past year, I've watched more NFB films than I ever thought I would. Would you like to know which ones were my absolute faves? I'd be happy to share that with you. Let's break it down by mood, shall we?
1) Introspective existentialism
Ever feel like you're pondering the black nothingness that whirls behind the curtain of the visible world? I do. Often. What is life, anyway?! If you're in this kind of metaphysical funk, I highly recommend The Danish Poet by Oscar®-winning animator Torill Kove. This charming and colourful short animation will make you feel like you're not alone in your confusion about life, death, love, and everything in between. Can we trace the chain of events that leads to our own birth? Is our existence just coincidence? Do little things matter? Find out in The Danish Poet.
The Danish Poet, Torill Kove, provided by the National Film Board of Canada
Liked it? Check out Wild Life, too. It's equally introspective, and also an Oscar® nominee, but it packs a few more laughs.
2) Super wacky ridiculous fun time
Dinosaurs are wacky enough on their own (what's with those long necks, fat legs, and tiny heads, huh?) but they're even wackier in Munro Ferguson's How Dinosaurs Learned to Fly. Let me tell you about how exactly they learned to fly: they, um… formed a rock band? Sure, that makes perfect sense. This short animation is great for kids and adults alike. Everyone will have a laugh!
How Dinosaurs Learned to Fly, Munro Ferguson, provided by the National Film Board of Canada
Did you enjoy that? Keep the laughter going with Strange Invaders, a bit of a darker comedy in which a childless couple discovers a tiny alien visitor that will make their life a living hell.
 3) Social justice rage
I get like this all the time, dear readers. Oppression! Inequality! I can't even! But you know what I find gratifying sometimes? A beautiful, thoughtful, and daring social justice documentary, like perhaps Kanehsatake: 270 years of Resistance.
Alanis Obomsawin has racked up accolades over her lifetime of filmmaking, and with good reason. Her films are incisive, critical, and empathetic, giving First Nations communities a voice through the power of documentary. Kanehsatake in particular is one of her most admired films; in this heart-stopping feature doc, Obomsawin spent 78 nerve-wracking days and nights filming the armed stand-off between the Mohawks, the Quebec police, and the Canadian army in 1990's Oka crisis. Watch the riveting footage below:
Kanehsatake: 270 Years of Resistance, Alanis Obomsawin, provided by the National Film Board of Canada
If you liked this one, check out Poundmaker's Lodge: A Healing Place, a beautiful and empowering doc about Indigenous people dealing with substance addiction by harnessing the powers of their ancestors' traditions and cultural practices. This smart and heartening film criticizes the instrumental rationality at the heart of the Western medical model of treatment, and suggests community-specific tactics for healing, both physical and spiritual.

4) Sweet, hypnotic meditation
You know when people use the term "the power of cinema?" To me, that means this magical modern medium has the unique power to transport the viewer into an alternate state of mind, a mesmerizing and completely alternative consciousness… something akin to a hypnotic state. This state is one where time and body cease to exist; it's where dreams feel real and "reality" feels like a distant illusion.
Let me transport you, dear readers, to a disembodied world. First, let's begin with the Oscar®-nominated Volcano: An Inquiry Into the Life and Death of Malcolm Lowry, an out-of-this-world biography of the celebrated modernist writer, whose alcoholism and mental illness haunted him to his end. This film is a nightmare come to life on film, and I love every minute of it.
Volcano: An Inquiry into the Life and Death of Malcolm Lowry , Donald Brittain & John Kramer, provided by the National Film Board of Canada
What else can send you into that special hypnotic state of cinephilia from which you emerge somehow changed? Two of my faves are Runner and Corral.
Both films are beautiful mid-century black-and-white gems that trace the wonder of motion with the power that only a film camera has.
In Runner, we follow champion long distance runner Bruce Kidd as he trains for international competition. But this isn't a mere sports biography; it's an impressive and poetic meditation on the power of the human form, and the mind-over-matter mentality of those who are the greatest in their field, whether athletic or otherwise. Accompanied with narration performed by the great Anglo-American poet W.H. Auden, this film is a stunner that will take you away to another world.
Runner, Don Owen, provided by the National Film Board of Canada
In Corral, the vast beauty of the open Rocky Mountain plains and foothills is lovingly traced by the camera's infinite pans.  A romantic portrait of cowboy life, this mid-century jewel is as precious as they come. Check it out:
Corral, Colin Low, provided by the National Film Board of Canada
5) Let's get weird
Occasionally, a film comes along that is so original and so imaginative that you're left scratching your head about where the filmmaker even came up with it in the first place. This is definitely the case with two of my favourite weird-o flicks, Subconscious Password and Night Mayor. In the former, we plumb the depths of our protagonist's mind through the eerie format of a supernatural quiz show. What kinds of things will pop out of one's mind when left completely unprompted? Lemme tell you: it's some crazy stuff.
Subconscious Password, Chris Landreth, provided by the National Film Board of Canada
And of course I've saved the best for last. If you want to read more about Guy Maddin's spectacular short Night Mayor, check out the blog post I wrote about it recently. In short: it's an over-the-top and supremely entertaining meditation on the power of communications technologies to tell us about ourselves (whether truthfully or not).
Night Mayor, Guy Maddin, provided by the National Film Board of Canada
 6) Some more fun stuff…
I've got plenty more to share with you, dear readers. I highly recommend the dazzling outdoorsy documentary Waterwalker, a fun and fascinating portrait of Bill Mason's solo canoeing adventures in the Canadian wilderness. The original score for the film (by Bruce Cockburn!) is fantastic.
Waterwalker, Bill Mason, provided by the National Film Board of Canada
Then there's Shameless Propaganda, our new feature doc about the NFB's wartime propaganda efforts in the early-to-mid 20th century. A nation at war needed to be brought together in unity and solidarity… so that's what the NFB's films tried to do! Alternately hilarious and deeply troubling, these films are a curious portrait of the overt nature of political propaganda in Canada.
Shameless Propaganda, Robert Lower, provided by the National Film Board of Canada
And last but not least, I have to recommend both The Devil's Toy and The Devil's Toy Redux. The former is one of the first skateboarding films ever made, and follows a group of adolescents in Montreal as they take their boards out for a ride and face criticism and ridicule from onlookers, and the threat of punishment from police. But come on—skateboarding is not a crime!
The Devil's Toy, Claude Jutra, provided by the National Film Board of Canada
The Devil's Toy Redux is a fantastic 2014 series of short web docs that takes filmmakers from all over the world and asks them to reimagine skate culture and urban landscapes through the power of film. From Johannesburg to Victoriaville, and Serbia and France in between, you'll love this global tour of concrete jungles far and wide. Check out the project here.
 That's all, folks!
It's been an immensely rewarding and fun year for me as I blogged about films for the NFB. I discovered the richness and depth of the NFB's collection, comprised of over 13,000+ films (almost 3,000 of which are available online!) created over the past 75 years. What else can I say, except… goodbye!