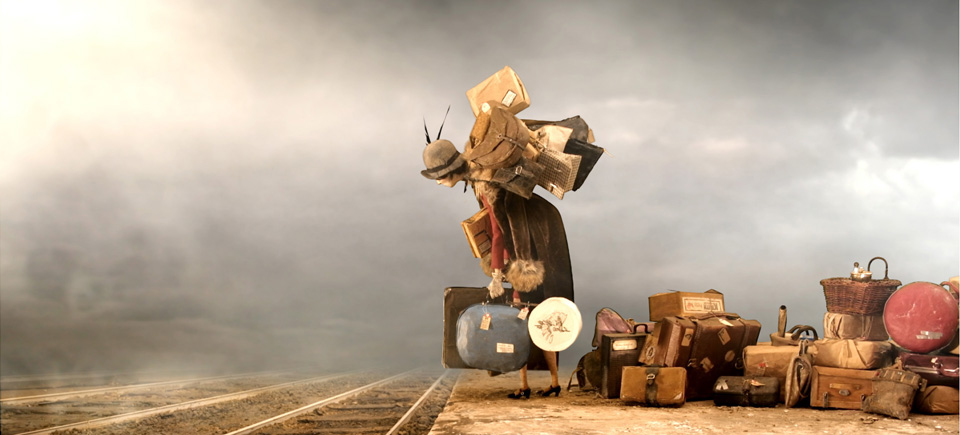 Watch 6 stellar Oscar® nominees that missed out on the top prize
It's Oscar® season and the buzz is in the air! Here at the NFB, we were super excited to get a nomination this year in the category of Short Film (Animated) for Torill Kove's Me and My Moulton (you can watch the trailer here). So, as we count down to The Big Night on Feb. 22nd, we also find ourselves looking back at our rich history at the Oscars®. Did you know that the NFB has more Academy Award® nominations than any other production company or organization outside Hollywood (73, to be exact)?
Join us for a tour of some of our best nominees who, unfortunately, did not take home the top prize… but they're still pretty darn excellent films!
Not to brag, but the NFB has a pretty great reputation in the world of short animation. In this gem from 2007, our title character weaves through an existential journey through her past as she rides the night train across a dark and sombre landscape. She is greeted by the ghosts of her past as well as menacing strangers as she attempts to navigate the twists and turns of her psyche. It's a jarring and beautiful look at her internal life, and an exciting train ride well worth watching.
Check it out:
Madame Tutli-Putli , Chris Lavis & Maciek Szczerbowski, provided by the National Film Board of Canada
If you liked that, try Wild Life, an Oscar® nominee in 2011. It's also a colourful animation that deals with some heavy existential questions, but this time with a bit of humour.
The score alone for this film is a masterful achievement. Even if you're not specifically a fan of dance, the dramatic time-lapse cinematography and haunting musical score in this innovative Norman McLaren film will send you on a magical trip to a dream world in which time and movement play with each other. This film is a real gem, and it was recognized as such with a nomination in the Short Subject (Live Action) category at the 1968 Oscars®.
Pas de deux, Norman McLaren, provided by the National Film Board of Canada
If you liked Pas de deux, try McLaren's A Chairy Tale, also an Oscar® nominee and a whimsical investigation into the mysteries of movement.
Want to read more about the Pas de deux? Check out NFB Animation Studio Executive Producer Michael Fukushima's take on this stellar animated treasure. "In Pas de Deux, animation was technology. Animation was art. Animation was beauty," writes Fukushima. "Animation was craft. I knew then that animation would stimulate my inner geek, could indulge the 'artist' within, and offered an unlimited canvas for expression." Well said, Michael.
Another Oscar® nominee from Torill Kove! This whimsical short questions the fine line between fact and fiction through the story of the filmmaker's own grandmother who did indeed iron the Norwegian king's shirts during WWII. But she may have played an even larger role than that: historical events and fantasy combine for an unforgettable tall tale.
My Grandmother Ironed the King's Shirts, Torill Kove, provided by the National Film Board of Canada
Want to learn more about women working in animation? Check out this post by NFB Animation Studio producer Julie Roy, and you may learn a thing or two not only about Torill Kove, but about the droves of talented and creative women working in contemporary animation today.
This fascinating account of the fight against cancer was made by pioneering filmmaker Morten Parker, who went on to forge a career in which he and his wife Gudrun Bjerring Parker were known for films addressing labour and social issues, and a commitment to social justice. "We were all young, we were all enthusiastic—and we were all going to change the world," says Parker of the staff in the early days of the NFB.
In The Fight: Science Against Cancer, we explore the genesis of cancerous cells and the mid-20th century state of global research into the fight against cancer.
The Fight: Science Against Cancer, Morten Parker, provided by the National Film Board of Canada
If you enjoyed that film, you should also check out Universe, another Oscar®-nominated foray into both the micro and the macro of the materiality of human existence (did you know that Universe influenced Stanley Kubrick's masterpiece 2001: A Space Odyssey? It's true! Read all about the connection here!)
This whimsical short is full of lively music, action, colours, and laughs. Based on the short story by E.B. White (author of Charlotte's Web), this short animation tells the story of a family who lives happily in a remote location, huddled up in their shack for the cold winter. After a bad deep freeze, some people get it in their heads that the family needs to be rescued. But do they? Or are they happy just the way they are?
The Family That Dwelt Apart, Yvon Mallette, provided by the National Film Board of Canada
OK, I know what you're thinking: a documentary about nails? Are you kidding me?! That must be the most boring thing on earth! Well, surprise, surprise, dear readers… it's actually an incredibly rich, riveting, and beautiful film. How is that even possible, you ask? Just watch the film and find out for yourself:
Nails, Phillip Borsos, provided by the National Film Board of Canada
See, what did I tell you? That compelling, powerful score! Those mesmerizing images of industrial production, fire, hot metal, and steam! It's a dream-world of "how'd they do that?" If you enjoyed this film, which was nominated for an Oscar® in the Documentary (Short Subject) category,  you should also check out Flamenco at 5:15. It may be an entirely different subject matter than nails, but it's equally colourful, musical, energetic, and compelling. Enjoy!
More Oscar® nominees that didn't quite make the cut…
First of all, you can access an entire playlist of some of our best and brightest Oscar® nominees here.
And if you've read this far, you must be wondering: but what does my friendly blogger, Jovana Jankovic, prefer? Why, thank you for asking! I've said it before and I'll say it again: in my view, the Oscar® nominee Volcano: An Inquiry into the Life and Death of Malcolm Lowry is an undeniable masterpiece. It's a booze-soaked modern literary nightmare brought to harrowing life on film. Just try to look away:
Volcano: An Inquiry into the Life and Death of Malcolm Lowry , Donald Brittain & John Kramer, provided by the National Film Board of Canada
If that's not Oscar®-worthy, I don't know what is.
We hope you enjoy our selection of Oscar® nominees as we all look forward to the glam-filled celebration of cinema at the Academy Awards® on Feb. 22nd! Hook up with the NFB on Facebook, Twitter, or Instagram to stay in the loop on up-to-date on news about Me and My Moulton's Oscar® run (follow the hashtag #meandmymoulton). And while you're at it, why not subscribe to our weekly newsletter, hm? You'll get a weekly dose of film culture delivered directly to your email inbox, and you'll love every minute of it.