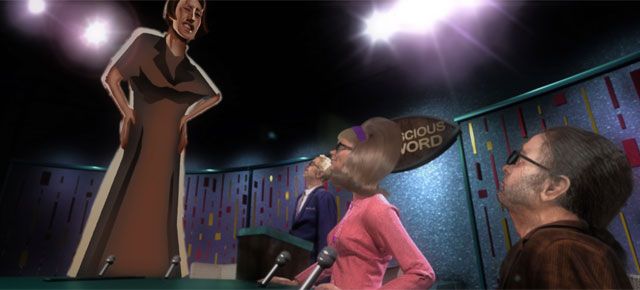 Chris Landreth's New Film—And More!—Online for a Limited Time
Get 'em while they're hot! We're streaming three of our latest and greatest short animated films for free online for a limited time. Featuring some of Canada's (and the world's) best contemporary animators, these films run the gamut: you'll laugh! You'll cry!  And hopefully, you'll leave impressed with the innovative animation techniques and visual styles offered by these talented artists.
There's nothing average about either Chris Landreth or his new short animated film. Landreth took home an Oscar® in 2005 for his film Ryan (2004) and he returns with his unique animation style in Subconscious Password, a film about a man who must mine the depths of his memory for a minute piece of information he seems to have misplaced. But what he finds in his brain may confuse him even more.
The aesthetics are controversial: some might call the exaggerated, grotesque faces and bodies in Subconscious Password horrifying and unpalatable, but I'm personally quite compelled by the way in which Landreth's sketch of the dizzying mess of a man's subconsciousness is hardly lifelike at all, and in fact rightfully terrifying. (Who hasn't been awoken in sheer horror at what the subconscious can produce in a dream?) And, after all, at least Landreth isn't languishing in the uncanny valley.
Subconscious Password, Chris Landreth, provided by the National Film Board of Canada
This marks the final installment in Buglarian-born, Montreal-based animator Theodore Ushev's trilogy on the ethics and aesthetics of the early modern era (you can watch the first two films in our online screening room as well: Drux Flux and Tower Bawher). The film features a slow and deliberate build-up to the eventually frantic pace of… what should we call it? Progress? Modernity? The violence and destruction that result from power? Certainly something like that.
In any case, the film draws deeply on the relationship between politics and aesthetics in the 20th century, taking cues from such diverse yet related movements as Russian Futurism, the Bauhaus school, and Cubism, with a fitting soundtrack by the great Soviet composer Dmitri Shostakovich. There's even a quick homage to Picasso's Guernica (1937) around the 4:10 mark—for more on this painting, you gotta read Miriam Hansen's amazing short essay "Why Media Aesthetics?") In fact, Italian writer  F.T Marinetti's Futurist Manifesto, originally published in 1909, contains some passages which eerily mimic the experience of watching Ushev's film. "On we raced," writes Marinetti, "hurling watchdogs against doorsteps, curling them under our burning tires like collars under a flatiron. Death, domesticated, met me at every turn, gracefully holding out a paw, or once in a while hunkering down, making velvety caressing eyes at me from every puddle."
Gloria Victoria, Theodore Ushev, provided by the National Film Board of Canada
Hollow Land (Michelle and Uri Kranot)
Earlier this week, we featured an in-depth interview with Michelle and Uri Kranot on this blog. They discussed some of the practical aspects of their unique, hand-made 2D animation technique, as well as some of the philosophical themes they aimed to address with their deeply moving film. Hollow Land follows Berta and Solomon, immigrants with only a few possessions to their name, as they desperately seek out a new home and then try to slowly go through the process of becoming accustomed to it. It's a painful and no doubt ceaseless journey, one which many people know all too well. While the film is very nuanced and quiet with a languid pace, its effects are just the opposite: the forceful implications of Berta and Solomon's journey are left lingering in the air as the credits roll.
Hollow Land, Michelle Kranot & Uri Kranot, provided by the National Film Board of Canada
Pop into our online screening room anytime… there's always something new! These animations may not be online for very long, so get 'em while you can.