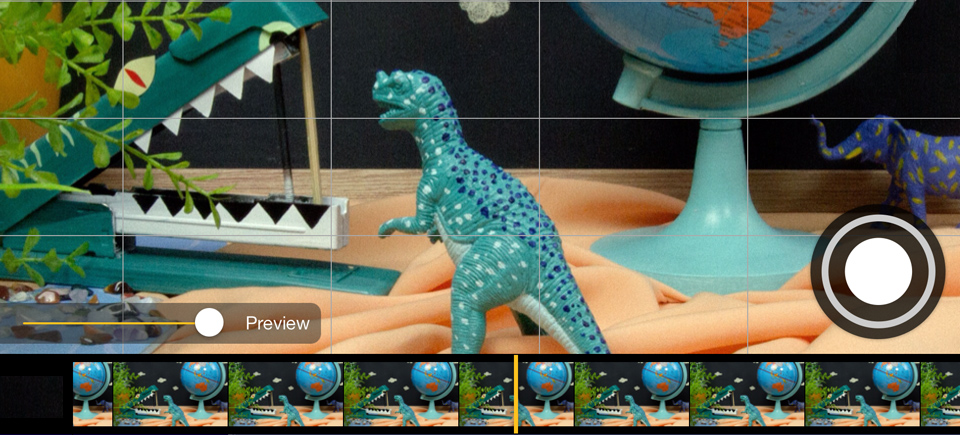 Back and better than ever: the PixStop app is now NFB StopMo Studio
Drumroll, please!
Launched in December of 2011, the NFB's PixStop app for iPad has been completely redesigned and is back with a bang under the name NFB StopMo Studio.
This updated version of our stop motion animation (also known as "pixillation") app boasts several new features in both visual and audio editing, including automatic time-lapse photography, digital drawing, title cards, frame-to-frame transparency, new visual and sound effects, and more.

These functions may seem intimidating at first, but the app is actually quite easy to use. The team who developed NFB StopMo Studio, under the leadership of designers Mivil Deschênes and Jean-Sébastien Beaulieu in the Platform Development department of the NFB, began by creating a simple and easy-to-use tool meant for the general public. Regardless of the fact that NFB StopMo Studio is the most sophisticated stop motion animation app on the market, it was originally designed for users like you and me. Thanks, NFB team!
Check out this quick introductory video that briefly demonstrates how to navigate the app:
Helpful suggestions from Patrick Bouchard
One of the collaborators who participated in the redesign of our app is none other than animation filmmaker Patrick Bouchard (Bydlo, Subservience). After testing similar applications, including the now-defunct PixStop, Bouchard offered his expert opinion to the design team.
"Keeping the ideas of simplicity and storytelling in mind, Patrick Bouchard helped us make the application more detailed," said designer Mivil Deschênes. "The transparency slider was one of his ideas—this function allows you to carefully compose each new shot based on its predecessor via an overlay of one image over the other."
In fact, this transparency function is a trick often used by animation professionals in the studio. "Filmmakers are always trying to test sequences of images in order to create more fluid movements," says Mivil, adding that a tutorial explaining each of the app's functions will soon be available.
Check out this totally awesome short animation, No Disturbing Gramps, created by Patrick Bouchard with the NFB StopMo Studio app:
Due to popular demand: new features!
While using PixStop, many of you told us that you'd like to have the option of importing images from your iPad photo gallery into the app. You asked and we answered! It's now possible to import external images into the app. What's more, it's now also possible to save your films in mp4 format on your iPad, so you can share them with your friends and family on Vimeo, Facebook, or by email.
And what can you do with this awesome app, you ask? Lots of neat things! For example, you can create a sped-up stop-motion video of your friend's hockey game, create your very own Toy Story by animating your kid's favourite toys, make a tribute film for a birthday, retirement, or other special occasion, create a film out of your vacation photos, or even test your patience by trying out the app's rotoscoping function (which allows you to draw directly onto frames you've shot). Let your creative juices flow—the only limits are in your imagination.
Download the NFB StopMo Studio app for iPad
Feeling lucky? Follow the NFB on Twitter for a chance to win a free NFB StopMo Studio download code over the next couple of days!
Head over here to watch a short video on how you can make your own iPad tripod, since stop-motion animation requires the stillness of the camera.
And, discover all available NFBs apps here.
Production Team
NFB:
Mivil Deschênes & Jean-Sébastien Beaulieu – Creators & Designers
Gwenaëlle Jouan – Project Coordinator
Matthieu Stréliski – Director, Platform Development
Wherecloud:
Sébastien Morel – Software Developer