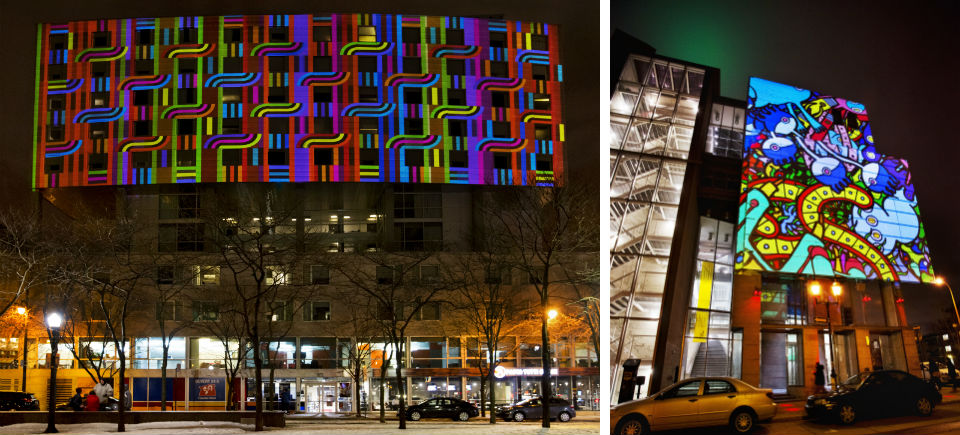 A virtual visit to McLaren Wall-to-Wall: a site-specific installation
You may have heard that part of the celebrations of acclaimed animator Norman McLaren's centenary include the fantastic McLaren Wall-to-Wall project, in which contemporary animators, inspired by McLaren's work, have created animation installations that are now being projected on a variety of architectural façades in Montreal's Quarter des Spectacles.
What's that? You're located somewhere besides Montreal across this vast country of ours? No problem! Below, you'll find a selection of stunning videos of the installations. Start with this short intro video that will get you pumped with a behind-the-scenes look at the making of some of the installations.
Let's take a tour!
Picture it: you're walking around the historic streets of Montreal, and you stumble upon Place de la Paix, where Bulgarian/Spanish artist Christo Guelov's Color.Rythmetic is bursting with colours and sounds. Inspired by McLaren's Synchromy (1971), the piece tests the relationship between sound, movement, and built environment in a stunningly hyponotic way. If you can't be there, this video is the next best thing!
Reliant on McLaren's Dots (1940), this dreamlike video installation is a remarkable accompaniment to the striking modernist architecture of the Theatre. Members of the public are invited to interact with the project by placing tactile blocks onto a moving conveyor belt which then generates the sounds and images projected onto the building. Check it out:
A grouping of black and white spheres seem to struggle against their accompanying sounds in this piece inspired by McLaren's Spheres (1969). Babadjian's specialization in motion design is evident in this deceptively simple yet mesmerizing work.
As you exit the Saint Laurent metro station, you'll see a shipping container set up with a video booth inside it. Once inside, you and your companions can record yourselves creating motions with your bodies that will then be projected onto an adjacent brick wall. Inspired by McLaren's Canon (1964), the fun never ends with this participatory project; check out some of the lively users who have made the most of it below:
Any sci-fi fans in the house? This installation is delightfully creepy and futuristic as visitors are invited to scratch an imposing steel monolith with various objects. The actions then stimulate the alteration of images from McLaren's Lines Horizontal (1962), Lines Vertical (1960), and Synchromy (1971). Once you start influencing the outcome of this enchanting project, you'll be hooked.
Based on McLaren's film Begone Dull Care (1949), Mirai Mizue's project is a playful kaleidoscope of images depicting the metamorphosis of various white animals on a coloured background. Mizue's experience as an illustrator comes through in the sharply-drawn shapes that populate the architecture here. Have a look:
Save the best for last, they say. If you've scrolled down this far, you're in for a real treat. Based on McLaren's film Begone Dull Care (1949), this project transforms the centuries-old visage of the UQAM bell tower into something thoroughly contemporary and unmistakably of our digital age. You won't believe how something so old can look so new again:
If you're not a Montrealer, but you happen to be planning a trip here in the near future, be sure to check out McLaren Wall-to-Wall in person. It's on until June 1st, and you can get all the details here, including a map of the locations and more information about the participating artists. Happy strolling!