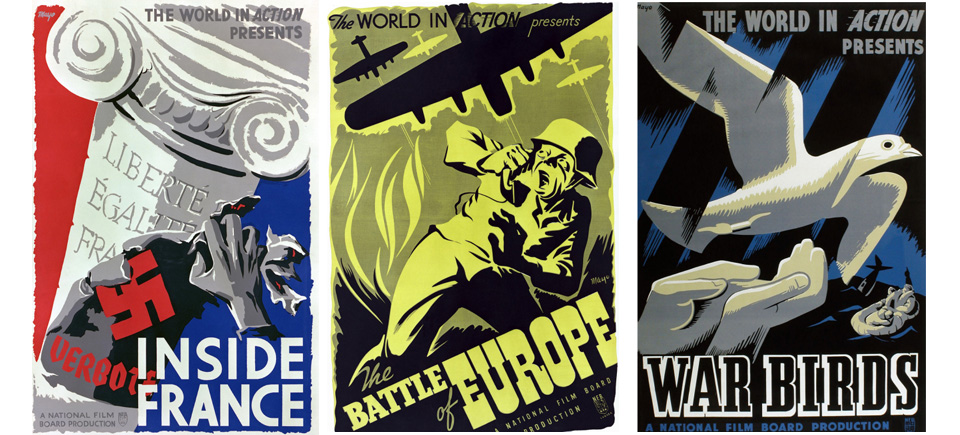 Delve into "Shameless Propaganda": what does it mean to be Canadian?
"We need to take Canadians by the throat and convince them they're a great people."
Those were the words spoken by John Grierson, the NFB's first Commissioner (1939-1945), a transplanted Scot whose fixation on convincing Canadians to be proud, singular, and tenacious was reflected in the NFB's massive wartime propaganda effort. Now, for the first time, some 500 of these films—alternately funny, enlightening, and deeply disturbing—have been collected by one filmmaker, Robert Lower, in the new feature doc Shameless Propaganda.
The film is now streaming for free on NFB.ca. It's an absolutely fascinating look at the power of film to create particular kinds of identity, whether national, ethnic, or cultural, and it's a must-watch for every Canadian.
Shameless Propaganda, Robert Lower, provided by the National Film Board of Canada
Introducing Canada to Canadians in a pre-television era
The power of film in the early decades of the twentieth century is unimaginable to us now, with our multiple media tools and screens proliferating like wildflowers. But at the time of the Second World War, the Canadian government found the power of film to be an incredibly useful tool in drumming up anti-fascist sentiment, working class pride (portraying a "populist democracy of ordinary working folks, with hardly a banker, and industrialist, or mining baron in sight"), and subtle xenophobia, all ingredients of a nation-building effort in the mid-20th century.
Eventually, the NFB took the show on the road, hitting up some 20 nationwide stops, including schools, public libraries, and other community gathering places ("the NFB traveling theatre comes to town!" exclaims an enthusiastic announcement in one of the films).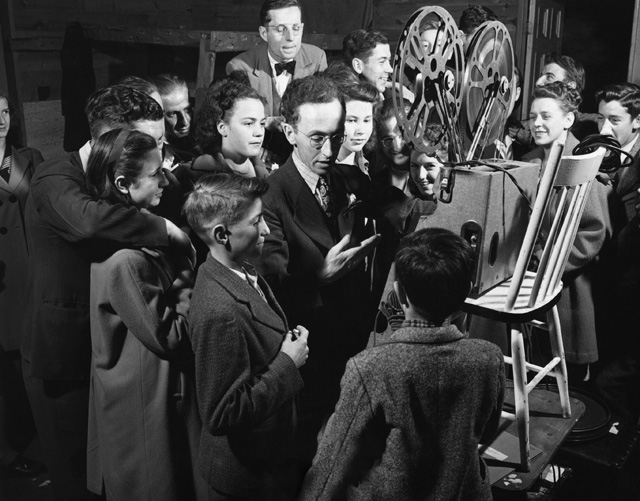 A projectionist from the NFB is surrounded by a group of enthusiastic youngsters during a rural showing in Sainte-Marguerite (now known as Sainte-Marguerite-Marie). La Matapédia, Quebec, Canada. May 1946. Photo credit: J. Mailer
What is a "Canadian" anyway?
It should be noted immediately that the portrait of "Canadians" in these films was extremely reductive, limited almost wholly to the white, Anglo-saxon descendents of Western Europe. Not only were the concerns and lives of Indigenous peoples, French Canadians, and many racialized immigrants (called "belligerent nationalities"!) completely ignored, they were also papered over with optimistic illusions framing oppression in a positive light. For example, the internment camps to which thousands of Japanese-Canadians were sent during the outbreak of war in the Pacific were re-framed as "relocation districts" in one particular film; these locales were made to seem bucolic and delightful.

Stills from one of the films featured in Shameless Propaganda profile the unwinterized cottages (L) of an internment camp in Harris Ranch, near New Denver, British Columbia. Japanese Canadians (R) were forced to live and work in the camp and could only leave designated areas by special permit.
Propaganda: selective, reductive, and seductive
Sure, the general promotion of democracy in the face of European fascism was a noble goal in these films. But Lower wisely characterizes the films as "propaganda by omission" for the ways in which mentions of any unpalatable topics (for example, labour strikes during wartime industrial production and rural Quebec's resistance to conscription) were elided. The important—and fascinating—lesson to be learned from Shameless Propaganda is that propaganda is necessarily selective, reductive, and seductive. Still, we can certainly be simultaneously critical and amused by these films' archaic notions, often expressed in hilariously over-the-top language: women are, of course, described in one of these films as "the flower and ornament of the human race"!
War and propaganda: mutually-assured?
At the end of WWII, Grierson wanted to continue producing propaganda in peacetime. His grandiose vision for shaping Canadian culture and politics on the global stage slowly began to trail into foreign policy, but Prime Minister William Lyon Mackenzie King felt Grierson was encroaching upon his authority. Grierson resigned in 1945 shortly after the war, with much pressure from King, but peacetime propaganda continued to be a prominent presence after the war. Want to know more about postwar propaganda? Read this post.
Shameless Propaganda premiered at the Vancouver Doxa documentary film festival and aired on CBC's Documentary channel. As previously mentioned, it's now available online free of charge on NFB.ca. Gather your friends, Canadians and non-Canadians alike, to witness these thought-provoking fragments of what it once meant to "be Canadian". We might even ask ourselves what it means today!
Shameless Propaganda, Robert Lower, provided by the National Film Board of Canada