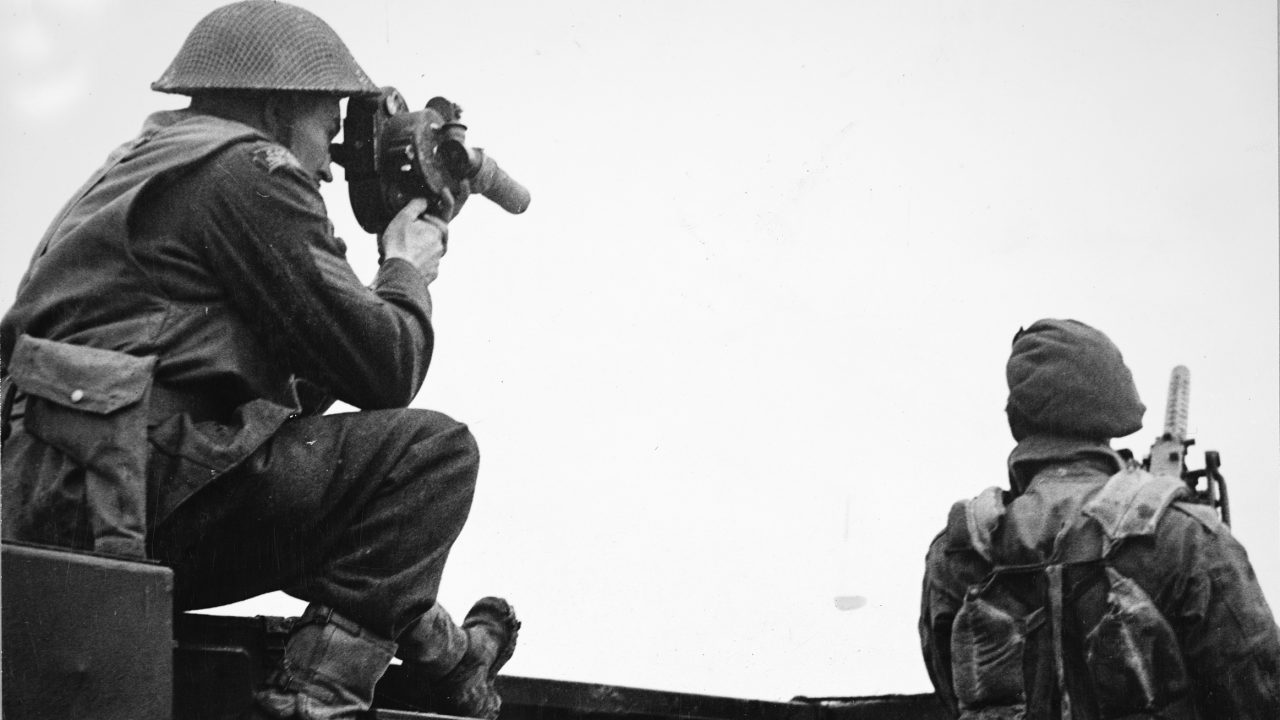 Headline Hunters: News Reporting during WWII | Curator's Perspective
In June 1945, Headline Hunters, the final war episode* in the Canada Carries On series, was released in Canadian movie theatres. In it, the work of Canadian war correspondents is highlighted, and as May 3 is World Press Freedom Day, I thought I'd use this blog post to take a look back at this classic documentary.
Canada Carries On was the NFB's first theatrical film series. Launched in April 1940, it issued a 10–20-minute documentary every month, offering a Canadian perspective on the Second World War. Every episode was released in some 800 Canadian movie theatres (by Columbia Pictures) over a six-month period.
Once the films had finished their theatrical run, they would be made available on 16mm and packaged into hour-long programs with cartoons and general interest films, to be shown in church basements, community centres, schools, service clubs and factories (referred to as non-theatrical distribution).
The films in the series were compiled using a variety of sources, including footage obtained from film libraries, footage shot by Allied forces cameramen and even footage taken from enemy films. Captured footage from the latter was obtained when Allied ships intercepted enemy ships and confiscated propaganda films produced by the Nazis.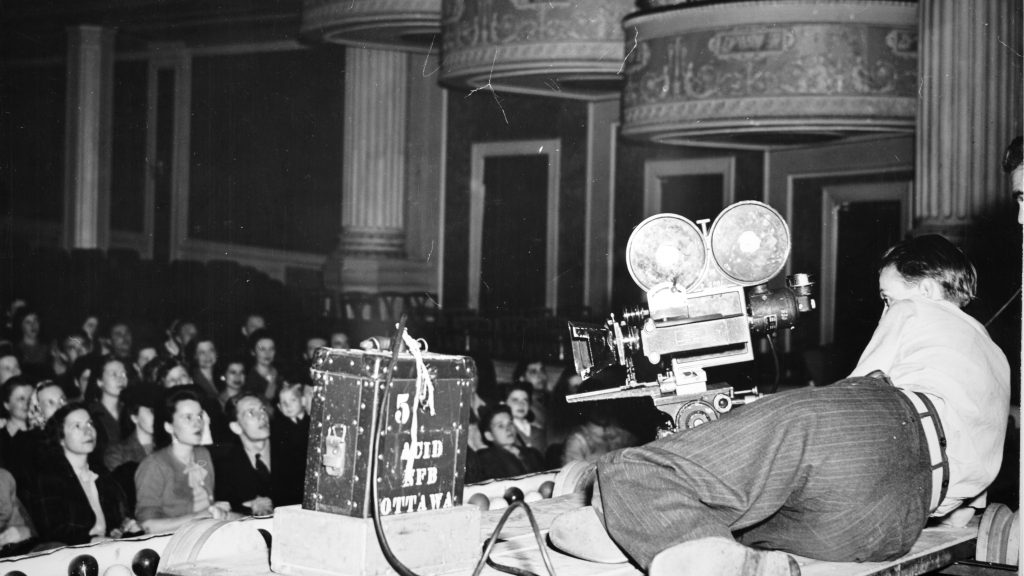 Headline Hunters is interesting as it covers all news reporting during the war, including the work of the NFB in filming battles and other war events (NFB cameramen joined the Canadian Army Film Unit later in the war). We see correspondents working for the radio and print media of the time, such as famed CBC foreign correspondent Matthew Halton, who's shown interviewing soldiers on the front lines.
We also meet reporters from the Globe and Mail, Maclean's and other newspapers and magazines. We're shown how the army would set up news briefings in the field for all the correspondents, including those from other countries, and how many print journalists would write their stories in the most unlikely of places (such as perched on top of a tank).
What's most interesting is the way the stories and film footage were dispatched back to Canada. Mobile darkrooms were set up in Europe to develop the stills and motion picture footage. The footage was even edited before being shipped by airplane. Mobile studios were also set up to allow radio broadcasts. Some radio reporters recorded their reports on vinyl discs as it wasn't always possible to do live broadcasts.
What I found most fascinating was the actual footage captured by the cameramen, including footage of fighter planes being shot out of the sky, the D-Day landings and injured Canadian soldiers. Motion picture cameras were also mounted on the wings of Mosquito bombers to film air raids.
Headline Hunters makes it clear that all the news had to go through military censors to make sure that no military secrets were divulged and no lives were put in danger. It's also evident that getting the news to Canada required a huge technological infrastructure and teams to maintain it.
Headline Hunters , , provided by the National Film Board of Canada
There's a shot early in the film, of a family listening to a radio news broadcast, that's worth pointing out. The look of worry on the woman's face as she listens is certainly genuine. Ordinary Canadians counted on these reports to keep them informed. I can imagine just how jubilant people were when they saw the newspaper headlines announcing Hitler's death or the German surrender.
I should mention that the version of Headline Hunters on NFB.ca includes a brief shot of a newspaper headline announcing Japan's surrender. As this only happened two months (August 15) after the film was released, it's obvious that this is an edited version of the original film and was used for the non-theatrical run, which began in December 1945.
I invite you to watch this terrific look at war correspondents from another era. While the methods and technology have changed, the aim is still the same: to inform the public. And if you'd like to see a more contemporary look at war reporting, please check out our new release, Freelancer on the Front Lines, which follows a reporter covering various conflicts in the Middle East.
Freelancer on the Front Lines, Santiago Bertolino, provided by the National Film Board of Canada
---
*Production of Canada Carries On would continue until 1959, but with a focus on peacetime subjects.