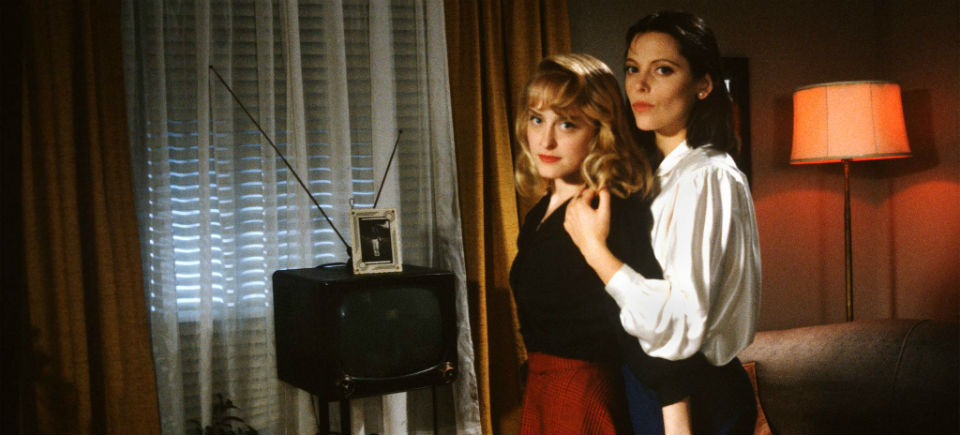 Celebrate the re-release of "Forbidden Love" with 4 LGBTQ films
One of the NFB's most successful and beloved films of all time is making a comeback after years of being unavailable. Forbidden Love: The Unashamed Stories of Lesbian Lives has now been re-released in a new, remastered HD version. And we're celebrating the release with a week full of LGBTQ* programming on NFB.ca!
Produced by the NFB's acclaimed Studio D, which specialized in films for, by, and about women, Forbidden Love features the alternately inspiring, charming, and thought-provoking stories of women who sought same-sex relationships at a time when such a thing was denounced. Funny and heartbreaking, the film offers a valuable portrait of the history of an embattled community.
The film is now available on DVD and as a digital download, and you can also watch a short clip here:
Forbidden Love: The Unashamed Stories of Lesbian Lives, Aerlyn Weissman & Lynne Fernie, provided by the National Film Board of Canada
Notably, the film is now available for the first time as a subtitled version in French. Accessibility to this much-loved film is a big part of maintaining the Canadian gay community's heritage. In fact, just last year, Professor Thomas Waugh (a well-known queer film theory and history scholar and Concordia University Research Chair in Documentary Film and in Sexual Representation) called for the re-release of Forbidden Love due to its seminal place in Canadian history. Waugh says the film is at the "centre of our queer heritage."
Celebrate the gay community's struggles, traditions, and triumphs on NFB.ca
Along with the long-awaited re-release of Forbidden Love, we're presenting a special selection of programming that deals with issues important to the gay community and their allies. Start with the delightfully frank feature doc Toward Intimacy, which takes a sex-positive look at women with disabilities who are looking for love and intimacy in a world that stigmatizes them. One of the women featured in the film has a hearing impairment and identifies as gay; her commentary about her struggles, discoveries, and path towards her sexuality is nothing short of inspiring.
Toward Intimacy, Debbie McGee, provided by the National Film Board of Canada
In When Love Is Gay, we meet a variety of gay men who discuss the barriers and stereotypes against which they must fight to gain just treatment. Whether it's coming out to their families or expressing themselves freely in public, these men go into great details about the kinds of oppression they've endured. The film is an interesting portrait of the terrain upon which the fight for equality was based back in 1995.
When Love Is Gay, Laurent Gagliardi, provided by the National Film Board of Canada
The controversial ex-gay movement
In a fascinating portrait of self-perception and social pressure, we meet a group of young men and women who claim to have been "cured" of their homosexuality by a controversial evangelical movement that "converts" people to heterosexuality. What happens when sexuality is at odds with entrenched religious beliefs? Find out in this riveting doc:
Cure for Love, Francine Pelletier & Christina Willings, provided by the National Film Board of Canada
Two very good friends who fall in love
John and Michael is a short animation that profiles the true story of two men with Down's  Syndrome who enter into an intimate relationship that ultimately becomes more rewarding than either could have imagined. This film is a testament to the power of storytelling, and features honest and charming narration from Brian Davis.
John and Michael, Shira Avni, provided by the National Film Board of Canada
More about Forbidden Love: a part of our Canadian and queer heritage
Did you know that Forbidden Love was a huge box-office and critical hit when it was initially released in 1992? In addition to a successful theatrical run in Canada, the film was also distributed by Women Make Movies in the US, where it played in 60 cities, including a 6-week run at the Film Forum in New York City. After its theatrical run, the film played on the CBC in Canada and on Channel 4 in the UK (where it was seen by over 1 million people).
Not only was the film a hit with audiences, it cleaned up on the awards circuit too: Forbidden Love won 8 awards, including Best Feature Documentary at the Genies. If you have not seen this seminal doc yet, now is your chance to see what all the fuss is about. Buy, rent, or download the film today!
And, for our readers in Toronto and surrounding areas…
There will be a special screening (don't forget: remastered in HD!) of Forbidden Love at the TIFF Bell Lightbox on Sunday, May 25th at 4:30 pm. This screening is presented by the Berkshire Conference of Women Historians, the Inside Out Festival, the National Film Board of Canada and Women in View.
—
* "This is a handy acronym that summarizes the main constituent groups within the overall "Gay Community." Specifically, the Gay Community includes Lesbian women, Gay men, Bisexual people of both genders, Transgender people, Questioning people who aren't sure about their sexuality." Also included in the LGBT(QIA) abbreviation are Intersexual people who have physical features of both sexes, and Allies who are heterosexual and support gay rights. Source: Case Western Reserve