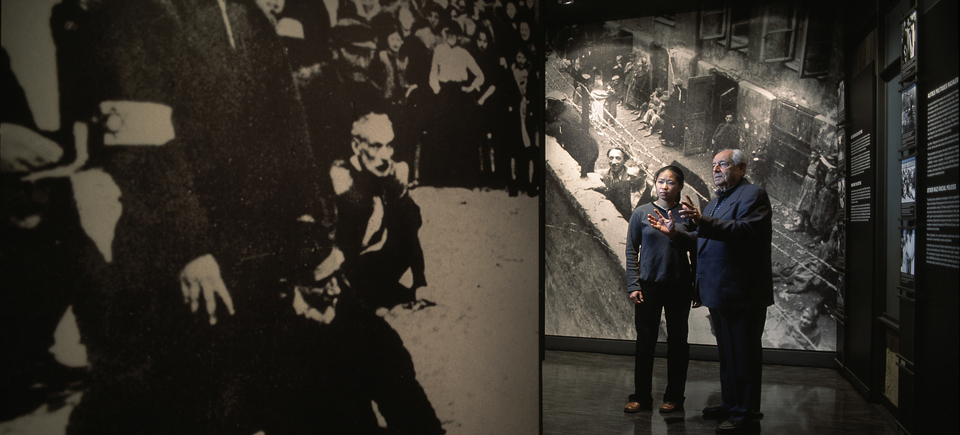 Holocaust Education Teaching Tools
This is a guest post written by Jacqueline Celemencki, Education Coordinator at the Montreal Holocaust Memorial Centre (MHMC).
***
Teachers will be excited to learn that they can now stream videos of the NFB's Holocaust education Virtual Classrooms, which took place in Toronto and Montreal earlier this year and featured some of the top educators and professionals in the field. Suitable for high school and college-level teachers, the content of these two Virtual Classrooms includes helpful tools and ideas on integrating Holocaust education units into History and Citizenship Education, Language Arts, Ethics, and Religious Studies curricula.
The International Holocaust Remembrance Day Virtual Classroom in Toronto was hosted by Dr. Carson Phillips, Assistant Director of the Sarah and Chaim Neuberger Holocaust Education Centre, and moderated by Michelle Fishman, Education Associate. The event began with a presentation by Dr. Phillips and was followed by a session with Scott Masters—winner of the Citizenship and Immigration Canada (CIC) Award for Excellence in Holocaust Education—in which he demonstrated his fascinating teaching method of incorporating recorded Holocaust survivor testimony.
You can view the virtual classroom here.
To complement these Virtual Classrooms, the NFB and CIC, in partnership with the Montreal and Toronto Holocaust education centres, have compiled a Holocaust Education playlist composed of an eclectic mix of pedagogical resources, including: a chronology of events that led to the Holocaust; classroom assignments and activities featuring historical artifacts belonging to Holocaust survivors who came to Canada after 1945; interviews with Holocaust survivors, who speak about life before, during and after the war; written survivor memoirs; iPad/Android apps that simulate a museum experience in the classroom; and selected NFB short films about the Holocaust and its legacy.
The NFB Holocaust Education Playlist

UNESCO's introductory document for teachers, Why Teach about the Holocaust?, answers questions that may arise in the planning and early teaching phases, while Dr. Phillips' Holocaust education resource suggestions provides an extensive selection of helpful links, offering historical background, access to online museum sites, and more.
The playlist also includes engaging and informative NFB short films such as Behind the Swastika: Nazi Atrocities, which can be used in conjunction with some of the other resources suggested. Note that this particular film contains graphic content and should only be shown at the secondary five level or higher, to students who have some knowledge and understanding of the atrocities committed during the Holocaust. Students can learn more about this topic by reading Brief History of the Holocaust, a guide produced by the Montreal Holocaust Memorial Centre (MHMC).
Behind the Swastika: Nazi Atrocities, , provided by the National Film Board of Canada
Students often ask: How did the world respond to the Holocaust? What did individuals and governments do? Exploring the Evidence, a learning activity on the MHMC's website, will give students a nuanced understanding of Canada's refusal to admit Jewish refugees during the Holocaust. And the Vancouver Holocaust Education Centre's online exhibit Enemy Aliens teaches students about a little-known part of Canadian history: the internment of Jewish refugees from Europe upon their arrival in Canada.
Students are also often curious about what life was like in the camps, how personal relationships flourished under such grueling conditions, and what happened to prisoners after the war ended. The Azrieli Foundation's Holocaust survivor memoirs bring a personal dimension to the Holocaust, featuring firsthand accounts from those that lived to tell their stories, while USC Shoah Foundation's IWitness program offers a user-friendly interface and recorded survivor testimony.
I Was a Child of Holocaust Survivors, Ann Marie Fleming, provided by the National Film Board of Canada
The NFB animated short I Was a Child of Holocaust Survivors is a visually stunning and engaging exploration of the Holocaust's impact on subsequent generations. Inspired by the author's graphic novel of the same title, this film, along with the Azrieli Foundation's series of short films is an excellent tool for English language arts classes focusing on visual representation. Brimming with historical information and artifacts belonging to Montreal survivors from the Netherlands, the MHMC's Draw Me the Story of…  activity gets students to create their own graphic novel, about the experiences of Jews in the Netherlands during the Holocaust.
Finally, for teachers wanting to create a museum-like experience for their students, the MHMC recommends that teachers and students download their new app for iPad and Android.
The app's three different "tours"—designed to accompany a museum visit or for use in the classroom—will help teachers and students discover remarkable objects and historical documents through audio commentaries, texts and high-resolution images.
Pour lire cet article en français, cliquez ici.
Discover more Educational blog posts | Watch educational films on NFB Education | Subscribe to the NFB Education Newsletter | Follow NFB Education on Facebook | Follow NFB Education on Twitter | Follow NFB Education on Pinterest