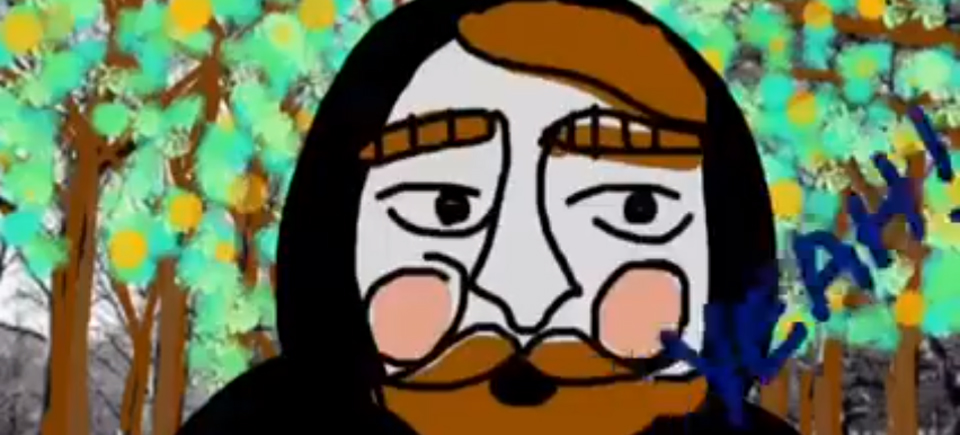 Show some love: make DIY animations with the NFB's easy-to-use apps
Got a special occasion coming up? Anniversary? Baby? Retirement? Anything, really! Did you just have a delightful brunch with a valued friend and want to show your love?
Here's a unique idea: create a short do-it-yourself animated video with one of our two user-friendly animation apps, McLaren's Workshop and NFB StopMo Studio. "That's crazy! I'm not a professional animator!" is what you might find yourself thinking. Rest assured: nothing could be simpler or more fun, and a personalized animated e-sentiment is sure to be received with delight.
Find some inspiration
The NFB employs a number of workshop facilitators who lead fun and informative sessions about various filmmaking topics (animation, documentary, digital storytelling) for students of all ages. These facilitators are some pretty creative, talented, and thoughtful folks. One of them, Laurence "Lolo" Desrosiers-Guité, has started making little animated videos for friends, family, and coworkers on any number of topics. Check out her ode to a beloved friend, complete with a lively soundtrack she chose from the app itself (and feel free to share this with your own beloved friends):
The above animation was created using the "Etching on film" function in the McLaren's Workshop app (for iPad only). Get the app now and try it yourself!
And how delighted would you be to receive something like this from a friend?
This one was created with the NFB's StopMo Studio app (formerly known as PixStop).
A few more tidbits to get you started…
Also made in StopMo, Lolo's colourful wish for a Happy Monday can go far when shared on the dreaded first day of the work week. Send your colleagues a personalized note to say we're only 5 days away from another weekend!
And how about this adorbs Mother's Day message of love, also made in McLaren's Workshop? Talk about Daughter of the Year!
A shareable animation for any occasion
Both the McLaren's Workshop app and the StopMo Studio app are equipped with easy-to-use sharing functions, so as soon as you complete your masterpiece, you can quickly save it on your device, email it, or post it on various social media platforms with the touch of a button.
Why not take advantage of those interminable Facebook birthday notifications and send someone you care about a truly unique digital message? Wish your Gallic friends a Happy Bastille Day on July 14! Wish your Muslim friends a very special Ramadan throughout July! And send your Acadian friends warmest wishes on National Acadian Day on August 15!
The possibilities are endless, as long as you say what's in your heart and let your imagination run wild.
Download McLaren's Workshop here and NFB StopMo Studio here.
And, by the way, we're planning on some updates for the apps to go with iOS 8, so if you've got any wish lists, critiques, compliments, or any other kind of feedback, we would love to hear from our creative users. Leave  your thoughts in a comment below… and happy animating!