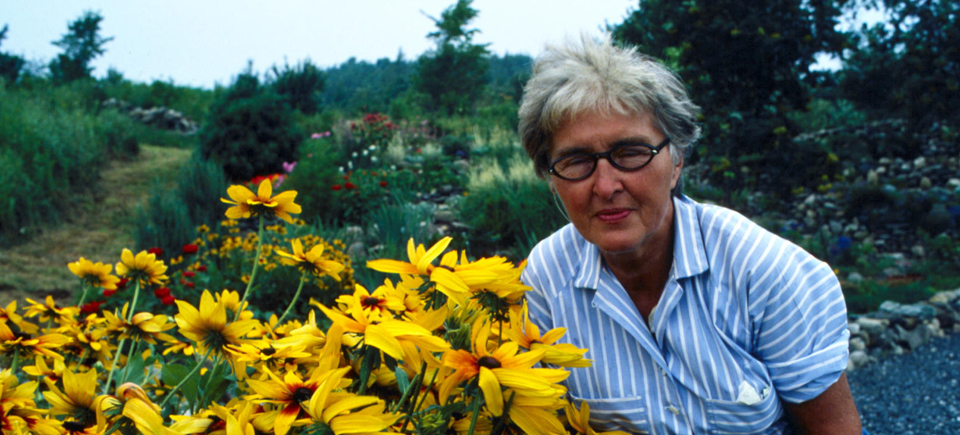 Evelyn Lambart's centenary: celebrating Canada's first female animation pioneer
Today, July 23, 2014, we celebrate the centenary of Canadian animation pioneer Evelyn Lambart (1914-1999). Lambart was the first female animator to join the NFB (in 1942) and is widely recognized as the first female animator in Canadian cinema history. For nearly 25 years, she was the only woman directing animated films at the NFB. Moreover, she was one of the few women in the world working even as a co-director in any form of cinema during the 1940s and '50s.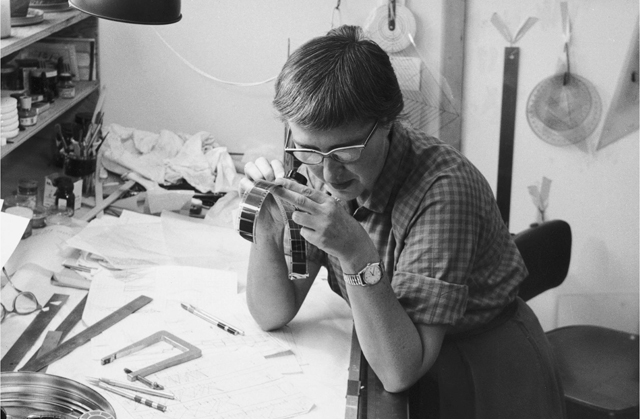 Evelyn Lambart examining reels in the NFB studios, circa 1969.
Perhaps you've heard of Norman McLaren, the Oscar®-winning filmmaker, designer, sound artist, animator and all-around prolific creative type? Well, Evelyn Lambart was an integral presence on many of McLaren's projects, and her own independent work also broke boundaries and demonstrated an eye-catching talent for colour, motion, and narrative.
Lambart tells the story of her arrival and subsequent career at the NFB in this short portrait from the series of web docs Making Movie History: A Portrait in 61 Parts:
Making Movie History: Evelyn Lambart, Joanne Robertson, offert par l'Office national du film du Canada
Born in Ottawa in 1914, Lambart was encouraged to pursue the arts by her parents, who were artists themselves. She graduated from the Ontario College of Arts (now OCAD University), and when she first arrived at the NFB, her primary functions involved preparing maps and diagrams—essential components of the World in Action wartime propaganda series, which continued until 1945.
Lambart worked closely with McLaren for over 20 years, from 1944 to 1965, and one of their major collaborations, Begone Dull Care, is hailed to this day as a masterpiece of experimental animation and image-to-sound relation. The lively animated images were painted directly onto the film and set to a mesmerizing soundtrack by Canadian jazz great Oscar Peterson.
Begone Dull Care , Norman McLaren & Evelyn Lambart, provided by the National Film Board of Canada
Among the many films on which Lambart collaborated with McLaren are Rythmetic (1956), Lines Vertical (1960), Lines Horizontal (1962) and Mosaic (1965). She also collaborated on Le merle (1958), Short and Suite (1959) and A Chairy Tale (1957), which received an Academy Award nomination.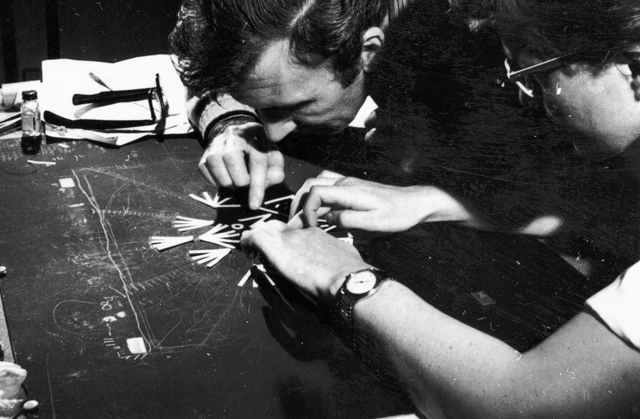 Norman McLaren and Evelyn Lambart at work on La Merle in the NFB studios, 1958.
In the 1960s, Lambart worked on her own films, using paper and linoleum cut-outs against coloured backgrounds to create her signature richly-coloured aesthetic. She directed seven short animation films that earned her numerous awards: Fine Feathers (1968), The Hoarder (1969), Paradise Lost (1970), The Story of Christmas (1973), Mr. Frog Went A-Courting (1974), The Lion and the Mouse (1976) and The Town Mouse and the Country Mouse (1980).
The Town Mouse and the Country Mouse, Evelyn Lambart, provided by the National Film Board of Canada
Moving away from the abstract character of McLaren's work, Lambart embraced narrative. All of her films told simple yet powerful stories, accessible to both kids and adults, that were often based on fables. Her characters—frequently birds or mice—were confronted with moral issues, and her tales focused on greed and the nature of friendship. Always well crafted, Lambart's work was undeniably charming and classically traditional.
The Hoarder, Evelyn Lambart, provided by the National Film Board of Canada
Lambart also animated some sequences in the Oscar®-nominated film The Fight: Science Against Cancer, a documentary that features animated scenes of cancerous cell growth to illustrate the nature of this deadly disease.
The Fight: Science Against Cancer, Morten Parker, provided by the National Film Board of Canada
Lambart's NFB career ended in 1974 but she continued to work on films from her studio at home in the Eastern Townships. In 1978, Margaret Wescott directed Eve Lambart, a film about Lambart's life in semi-retirement.
Want to know more about the talented, pioneering women who have shaped the NFB over the decades? Head over here for all the details.
 ***
Header image: Evelyn Lambart, pictured in her garden at Sutton.