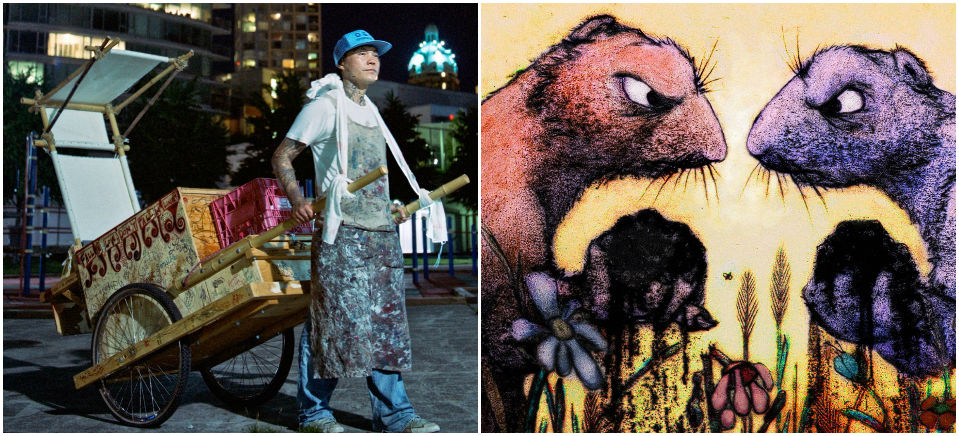 The NFB Film Club is back with stellar Winter 2014 programming
We're proud to announce a new season of fantastic programming in the NFB Film Club. The Film Club works with public libraries to make the NFB's vast collection accessible to communities in every region of Canada. We offer a variety of free film programs—featuring new releases—for both children and adults.
Read on for the Winter 2014 selection. Watch a few trailers, and if you like what you see, get in touch with your local public library to screen the films—for free!
NFB Film Club docs: learn, think, explore
Little Big Girls, the latest documentary by veteran filmmaker Hélène Choquette, sheds light on early-onset puberty. Far from being a marginal issue, this phenomenon affecting girls as young as nine is fast becoming a worldwide public health concern.
Read an in-depth interview with the director here, and watch the trailer below.
Little Big Girls, Hélène Choquette, provided by the National Film Board of Canada
In Danny, you'll get to know Danny Williams, the charismatic and unflinching Premier of Newfoundland and Labrador from 2003 to 2010. Famously fierce, Williams took on prime ministers and Big Oil to ensure that benefits from the province's abundant natural resources flowed back to its people. Available as of March 2015.
Danny, Justin Simms & William D. MacGillivray, provided by the National Film Board of Canada
Sundance award-winning director Julia Kwan's documentary Everything Will Be captures the subtle nuances of a culturally diverse neighbourhood—Vancouver's once-thriving Chinatown—in the midst of transformation. The community's oldest and newest members offer their intimate perspectives on the shifting landscape as they reflect on change, memory and legacy.
Everything Will Be, Julia Kwan, provided by the National Film Board of Canada
Wrapping up our doc selection is The Lost Garden: The Life and Cinema of Alice Guy-Blaché—a treasure from our vaults to mark International Women's Day in March. Starting at the end of the 19th century, Guy-Blaché directed, produced and/or wrote more than 700 films before fading into obscurity. Marquise Lepage's documentary rescues the story of one of cinema's most fearless pioneers.
Jaunty animations—for kids and adults alike
Our kids' program in the NFB Film Club will most certainly appeal to adults, too.
When the Dust Settles features a pair of vengeful neighbouring gophers. Will they finally reconcile after trying to destroy each others' lives? In Wasetag, a young Mi'kmaq girl seeks solace in nature and received the wisdom of an elder, which helps her to discover the Spirit Path and restore love to her family.
In From Far Away, we meet Saoussan, a young girl from a war-torn country whose memories of her devastated homeland are triggered by the scary props and games of Halloween. And Runaway is a hilarious and thought-provoking short about a group of diverse folks on a train heading for certain disaster. The struggle amongst them is as amusing as it is merciless.