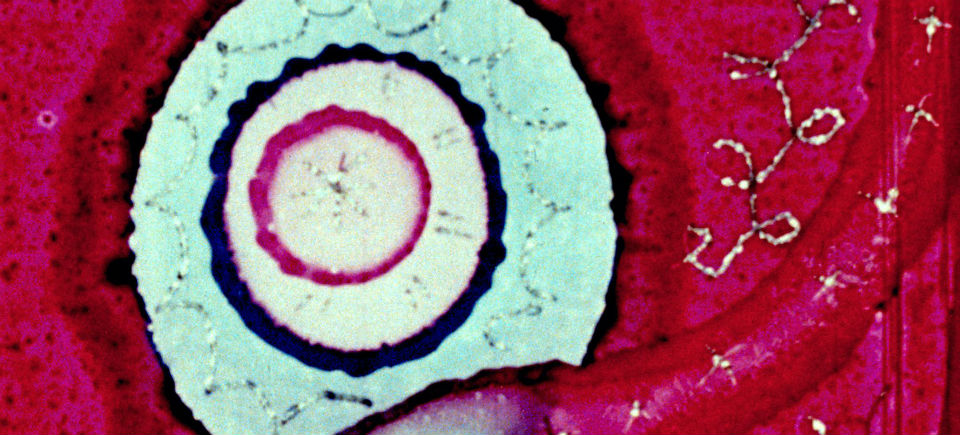 Hosting a New Year's Eve party? Play these 4 films as party decor!
Flowers? Streamers? Strings of tiny lights? Sure, anyone can decorate a party with a few typical doo-dads. But if you want to make your New Year's Eve bash truly memorable, why not stream a few colourful and decorative NFB films in the background?
We've got a great variety of weird and wonderful films (often without dialogue) that can play on repeat and act as conversation pieces for curious party-goers. I've done this a few times myself, with the films on mute and my chosen party music playing on high, and guests are always impressed and delighted. Check out the recommendations below, and your party will be the talk of the town!
A barrage of movement and colour: Begone Dull Care
This groundbreaking classic animation even comes with a soundtrack that gives ol' Drizzy a run for his money: it's scored by the incomparable Oscar Peterson. The film itself is a barrage of colour and movement, created by Norman McLaren's famous direct-on-celluloid scratching and colouring techniques. Your party guests are guaranteed to be entranced.
Great for a party full of art and design critics, workers, and students.
Begone Dull Care , Norman McLaren & Evelyn Lambart, provided by the National Film Board of Canada
If you like this film, try Quilt too.
For adults only: Series 4
This poetic and hypnotic meditation on the relationship between technology and the human body does contain some nudity. Athough tasteful, I'll leave it up to you to judge whether it's suitable for all ages. In any case, the film itself is a stunning and puzzling inquiry into where the human body stops and technology starts. Even though it was made a few decades ago, this smart and artful film is highly relevant today as technology gets ever closer to the functioning of our bodies.
Great for a party full of tech-lovers, nudists (!), or scholars and critics of technology, anthropology, or media.
Series 4, Normand Grégoire, provided by the National Film Board of Canada
Nature-loving fans of Canadiana, unite! Song of the Paddle
Are you hosting your New Year's Eve party at a rustic cottage? Are a lot of your friends avid outdoors(wo)men? This Bill Mason classic is just the ticket. Crammed full of idyllic shots of beautiful lakes, mountains, and campfires, Song of the Paddle transmits an undeniable feel-good warmth to anyone who even catches a brief glimpse. Bonus: the film is 40 minutes long, so you can put it on and go mix up some cocktails.
Great for a party full of avid outdoorsy types, athletes, travel enthusiasts, and, well… Canadians.
Song of the Paddle, Bill Mason, provided by the National Film Board of Canada
If you liked that one, try Corral too.
Even without its jarring dialogue, Arthur Lipsett's acclaimed masterpiece of the avant-garde is mesmerizing. Seemingly random shots of everyday life (wrestlers, shoppers, dolls in a store window, a barrage of human faces) are combined to create a hectic critique of modern society. You won't be able to look away, and your party guests will definitely have something to talk about.
Great for a party full of artsy types, Marxists, film editors, vintage clothing enthusiasts.
Very Nice, Very Nice, Arthur Lipsett, provided by the National Film Board of Canada
If you liked that one, try 23 Skidoo too.
Suggestions for further watching partying….
Want more cinematic party decor? Try any of the fantastically colourful and engaging films of Theodore Ushev (my personal fave is Tower Bawher), or perhaps the vintage love letter to Montreal The Memory of Angels. For animation enthusiasts, we've also got our Hothouse playlist, which is crammed full of tiny masterpieces created by some of today's most talented young artists.
So let's get this party started! From all of us at the NFB, we wish you a very happy and very cinematic New Year!
---
🎄 Looking for something more conventionally holiday themed? Check out our HO-HO-Holiday channel for a selection of over 50 family friendly films.