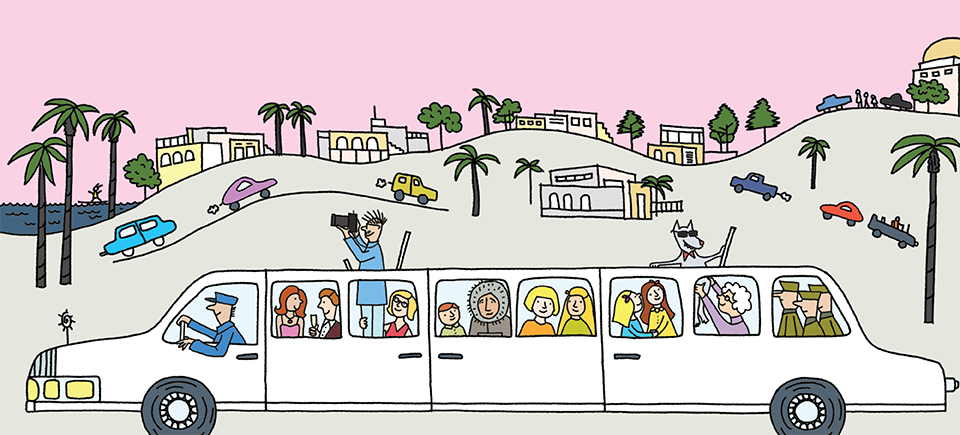 Announcing… Our 73rd Oscar® nominee! Watch "Me and My Moulton" for FREE now!
Roll out the red carpet, y'all…
We're delighted to announce our 73rd Oscar® nomination in 75 years as Canada's public film producer. Torill Kove's animated short Me and My Moulton is nominated in the Short Film (Animated) category this year, and to celebrate our 73rd nod from the Academy of Motion Picture Arts and Sciences, we're streaming the film online for FREE for 73 hours only.
Me and My Moulton, Torill Kove, provided by the National Film Board of Canada
Kove's charming and colourful semi-autobiographical film tells the tale of a seven-year-old girl with unconventional parents who envies other normal Norwegian families of the 1960s―and the unexpected drama that occurs the summer she and her sisters ask their parents for a bicycle.
More Torill Kove gems online
Torill Kove directed the 2006 Oscar®-winning short The Danish Poet, as well as her Oscar®-nominated debut film, My Grandmother Ironed the King's Shirts. In The Danish Poet, we follow a curious and existentially-anxious poet named Kaspar as he searches for the meaning behind the events in our lives, from birth to death and everything in between.
The Danish Poet, Torill Kove, provided by the National Film Board of Canada
In My Grandmother Ironed the King's Shirts, we meet the filmmaker's own grandmother and hear her tall tales from WWII. In the process, we find a curious overlap between fact and fiction, realizing the truth lies somewhere in between.
My Grandmother Ironed the King's Shirts, Torill Kove, provided by the National Film Board of Canada
More, more, more! Follow Torill and watch bonus clips from Me and My Moulton
Want to know what Torill Kove is up to as she makes the rounds of events leading up to the ultimate glamour-fest on Feb. 22nd? Follow her on Instagram, and get an inside look at what the life of a nominee is all about. It's not all glitz and glam, but Torill makes it took like a blast!
And that's not all―Torill has also been busy in her studio creating a few very short bonus clips featuring the lovable characters from Me and My Moulton. Check them out below, starting with the most recent clip in which our design-loving Norwegian family gets ready to hit the Oscar® red carpet.
Follow us on social media for all our latest Oscar® and Moulton news
Hook up with the NFB on Facebook, Twitter, or Instagram to stay in the loop―you'll see a curated selection of films, pics, interactive productions, blog posts and special offers. Want to stay up-to-date on news about Me and My Moulton's Oscar® run? Follow the hashtag #meandmymoulton. And while you're at it, why not subscribe to our weekly newsletter, hm? You'll get a weekly dose of film culture delivered directly to your email inbox, and you'll love every minute of it.
We've got our fingers crossed, so cheer for us on Feb. 22nd at the live Oscar® telecast!