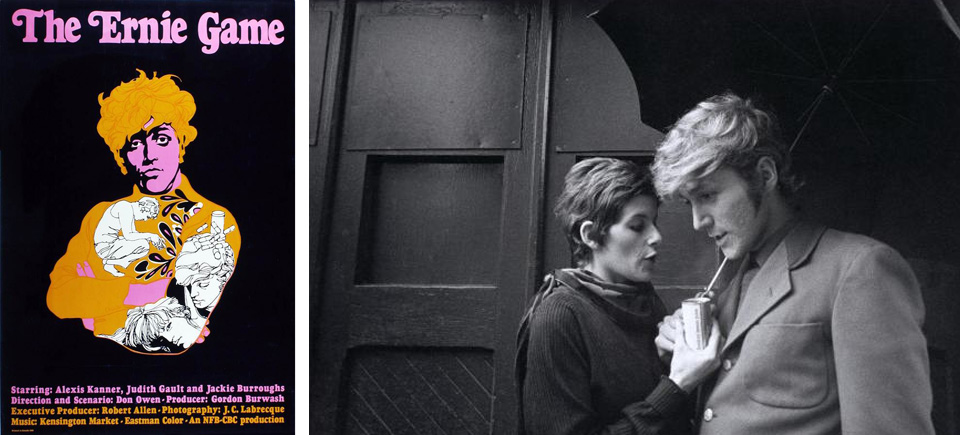 The Ernie Game: Troubled youth of the 1960s
The NFB is not primarily known for its feature dramas, but over our 75 years of existence we have produced a few jewels that can rightly be considered some of the best Canada has ever made. One only has to think of Claude Jutra's Mon oncle Antoine, named best Canadian film of all time by TIFF, or Don Owen's Nobody Waved Good-bye to see that our features resonate with Canadians. The subject of this post is a lesser-known feature, but one that still deserves to be praised far and wide.
If you are looking for a strong story with some remarkable performances, The Ernie Game is the film for you. It is about a young man who quite simply is not capable of functioning in our modern world. Unable to fend for himself, he leans on others to do it for him, but in doing so alienates them and ends up alone.
In the late 1960s, the NFB's English Program was looking to make a few moderately priced feature films about the youth of the country. These films were destined for Canadian theatre screens and television and intended to present a realistic look at the youth movement of the era. Discussions held with the CBC led to two projects being approved as co-productions between the two federal agencies. The Ernie Game was the first of these. Budgeted at a modest $300,000, it was to be broadcast on the CBC first and possibly receive a theatrical distribution deal afterward.
Don Owen, who had amazed Canadians with his seminal film on Canadian youth, Nobody Waved Good-bye, proposed a screenplay that was accepted by both agencies. He filmed for nine weeks, beginning in January 1967, on the streets of Montreal. Cameraman extraordinaire Jean-Claude Labrecque (60 Cycles, Such a Simple Game) shot the film for Owen. Instead of being filmed in 16mm black and white with improvised dialogue, as had been the case for Nobody Waved Good-bye, The Ernie Game was made in colour and 35mm with a complete shooting script. The filmmakers wanted to produce a polished product that would have an impact on audiences.
Alexis Kanner was chosen to play the central role of Ernie, the young man who cannot commit to anything and spends his time going from one thing to another without ever having a purpose. The 25-year-old actor had appeared in many films and television shows in Canada and England and had even shared the stage with Orson Welles in the UK. Judith Gault and Jackie Burroughs were cast as the two women in his life who eventually tire of his immaturity. Gault is particularly good as a single mother who is initially attracted to Ernie's devil-may-care attitude. She quickly comes to resent his lack of focus and childish actions. The film includes a short cameo by Leonard Cohen, who appears as a singer at a party (Ernie's reaction to Cohen's song is especially revealing of his mental state).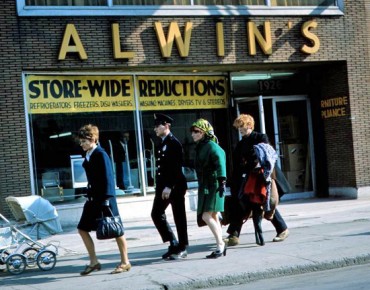 Editing of the film was finished in the fall of 1967, and it was broadcast on the entire CBC network on Wednesday, November 8, at 9:30 p.m. Reviews were mostly positive, with Maclean's magazine calling it "the best fiction movie Canada ever made." Many reviewers were impressed that the two agencies had produced such a sensitive, thoughtful film.
In October 1968, The Ernie Game was named Best Film of the Year at the annual Canadian Film Awards, and Don Owen won the Best Director award as well. With such high praise, the film caught the attention of Columbia Pictures, which agreed to distribute it in Canada. It was released at the Cinecity art house cinema in Toronto shortly after. This was followed by a release in January 1969 at the Guy Cinema in Montreal and eventually in several other Canadian cities, including Brantford and Hamilton. Critics who had caught the film on their small black-and-white television sets liked it even better on the big screen, and most reviews were favourable. A French-subtitled version was released throughout Quebec, receiving excellent reviews.
The Ernie Game then opened the 1969 Berlin Film Festival to much acclaim. It was also screened as part of the Quinzaine de jeunes réalisateurs at Cannes that year. All these prestige screenings led to theatrical and TV sales to a dozen countries, including Israel, France, and Spain, where it became that country's first NFB theatrical release.
What impresses me so much about this film, apart from the terrific performances, is the sensitive treatment of issues such as mental illness and alienated youth. The Ernie character is not an easy one to sympathize with, but Kanner's portrayal is subtle enough for us to still connect with him. We don't get to know too much about the character played by Jackie Burroughs, but her moments with Kanner are very well played. Judith Gault is amazing as a woman who is worn out from having so many responsibilities at such a young age. She sees in Ernie a chance to let loose and have fun, but he is too immature for this to last. I won't reveal what happens at the end, but it is clear that Ernie has cried wolf once too often.
I invite you to watch this touching film, recently added to NFB.ca. It is a great time capsule of the late 1960s and includes some incredible performances. It could have easily been a clichéd film on the youth of the era, but thanks to Owen's subtle screenplay it avoids this and concentrates on a troubled character and the people who try to help him.
Enjoy the film.
The Ernie Game, Don Owen, provided by the National Film Board of Canada