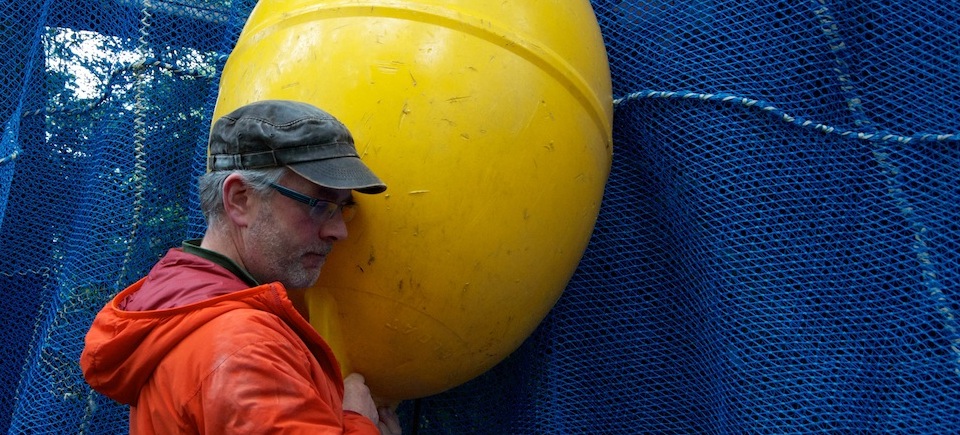 Debris: Disaster Movie as Art
Beachcombing is both a job and a passion for Pete Clarkson. As a park worker on the wild and beautiful outer coast of Vancouver Island, he's been picking up marine debris for decades – and as an intertidal artist, he transforms it into joyous and light-hearted artwork.
But since 2011 he's been confronted with a more serious creative challenge – what to do with tsunami debris making its way across the Pacific in the wake of the worst earthquake in Japanese history.
Vancouver filmmaker John Bolton documents Clarkson's quest to forge meaning from the tragedy in Debris, a short documentary in the final stages of post-production at Pacific & Yukon Studio.
"He's recycled these objects into a remarkable public memorial — one that honours the tsunami victims while reminding us of our own vulnerability to disaster in the Pacific Northwest," says Bolton, who met Clarkson at a 2013 exhibit of his work at the Vancouver Aquarium. "Pete was open to collaborating and the film developed and grew in parallel with his own project."
Tsunami debris started coming ashore on Canada's west coast within months of the disaster. Lightweight Styrofoam floats, bearing Japanese markings, were followed by all manner of objects — fishing gear, furniture, and timber beams bearing signs of traditional Japanese carpentry.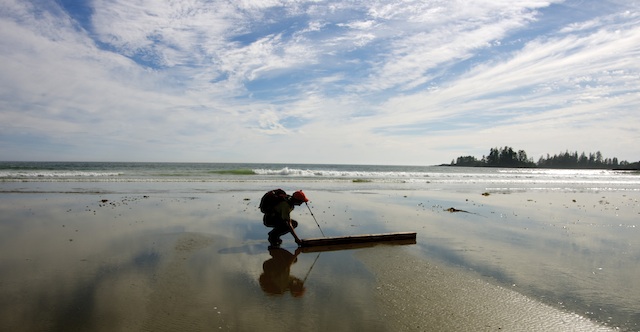 "Pete approached the objects with curiosity and humility," says Bolton. "At one point he found a tabletop, battered from months at sea. We imagined the people who sat at that table, all those lives that got swept away by the tsunami. Pete's respect for objects that most people would view as just debris was — is — deeply moving to me."
"Debris was a great project for us," says Shirley Vercruysse, executive producer of Pacific & Yukon Studio. "Art can shed new light on history, and John has found a beautiful story here, one that's firmly rooted in a very specific and special place. It presents the 2011 disaster and its aftermath with sensitivity and visual flair."
Shot in the Tofino area, the film was lensed by Andrew Coppin, whose DOP credits include the award-winning feature doc 40 Days at Base Camp, and was edited at Pacific Studio by Jenn Strom, whose own director credits include the NFB short Assembly, a poetic tribute to Studio D and art of film editing.
The original score is being composed by Scott Morgan (aka "loscil"), the Vancouver-based ambient musician behind acclaimed site-specific compositions like First Narrows and Strathcona Variations. "The music brings a dark undercurrent to the film," says Bolton. "I like to think of it as an intertidal relationship. The film focuses on the shore while the ocean is evoked by the score." The film's sound design is being created by Chris McLaren at Vancouver's Sound Kitchen.
Bolton's production company Opus 59 Films specializes in films about art and music, and his credits include the Gemini-nominated omnibus film 12 Takes, which includes a contribution from Strom. He's currently developing his first feature E Day Is Coming, which he describes as a "seismic comedy about earthquake and real estate anxiety in Vancouver."
Post-production on Debris is due to be complete this spring, with a release planned for late summer 2015. Debris is produced by Shirley Vercruysse for Pacific & Yukon Studio.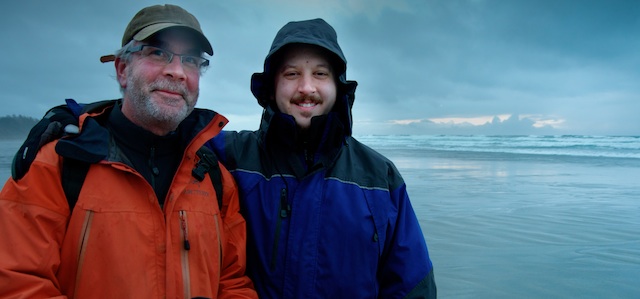 Pictured above: Pete Clarkson and John Bolton. Photographs by Teri Snelgrove.