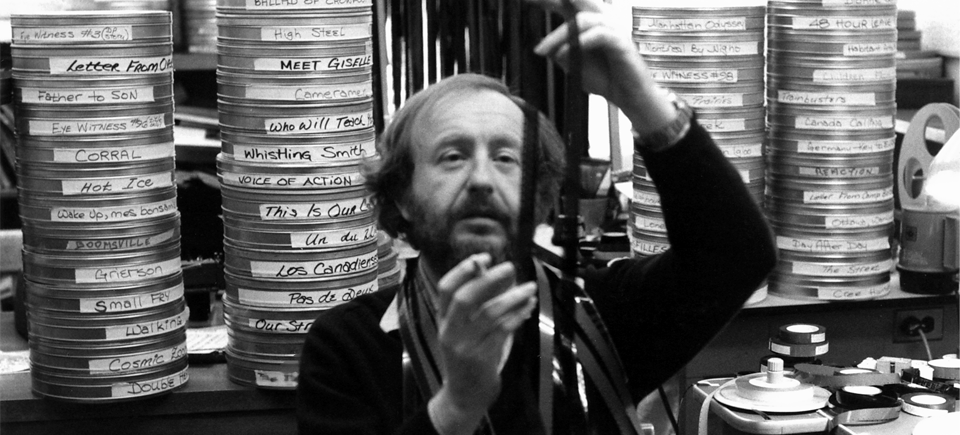 Albert Kish: Tribute to a virtuoso filmmaker
The first time I ever visited the NFB was during my days as a film student, to see the sound mix of the film The Age of Invention. I was kindly invited by filmmaker and editor Albert Kish. I sat with him and the sound mixer and marvelled at their work; it gave me an inside look at what goes on in this incredible institution. When I began working here a year later, I would often cross paths with Albert Kish, who always greeted me with a smile.
I was saddened this week to learn that Mr. Kish had passed away. I have had the privilege of knowing this great filmmaker and seeing him work. He directed some 20 films at the NFB, including many award winners. He also did incredible work as an editor on more than 30 films. To pay tribute to this great man and the work he produced in his 28 years at the NFB, I have chosen four of his films to recommend, which are all personal favourites. Here they are, in no particular order:
Los Canadienses is Mr. Kish's documentary on Canadian volunteers in the International Brigade that fought in the Spanish Civil War. It is a sensitive, haunting portrait of the brave young men who joined the fight against fascism. The film won several awards, including the Flaherty Documentary Award at the BAFTAs.
Los Canadienses, Albert Kish, provided by the National Film Board of Canada
Albert Kish edited the absolutely spellbinding film Juggernaut, a documentary that follows a calandria (the 70-ton heart of a nuclear reactor) on a 600-mile journey through India to its destination in the province of Rajasthan.
Juggernaut, Eugene Boyko, provided by the National Film Board of Canada
This Is a Photograph is an experimental documentary, directed by Mr. Kish in 1971. It consists of hundreds of photos of new immigrants in Canada. The stills were all taken by Albert Kish and edited into a very unusual but ultimately satisfying portrait of the immigrant experience. The film won two Canadian Film Awards, including Best Theatrical Short.
This Is a Photograph, Albert Kish, provided by the National Film Board of Canada
In Our Street Was Paved With Gold, Mr. Kish once again showcases European immigrants, this time in Montreal. From Hungary to Portugal and from Italy to Poland, these immigrants settled on St. Lawrence Boulevard, right between the French and English. This is a beautiful, thoughtful portrait of the immigrant experience in Canada.
Our Street Was Paved with Gold, Albert Kish, provided by the National Film Board of Canada
I invite you to watch these wonderful films and discover (or re-discover) this amazing filmmaker. Thank you Mr. Kish, for letting me sit in on your sound mix session so many years ago, and for leaving us this beautiful body of work.