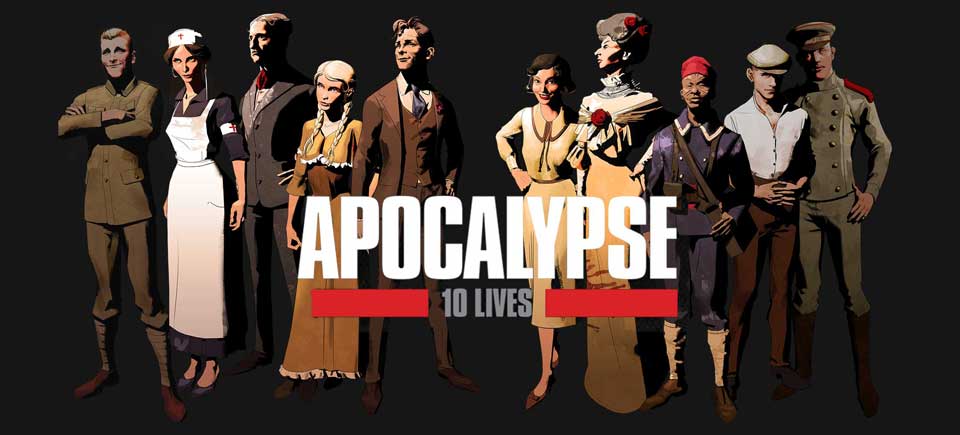 Another Way of Studying World War I
*  This guest post was written by David Finkelstein.
The interactive animated story Apocalypse 10 Lives allows viewers to follow the stories of 10 different characters as they make their way through the landmines—both figurative and actual—of World War I. The experience begins as viewers choose to follow one of four characters; from there, encounters with additional characters make it possible to redirect the story and trace new pathways along different story arcs. With obvious connections to Canadian and 20th-Century History curriculums, Apocalypse 10 Lives would also be valuable in high school English or Civics classrooms. The supplementary resources are adaptable to intermediate students as well. I wholeheartedly endorse this production and have already reflected on how to integrate it into my own classroom.
An invaluable resource
I am also thrilled to say that the Learning Resource included with Apocalypse 10 Lives is invaluable. The variety of supplementary materials for both teachers and students (including maps, charts and lessons grouped into categories such as "Progress in Medicine and Surgery" and "The Emancipation of Women") gives educators the opportunity to provide students with a grab bag of extension information and activities to further their inquiry.
Digital Literacy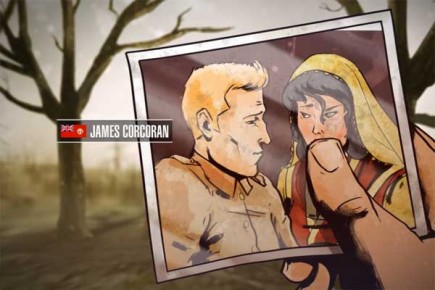 Interactive storytelling is revolutionizing how students connect with historical and literary concepts. As "digital natives," most of our students feel more at home on a tablet than a classroom table, and Apocalypse 10 Lives makes the most of a unique format to present both (fictional) primary and (historical) secondary sources to viewers. Similarly, it has "gamification" elements whereby the discovery of highlighted items in each scene connects the viewer to maps, newspapers, pictures and radio addresses to flesh out the fictional characters' stories. Apocalypse 10 Lives also adds a feature of inquiry learning to the process, as each viewer can choose which and how much additional information they want to explore, and at which junctures.  A "score" at the end of each character's story shows you how many different secrets remain to be uncovered.
Personalizing History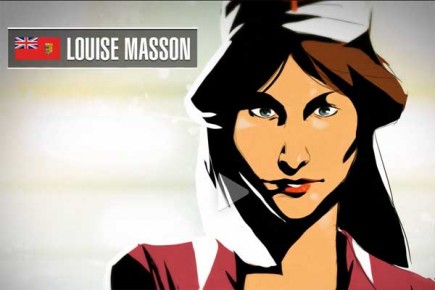 One of the challenges I find in teaching History is that large numbers can be difficult to conceptualize. For example, over 400,000 Canadians served overseas during World War I—a number larger than the populations of all but about 10 cities in Canada—and around 60,000 Canadians were killed. I find Apocalypse 10 Lives to be so successful precisely because, by focusing on individual stories, it shows viewers events through a much smaller lens, making it easier to get one's bearings. As Canadians, we may feel some pride that one of the main characters of the story is Louise Masson, a French-Canadian nurse sent to France to support the troops. Through her experiences, viewers encounter soldiers affected by poison gas, Spanish Influenza and the aftermath of Versailles.
Inquiry-based Learning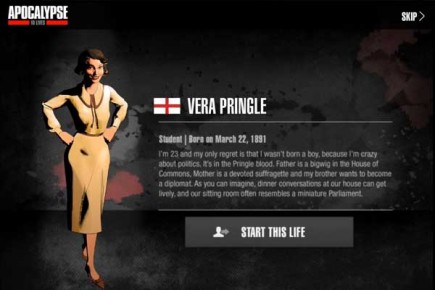 Overall, the most significant success of Apocalypse 10 Lives is the opportunity it creates for students to explore at their own pace and in their own way. Inquiry-based learning, in which students take control of their own curriculum, can be one of the most effective ways of imparting information. Because the students have choice, they have agency, and through that agency they come to the "cold hard facts" of their own volition. Students are much more likely to share their findings when they are engaged with the material.
---
My name is David Finkelstein. I love the surprises found in each new batch of CAMPUS films. The range of viewpoints and voices offered by the NFB's productions is almost unparalleled. In the classroom, I want my students to focus on critical thinking and empathy, two essential life skills. I am an OCT-certified teacher and have developed curriculum for a number of CAMPUS films, including the Blackfish study guide and an Audio Literacy unit developed to accompany the L.A. Theatre Works collection.