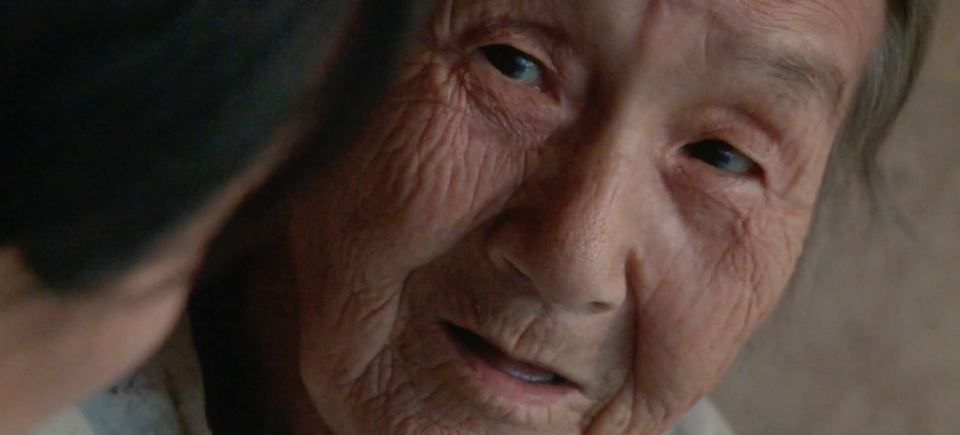 NFB English Production: Five to Watch in 2016
2016 kicked off on a high note here at the NFB with news that Canada's public producer has nabbed 19 Canadian Screen Award nominations – getting the nod in no fewer than 14 different categories. The same range and innovation is evident in the English Program's current production slate. Here are five projects to keep an eye on this year.
Animation with Bite: Animal Behaviour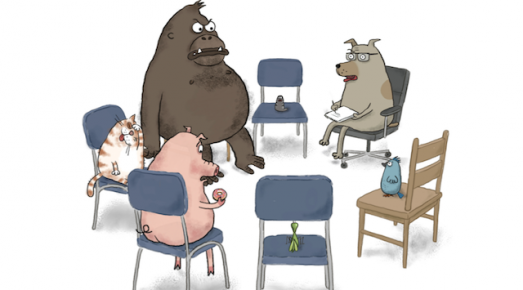 Some pitches literally knock 'em flat.
"It was at the Ottawa Animation Festival," remembers Animation Studio Executive Producer Michael Fukushima. "I ran into David and asked if he and Alison had any new ideas. He gave me his pitch for Animal Behaviour and I fell off my chair."
Fast-forward a few years and animation masters David Fine and Alison Snowden are in production on yet another wry comedy of modern manners.
Tenderly spoofing the world of therapy, Animal Behaviour features their inimitable blend of deadpan hilarity and sophisticated dialogue. The setting: a therapist's office where Dr Clement, an even-tempered hound in horn-rims, is dispensing wisdom to various animal clients. Then in walks Victor – an ape with anger management issues. Comedy ensues.
Fine and Snowden, who've been collaborating ever since they met at the National Film & Television School in the UK, are behind animation hits like the Oscar-nominated George and Rosemary (1987) and the Oscar-winning Bob's Birthday (1993) – both produced by the NFB.
"The NFB Animation Studio has been a creative base for scores of international auteur animators over the years, and David and Alison are part of that ongoing tradition" says Fukushima. "They are major figures on the contemporary animation scene, and it's great to have them back." Animal Behaviour is set to complete during the 2016/17 production cycle.
Massimo's Feast: Theatre of Life
He's been called the Jimi Hendrix of Italian cuisine. Massimo Bottura is more than a celebrity chef — he is a culinary maverick, ceaselessly rethinking the central place of food within culture and economy.
His live-wire energy and inventive generosity lights up the screen in Theatre of Life, a sumptuously crafted feature doc by Montreal-based filmmaker Peter Svatek that is currently in post-production at the Quebec-Atlantic Studio.
When the organizers of the 2015 Milan Universal Exposition announced that the event would address global food security under the slogan Feeding the Planet, Energy of Life, Bottura rose to the challenge with characteristic brio. Calling upon a worldwide network of fellow chefs, and enlisting support from the Vatican itself, he established a soup kitchen in the working class district of Greco. Located in a beautifully refurbished old theatre, the Refettorio Ambrosiano would serve exquisite meals to Milan's most disadvantaged residents.
Putting the ethos of sustainable cooking into practice, Bottura and a starry line-up of guest cooks — over 60 international chefs including Canadians Jeremy Charles and John Winter Russell — would be limited to using ingredients gleaned from the food discarded daily from the Expo site.
"Peter highlights the critical issue of food security within the framework of a great story," says NFB producer Annette Clarke. "He had privileged access to his magnetic protagonist, but also built relationships with the Refettorio's diners — refugees, former addicts and prisoners, people living on the street — and he's woven their voices into the film. The result is powerful — a visual and spiritual feast."
Theatre of Life, scheduled for release in summer 2016, is produced by Triplex Films (Josette Gauthier, producer) and the National Film Board's Quebec-Atlantic Studio (Annette Clarke, producer) in association with Montreal's Phi Centre and Super Channel.
NFB "Crashes" VR Party at Sundance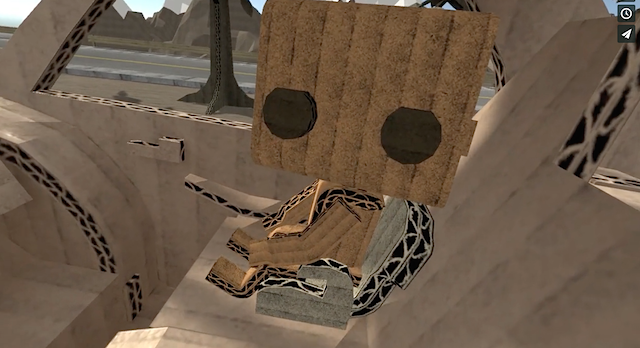 Nobody is really sure where Virtual Reality is going — but it's sure going there fast. What was a futuristic novelty only a few short years ago is now poised to enter the consumer market in a major way. Google has already sold millions of its low-cost VR headset, and a growing range of more sophisticated immersive systems are also available.
The New Frontier Program at this year's Sundance Festival was hailed by Variety as VR's "coming-out party" — and Vincent McCurley's Cardboard Crash, an acclaimed experimental project from the NFB VR lab, was among 30 immersive multimedia debutantes invited to the ball.
"The initial goal was to create a basic technical experiment as a way of understanding the VR production process and how VR storytelling techniques differ from film conventions," says McCurley, who works as a Creative Technologist in the NFB Digital Studio. "But the NFB is about storytelling, so narrative elements naturally emerged, responding to both the limitations and strengths of the technology."
Striking a deceptively light-hearted tone, Cardboard Crash immerses audiences in a playful world crafted entirely from virtual cardboard, where they find themselves in a self-driving car — complete with cardboard kid in cardboard car seat. But no sooner has the fun begun than users find themselves colliding with a dilemma — and plunged into the ethics of artificial intelligence.
"We're now at a point where we're asked to trust AI to make decisions for us," says McCurley, "and that raises all kinds of fascinating questions. Artificial intelligence is ultimately programmed by humans. But who gets to design those algorithms? And what values and priorities come into play?"
McCurley has been test-driving Cardboard Crash on the international festival circuit for several months now, and earlier incarnations of the project were showcased at the 2015 editions of SIGGRAPH, VIFF and IDFA.  "As part of the iterative design approach we're taking with the project, we're constantly using audience feedback that we get at events like Sundance to make improvements and better understand how storytelling can happen in a VR environment," says McCurley.
Two VR productions from the NFB's French-language Interactive Studio were also among the projects showcased in this year's New Frontier Program – Loïc Suty's The Unknown Photographer, inspired by WWI photography and co-produced with Montreal's Turbulent Studios; and The Enemy, created by photojournalist Karim Ben Khelifa, and co-produced with Camera Lucida, francetv nouvelles écritures, and Emissive et Department.
Cardboard Crash was created and produced in-house by Vincent McCurley and the NFB's Digital Studio.  The Sundance edition is currently available as a free app for iPhone and Android, for use with the Google Cardboard v2 viewer. The final edition of Cardboard Crash is releasing later this year.
The Apology: Survivors of Wartime Sexual Slavery Speak Out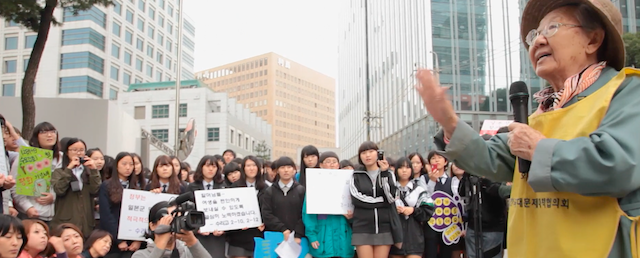 A recent agreement between Japan and Korea was intended to close the painful wartime file – but it soon became apparent that the deal had been negotiated without input from those with the greatest stake in the issue, the surviving comfort women themselves, and the "grandmothers" remain resolute in their demands for meaningful reparation.
With The Apology, poised for a 2016 release from Ontario Studio, director Tiffany Hsiung puts their story onscreen in a feature doc that was shot over 8 years, shedding new light on the issue of WWII sexual slavery in Japanese-occupied Asia.
An estimated 200,000 women — mostly from Korea, China and the Philippines — were imprisoned in Japanese-run "comfort stations" during the war. Thousands would die in captivity and the survivors are still demanding some form of meaningful apology and recognition from the Japanese government.
"As someone of Korean descent, I've wanted to make this film for years," says Anita Lee, who's producing the film at the NFB's Ontario Studio. "These women are so courageous, so resilient, yet their experience has been largely overlooked. Tiffany has taken an original approach, opting to forgo archival images altogether. She honours the women in a vivid personal way, focusing on the personal trajectory of three specific women. She has a way of making history matter for contemporary audiences."
The Apology was edited by Mary Stephen, known for her collaboration with French New Wave director Eric Rohmer and her work on Lixin Fan's Last Train Home. Hsiung shot the film herself, with assistance from Iris Ng, the DOP on Sarah Polley's Stories We Tell, also developed and produced by Anita Lee at the NFB. A digital documentary companion to The Apology is also in the works. Both projects are scheduled for a 2016 release.
The Astonishing Economy of Eoin: I Am Here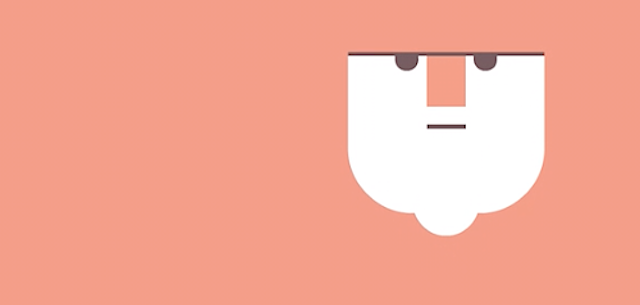 Eoin Duffy — Irish-born master of visual haiku and one of the most distinctive new voices in animation — is completing a short film called I Am Here, a co-production between the Animation and BC & Yukon Studios.
His creative mission? To evoke one man's journey across the cosmos in search of the meaning of it all. In five minutes or less.
"There's an astonishing economy to Eoin's work," says producer Shirley Vercruysse, "and that's what makes it so appealing and effective. He can say so much with so little. He tackles the big existential questions with such a light touch."
Duffy's minimalist aesthetic has won over legions of admirers. His 2013 short The Missing Scarf, a miniature dark comedy narrated by George Takei, was shortlisted for an Oscar and nabbed awards from over a dozen international festivals, and On Departure (2012), inspired by the death of his younger brother, marries sparse sound design with pared-down visuals to evoke a heart-breaking sense of loss.
"I got my start as a graphic designer, working with print and web, so I'm always looking for ways to simplify," says Duffy, who wrote his university thesis on web navigation. "I generally start by piling things on – but then I tear things away. I'm interested in communicating stories and ideas with minimal means."
Duffy's collaborator on I Am Here is Brazilian-Canadian animator Henrique Barone, part of the team at Vancouver's Giant Ant Studios. "There's a pivotal scene that calls for in-depth character detail and Henrique's got an amazing talent for that kind of animation."
I Am Here is co-produced by the BC & Yukon Studio (Shirley Vercruysse, producer) and the Animation Studio (Maral Mohammadian, producer). Watch for a summer release – and in the meantime take a few minutes to watch On Departure. Animated shorts rarely get so big and empty and beautiful.
Pictured at top: Cao Hei Mao,  featured in The Apology