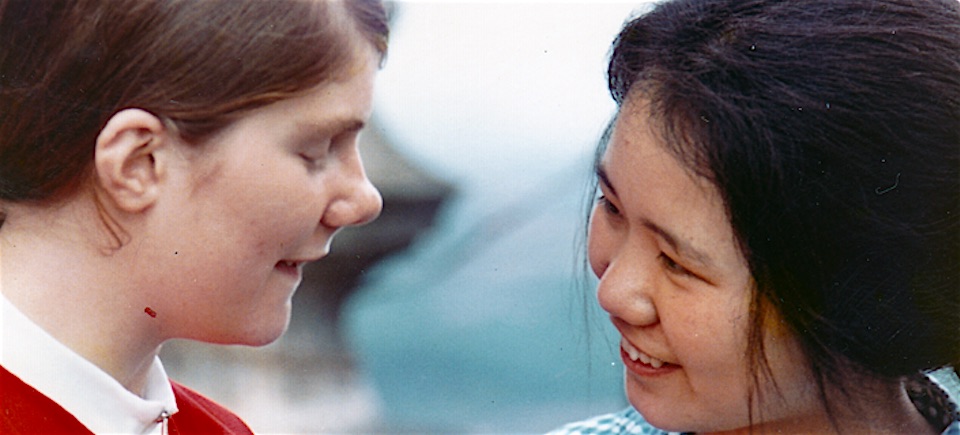 Impressions of China: NFB Restores McWilliams' First Doc
This blog post was updated January 26, 2017.
It was 1972, the month of May, and an adventurous group of high school students and teachers from Hamilton, Ontario, boarded an Asia-bound plane and quietly made history.
At a time when western perceptions of Maoist China were shaped by Cold War politics, they became the first such group to visit the country since the 1949 communist revolution — beating their own Prime Minister to the punch. In 1970 Pierre Trudeau was among the first western leaders to recognize the PRC, but it was not until 1973 that he made his own first official visit.
The Hamiltonians came home with a remarkable audiovisual record of their journey —still images and 16mm and super8 film footage that would provide a young filmmaker named Donald McWilliams with raw material for his first major documentary.
Released in 1974 and narrated with flair by two young members of the group, Elaine Krysko and Dan Kislenko, Impressions of China satisfied the public hunger for images of a world still viewed by most Canadians as an enigma. It aired several times on CBC-TV, circulated widely on school and college circuits, and won a Blue Ribbon at the American Film & Video Festival. But then it slipped into obscurity, and the original negative was stored at the Cinematheque Quebecoise archives, a fascinating but forgotten artefact from the 70s.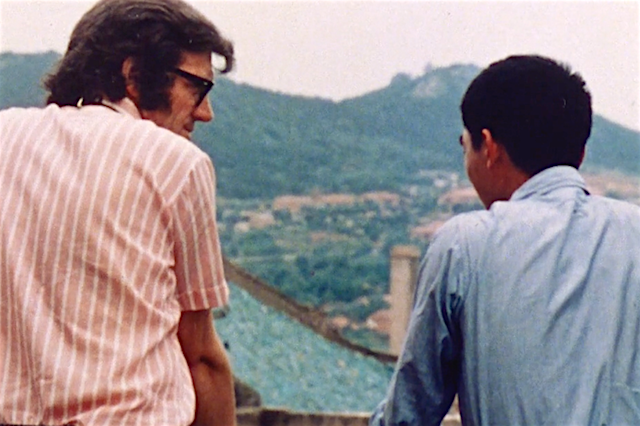 Fast forward four decades and a newly refurbished version of Impressions of China — restored and remastered by the National Film Board of Canada — is about to get its first public outing, screening at Montreal's Concordia University on Saturday, September 17 in the framework of the Canada China International Film Festival (CCIFF).
Impressions of China, Donald McWilliams, provided by the National Film Board of Canada
"We're enormously grateful to the whole NFB restoration team, and to James Roberts and Michelle van Beusekom in particular, for bringing this film back to public attention," says McWilliams. "That 1972 trip was formative for everyone involved, and the film opened doors for me personally, setting me on the path I'm now on, making and thinking about documentary cinema."
In the ensuing decades McWilliams would forge strong ties to the NFB, distinguishing himself as the acclaimed director of work like Creative Process: Norman McLaren, an exquisitely crafted tribute to one of his mentors, and an extraordinary autobiographical trilogy that includes The Passerby, The Fifth Province, and A Time There Was — and as the producer of critically acclaimed films like Sunrise over Tiananmen Square, an animated doc which earned an Oscar nomination.
"Revisiting the film after four decades, I was impressed all over again by Elaine and Dan's narration," says McWilliams. "They were so articulate and observant. Their presence on the soundtrack, their youthful view on that world, was instrumental to the film's initial success, so it's great to have them be part of this relaunch." The restored version will be released with a supplementary voice-over commentary track in which Krysko-Munro and Kislenko look back at their China trip four decades later.
Restoration began in February 2016, and the NFB team worked sporadically on the project until May. "The soundtrack was our main challenge," says Kat Baulu, producer of the new version. "We didn't have access to the original source files, so we were working with the old 16mm mag stock. Our in-house mixers Jean-Paul Vialard and Sylvain Cajelais have done an amazing job, painstakingly reproducing the original 1974 sound."
Anne Koizumi, education specialist with NFB Education, has been developing learning materials to accompany the release of the restored version, working in consultation with Bernie Michael Frolic, Professor Emeritus at York University and one of Canada's leading China experts. "We're excited about bringing this film into contemporary classroom settings," says Koizumi. "It speaks directly to young people and students, providing a vivid and engaging way to learn about China — how it was in the 70s, during the Cultural Revolution, and how it has been transformed since then. What has changed and what remains the same."
Initially released in 1974, Impressions of China was directed and edited by Donald McWilliams. Camerawork was by John Parr and Dan Kislenko, and still photography by Jim Forrester, Vic Burville and Gary Birchall. It was narrated by Elaine Krysko and Dan Kislenko. The NFB restoration was supported by James Roberts, who kick-started the initiative, and Michelle van Beusekom, executive director of the NFB English Program. Associate producer is Jon Montes, producer is Kat Baulu, and executive producer is Annette Clarke.
In 1998 McWilliams took up the subject of China once again, this time as producer, with this Oscar-nominated film — Sunrise Over Tiananmen Square, an animated doc in which director Shui-Bo Wang crafts his own sharply etched personal perspective on China during the turbulent 70s and 80s.
Sunrise Over Tiananmen Square , Shui-Bo Wang, provided by the National Film Board of Canada
Impressions of China now enters the NFB's vast collection — many thousands of films dating back to the early part of the last century, reflecting Canadian life in all its diversity — and is one of many films that have been restored and transferred to new platforms with a view to making them accessible to new audiences in Canada and around the world.
Enregistrer
Enregistrer
Enregistrer
Enregistrer