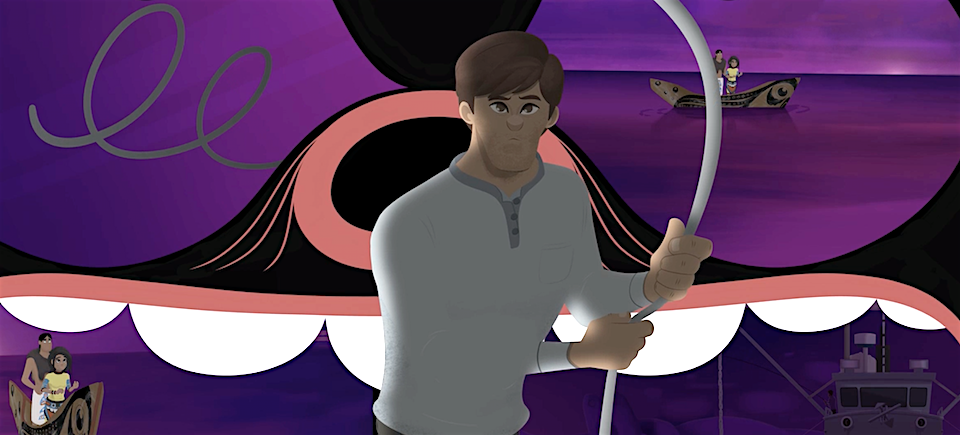 The Auchter Effect: Haida Myth Gets Animated
Talk about making a splash on your first major outing.
With sure-handed and deft visual economy, emerging director Christopher Auchter plunges us into a mythic watery underworld in the opening frames of The Mountain of SGaana, an animated short that's just completed postproduction in the BC & Yukon Studio.
As a traditional Haida anchor breaks the surface, dropping into a vividly rendered underwater universe, our callow young protagonist, the skipper of a fishing vessel, toys distractedly with his cellphone, unaware of the odyssey he's about to embark on.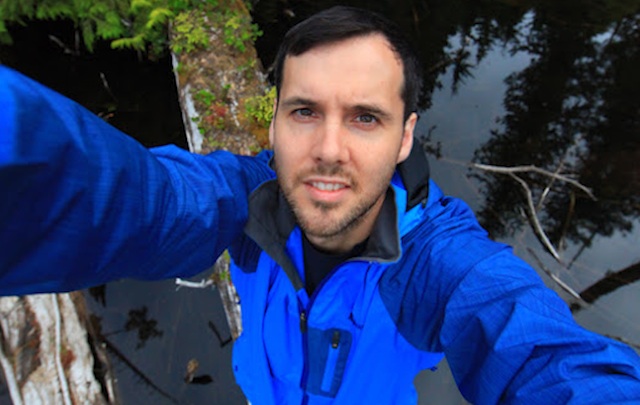 Drawing inspiration from the Indigenous iconography and cosmology of the Pacific Northwest, Auchter (above) puts his own stylish and comic touch on an epic legend of loss and retrieval — conjuring up a supernatural realm inhabited by shape-shifting killer whales, good-for-nothing martens and the miniature grandmotherly figure of Mouse Woman.
"It was Mouse Woman who clinched it for me," says Auchter. "I have a vivid memory of being in grade three and listening to the teacher read one of the mouse woman stories. But the bell rang before she got to the end. The character has stayed in my imagination ever since. I see her as a kind of guide, someone who helps the skipper find his way."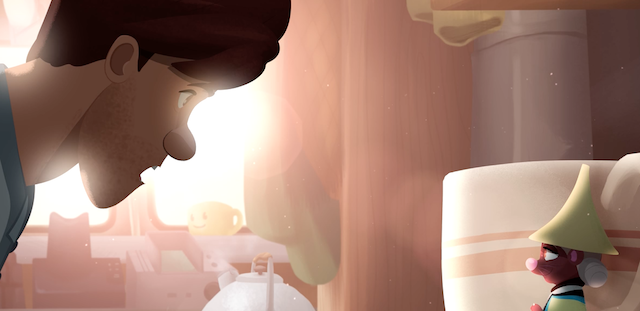 Born in Haida Gwaii, ancestral home of the seafaring Haida, Auchter issues from a long line of artists and storytellers. He's the direct descendent of renowned Haida sculptor Charles Edenshaw (1839-1920, pictured below), a contemporary of anthropologists Franz Boas and John R. Swanton who both collected his work, and an early proponent of Haida Formline — a distinctive graphic style that serves as inspiration for Auchter.
"Haida art has been a huge influence, not just in how I craft images and characters, but also as a narrative device," he says. "Using formline-type graphics, I was able to delineate different but related narrative elements within the same scene, to incorporate perspectives of several characters in a single frame. It became a way to fit more story into a ten-minute film."
The source legend for Mountain appears in various Haida anthologies, most notably Haida Texts & Myths, a collection compiled by J.R. Swanton in the early 20th century. "My mother gave me a copy of the Swanton book as a gift, a beautiful old edition that looks like it's been through adventures of its own. This specific story was new to me, but my uncle has shared many others with me during long drives to Masset, where my grandparents lived. They were usually linked to specific landmarks — a particular cliff or set of rocks — so the Haida Gwaii landscape, particularly the coastline, is powerful for me." The uncle is question is artist Michael Nicoll Yahgulanaas, the award-winning author/illustrator behind Red: A Haida Manga and other acclaimed graphic novels.
Auchter studied animation at the Emily Carr University of Art & Design and Sheridan College, cutting his professional teeth at the NFB, where he created animated sequences for Daniel Janke's short film How People Got Fire, and at Electronic Arts in Burnaby, where he was part of the team that created the NHL 07 video game for Xbox 360. "At one point I was working on both projects at the same time," says Auchter. "During the day I'd be using cutting edge technology at EA, and then at night I'd be working with charcoal drawings and traditional animation methods, breathing life into a story of ravens and goshawks. It was a great experience, working in two parallel animation worlds."
How People Got Fire, Daniel Janke, provided by the National Film Board of Canada
He went on to work at Bardel Entertainment, an animation studio that's produced work for Nickelodeon, Disney and Dreamworks, and a number of his collaborators on Mountain are former Bardel colleagues. He's also created animation for APTN, assisting filmmaker Loretta Todd on the production of children's series, and for the Bill Reid Foundation, which is dedicated to the legacy of the late Haida artist.
"I've been working over the past 18 months on building out our slate of auteur animation and was looking for projects that combine artistry with a unique perspective. I was immediately intrigued by what Chris brought to the table," says Shirley Vercruysse, executive producer of BC & Yukon Studio. "I love the fact that he spent his summers on the family boat, fishing the waters around Haida Gwaii. He's a gifted artist with a very special sensibility and it's been great to watch him hone his craft on this project." Vercruysse shares the executive producer credit with Michael Fukushima, executive producer of the NFB animation studio.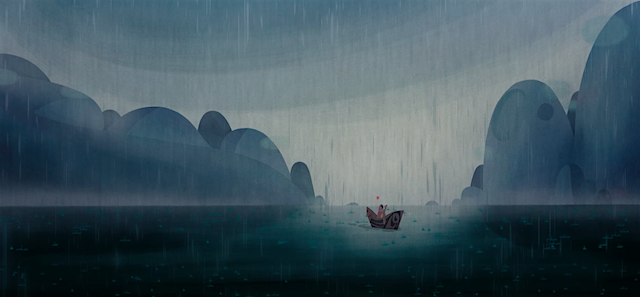 Mountain reunited Auchter with Daniel Janke, who came onboard as the film's composer. The soundtrack took on added importance once Auchter opted to forgo dialogue. "At a certain point Michael Fukushima suggested that we drop dialogue altogether," says Auchter. "That posed a whole new set of challenges. How do we tell this story without words? But it was a challenge I gladly took on. I like the idea of immersing viewers in a visual world, first and foremost, and it's great to think that audiences anywhere can watch it. It makes it more accessible to an international audience."
On Auchter's direction, Janke made a point of incorporating a saxophone into his score. "My great grandfather, my Chinnay as I called him, was Ben Roberts and he used to play sax with the Harmony Brothers, a band that regularly played at community dances in Skidegate," says Auchter. "He went on to teach sax to Percy Williams, who's a much-loved musician and leader. My grandmother Martha Auchter still has that saxophone and she plans give it to the next great player in the family. So I wanted to tip my hat to that history, all the good times that those musicians help to create." Pictured below: Ben Roberts.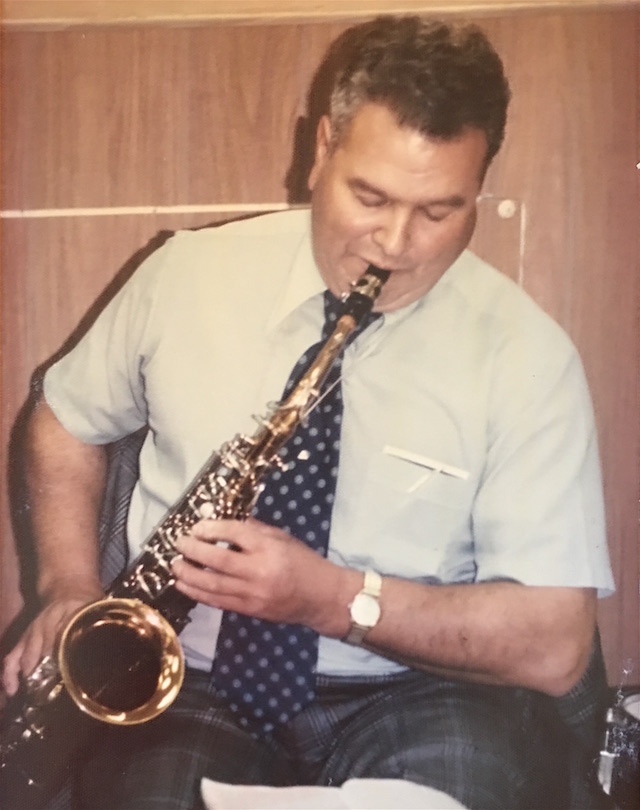 The only words heard on the soundtrack are sung, in the form for three traditional Haida songs, and the voice is that of Chris' sister Nikita Toya Auchter. "Initially we were using Nikita's recording of one song as a place-holder, but she sounded so good that we got her to record all three of them again for the final soundtrack. We kept it a secret from our parents, who only found out at the cast-and-crew screening a couple of week ago. A nice surprise for them."
Using 3D printing techniques, Auchter worked with Toronto-based sculptor JC Cappelletti to create 3D representations of his characters, and then manipulated them within ToonBoom Harmony builds created by Tara Barker and the sister team of Shawna and Mandy Mauchline. The more painterly supernatural sequences in the story were fashioned primarily in Photoshop by assistant animator Sitji Chou.
Other key collaborators were sound designer Chris McLaren, special effects technician Russell Heyman and compositor Michael Mann. "We worked hard to depict the natural world, and the underwater sequences in particular, with a sense of authenticity. Chris, Russell and Michael deserve a lot of credit in that front. I was surrounded by a great team of artists and technicians throughout the whole process, and I can't thank them enough."
"There's so much in this film that resonates with my own experience – the images of fishing and boats, the idea of working on the water, the whole theme of retrieving lost knowledge," says Auchter. "I've gone through periods of feeling lost and uprooted, but reconnecting with Haida culture has given me confidence. It's anchored me somehow. I can travel the world but always have a cultural foundation, a home base. I like the idea that you can find cultural knowledge you think you've lost, and then bring it back home."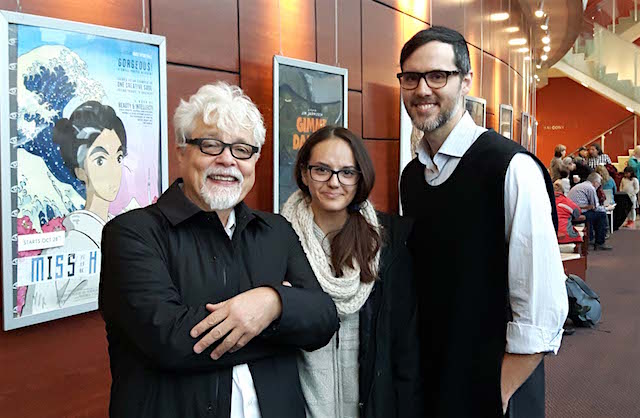 The Mountain of SGaana is directed by Christopher Auchter, who co-wrote the story with Annie Reid. Sound design is by Chris McLaren; original music by Daniel Janke; and additional animation was created by Tara Barker, Marco Li and Sitji Chou. Associate producer is Teri Snelgrove. Executive producers are Shirley Vercruysse and Michael Fukushima. The Mountain of SGaana is a production of the NFB's BC & Yukon Studio and it's due to launch in 2017.
Pictured above: Christopher Auchter with sister Nikita Toya Auchter and uncle, the artist Michael Nicoll Yahgulanaas, at recent cast & crew screening. Photo by Wes Machnikowski. All artwork by Christopher Auchter.