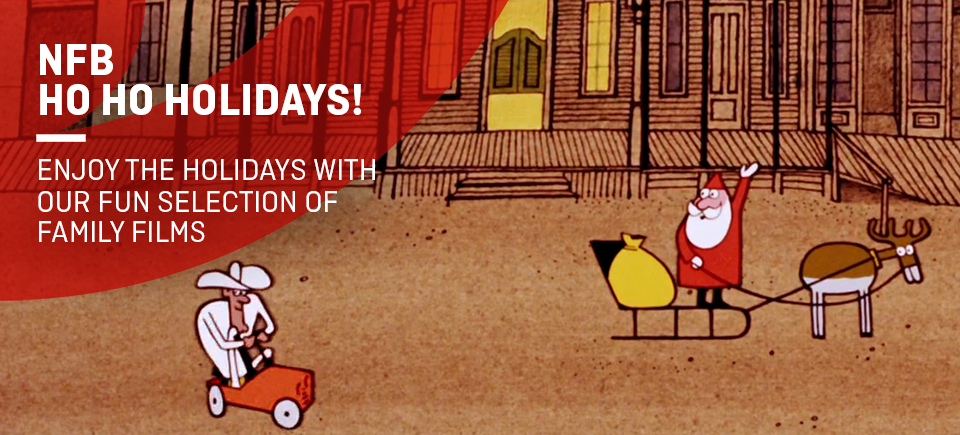 Holiday Films for the Whole Family
When I was growing up in the early 1970s in Montreal, I loved the Christmas holiday period. We were off school and our local TV stations packed the week between Christmas and New Year's with a smorgasbord of kid's films, much to the delight of my brother and sisters and me.
Tintin, Asterix and other animated films from France were always on the menu. I also remember us looking forward to the yearly broadcast of a Mexican film (dubbed in French) featuring Santa Claus fighting the devil!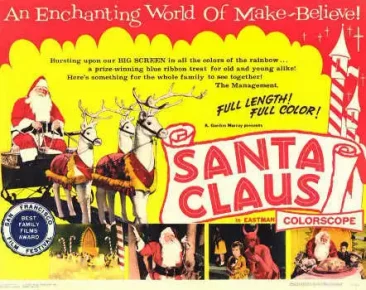 Inspired by this holiday film programming from back in the day (which actually continues to this day), we have featured kid-friendly films over the Christmas break every year on NFB.ca. We decided to put together a special channel offering over 50 films for the entire family, and especially kids between the ages of one and 14. This selection of classic titles includes fun animation, short live-action fiction and Christmas films.
Here are some of the gems in the lineup. 💎✨
Ti-Jean in the Land of Iron is the third short in this charming film series about a 10-year-old with extraordinary strength and powers. His adventures on the north shore of the St. Lawrence include navigating a ship, piloting an airplane and foiling a sabotage plot. What a great kid! You can also catch Ti-Jean as he shows lumberjacks how to fell timber (Ti-Jean Goes Lumbering) and in his adventures in Western Canada, helping farmers bring in the crops (Ti-Jean Goes West).
Ti-Jean in the Land of Iron, Raymond Garceau, provided by the National Film Board of Canada
Who is the world's greatest good guy? Why, Santa Claus of course. In The Great Toy Robbery, Saint Nick is ambushed by some desperados on his way to deliver presents out West but then inadvertently saved by a cowboy who's pure of heart, and a pretty good singer to boot. It's a rollicking good time, and all ends well.
The Great Toy Robbery, Jeff Hale, provided by the National Film Board of Canada
Live-action animals enact a couple of stories in these three films that are perfect for the very young. Adventures introduces us to Peter, a baby racoon who embarks on several escapades in which he comes across a mouse, a man, a little boy, a puppy, a deer, a bird and a lizard (!), all before returning home to his family. The fun continues in That Mouse (starring a particularly dull-witted bear) and The Bear and the Mouse, both of which have a slew of forest animals playing the key parts.
Adventures, Michael Rubbo, provided by the National Film Board of Canada
The Bear's Christmas is for somewhat older kids. In the film, Dick the Bear, who is having a bad day, meets the real Santa Claus. Santa is not happy because commercialism has ruined Christmas. Will the Christmas spirit find its way to Dick? Sure it will. We are all young at heart, after all.
The Bear's Christmas, Hugh Foulds, provided by the National Film Board of Canada
Did you know that dinosaurs loved to have fun, eat junk food and throw wild parties? In this hilarious animated short, Dip the dinosaur partakes in the fun and in his favourite hobby: jumping off cliffs. Too bad the landings are so rough. A film for anyone who has a penchant for silliness.
How Dinosaurs Learned to Fly, Munro Ferguson, provided by the National Film Board of Canada
The entire free holiday offer is available here to discover and rediscover.
Enjoy the films and happy holidays!
NFB Pause | The Holiday Season is here!, Annie St-Pierre, provided by the National Film Board of Canada