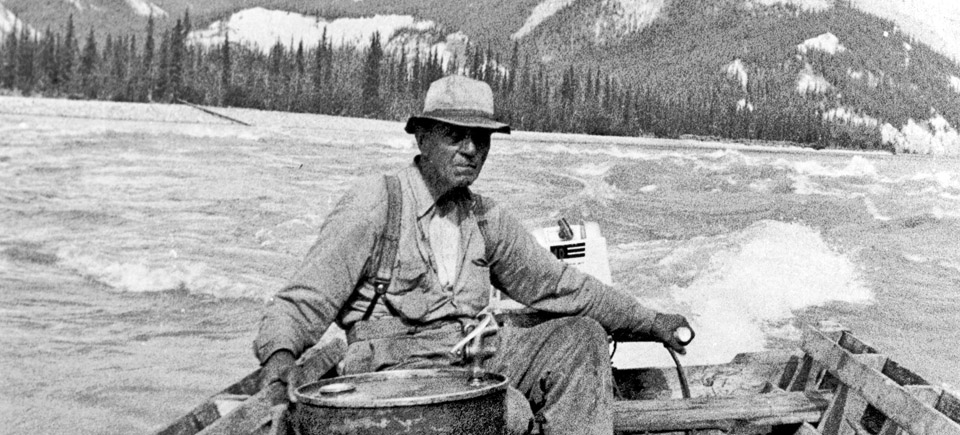 Frontier Living | Watch 5 Short Films About the Canadian Outback
Canada is a big place. Vast swathes of it are ruled by nothing but ice, spruce and moose.
For most people, the Canadian outback is a great concept, or a daring destination for the occasional summer adventure or camping trip.
For others, it's like some type of rugged paradise, promising freedom from "the system" in exchange for self-reliance and hard work.
Join us for a grand tour of the Canadian outback with these 5 free short docs on frontier living.
The prospector – Nahanni
There are generally two ways people end up living in the bush. Either they're running away from something (society, the law, a broken heart,) or they're running to something. Generally, and historically, that thing has been gold.
From City of Gold (1957,) Wolf Koenig and Colin Low's classic short on the Klondike gold rush to The Spell of the Yukon (1996), the NFB has a long history of documenting the experiences of those lured to the frontier by thrills and profit. Yet and still, few people embody the outback's rugged individualism and resourcefulness as totally as Albert Faille, the 73-year-old prospector profiled in Nahanni.
The film meets up with Faille as he embarks on this annual attempt to locate a mysterious and reportedly haunted gold mine, 400 miles down river. Seven times before he has tried and failed, but again he takes on the ambitious and uncertain journey. "I'll need to be dead or drowned before I quit," he says.
Nahanni, Donald Wilder, provided by the National Film Board of Canada
The company town – Baby This Is For You
Located 600 miles north of Vancouver, at the end of a long fjord, the town of Stewart, BC, has slowed down considerably since its gold rush heyday. At the time of shooting, the Granduc copper mine still ran there (it ceased activity in 1984) and this great little film introduces us to various characters living in the area: old timers, determined to stay as long as they can shovel the snow in the winter (up to 100 ft of snow per year!), newcomers attracted by mining jobs, and colourfully dressed politicians offering their best Northern development sales pitches before hurriedly flying back south.
Despite being home to some of the province's most spectacular scenery – you have to see the mine's location, on a rock ridge between a glacier and a cliff – the place is clearly not everyone's eldorado. In the end, Stewart is shown as a place challenging for most to embrace, but also ideal for some. Like someone says, "The North, if you like it, you like it lots."
Baby This Is for You, John Taylor, provided by the National Film Board of Canada
The homesteaders – Ruth and Harriet: Two Women of the Peace
This short doc zooms in on another category of frontier inhabitants: women.
Both in their 30s, sisters-in-law Ruth and Harriet live 100 miles apart in Northern Alberta's Peace River region. Harriet is the mother of four sons. She works hard on the homestead with her husband Buzz, whom she admires thoroughly ("he is the country, I think.") Ruth is the real wildwoman of the two. Raised in the sticks where the wolves were sometimes so thick she couldn't safely walk to school, she's a real rugged woman with the softspoken, wise way of those who spend more time listening to nature than talking to people.
Despite the hardships and the isolation, the women agree: the beauty and freedom of frontier living is worth all the trouble.
"I couldn't live any place else," Harriet says. "I have to be out in the bush with the wild things, with them close."
Warning: some intense chicken butchering.
Ruth and Harriet: Two Women of the Peace, Barbara Greene, provided by the National Film Board of Canada
The tycoon – Catskinner Keen
This Donald Brittain short profiles Northwest legend and self-made millionaire Bob Keen. Keen began his career bulldozing mountain roads with a second-hand caterpillar tractor that gave him his nickname: Catskinner. From there, he went on to own oil land, operate road, water and air transport, fly a plane, drive a chuckwagon, and be listed on the stock exchange. A fascinating foray into the mind of a man with big plans for himself and the Northwest, who always enjoyed taking his chances.
Catskinner Keen, Donald Brittain, provided by the National Film Board of Canada
The small town mayor – Our Town Faro
Can mining towns survive without the mine they were created for? Welcome to Faro, a small town in the Yukon wilderness that was destined to become yet another ghost town when metal prices plummeted and the mine shut down. But that wasn't counting on Murray Hampton, a mining engineer-turned-mayor, and his very original and creative campaign to Faro back to life.
Our Town Faro, Mitch Miyagawa & David Oppenheim, provided by the National Film Board of Canada
See also:
Hobos, Hermits and Drifters | Watch 3 Short Films Starring Wise Loners of the Canadian Bush