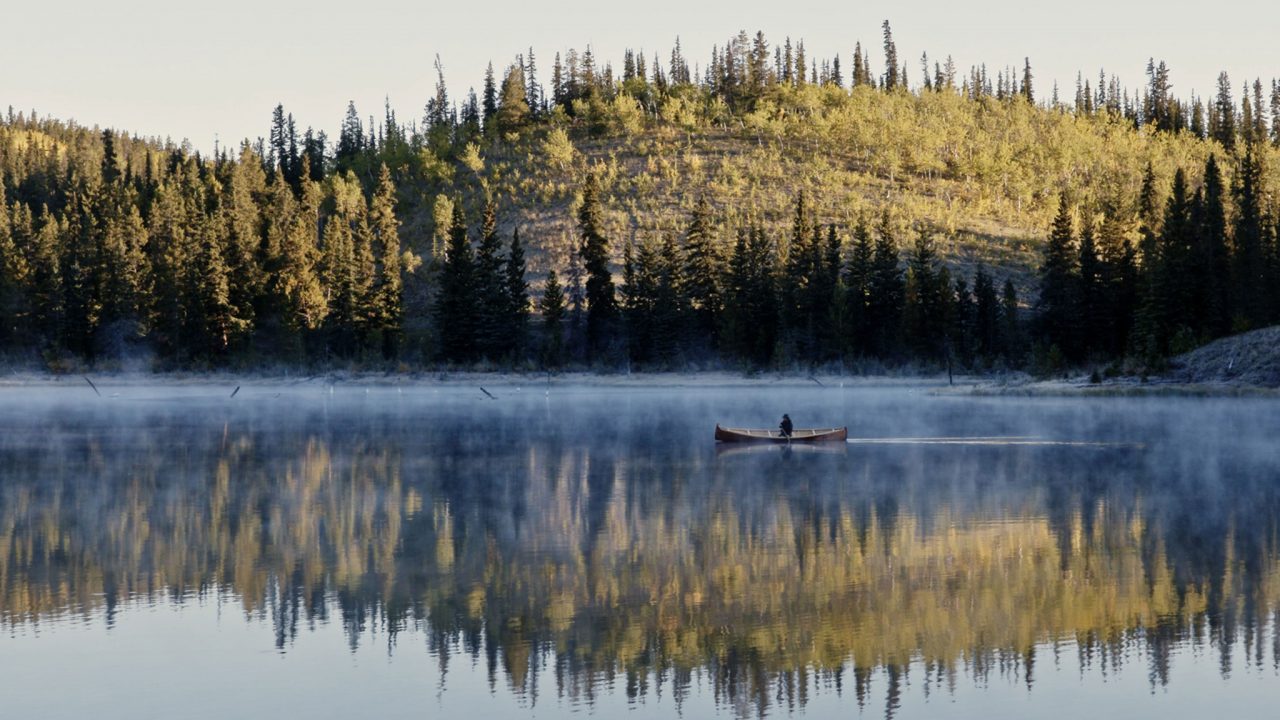 Voices Across The Water: How We Made a Movie About How People Make Canoes
One of the best parts about sharing a film at festivals is being able to field great questions and feed audience curiosity, often by sharing anecdotes about what happened behind the scenes. Here are some of the stories we got to share in-person with audiences over the past months.
Fritz Mueller and Teresa Earle own and operate Sagafish Media, a Yukon production company centred on storytelling in Canada's North. Their feature documentary
Voices Across The Water
follows two master boat builders, Alaskan Tlingit carver Wayne Price and Francophone artist Halin de Repentigny, as they practice their craft is now streaming on NFB.ca.
Finding the right tree
FRITZ: We started developing this film in 2017 when Halin and Wayne were part of a traditional watercraft festival in Whitehorse. I didn't know Halin very well when we first went into the woods for bark. He and his helpers were headed for a secret stand of massive birch trees, but he agreed to have me along. Trees don't grow very large here in the North, so he is stealthy when harvesting bark. Of course, we promised not to share any information about the locations.
Halin and I are both visual artists and we quickly formed a rapport, and I might have spent a hundred hours filming with him over several years. The birchbark-harvesting scene in the film is from that first outing, and audiences often ask about the logs that appear to be left behind. They have a portable chainsaw mill that goes into the forest, but that didn't make the final cut.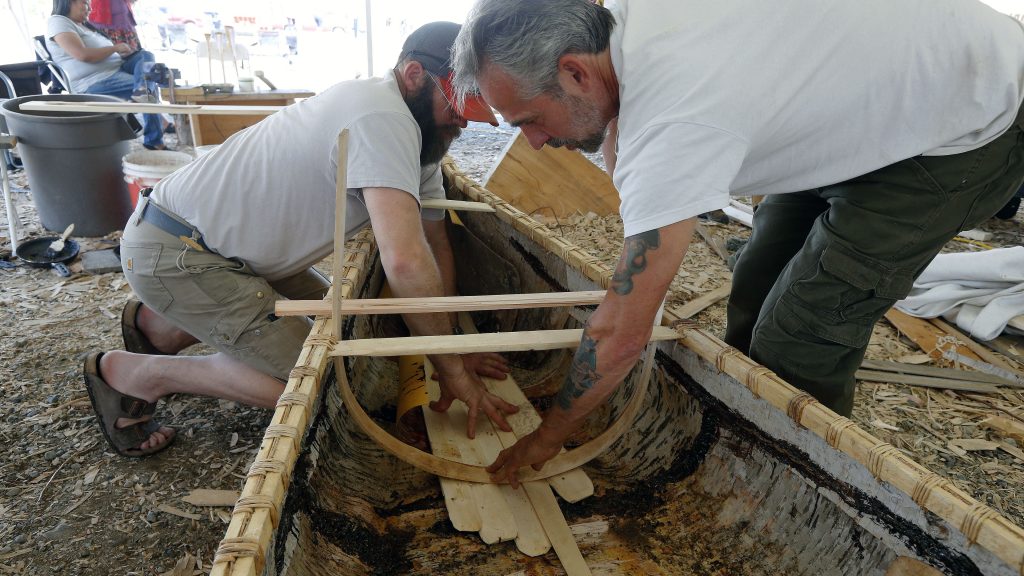 Where the music comes from
TERESA: At almost every screening, someone asks about the music in Voices Across the Water. The film score is by composer Jordy Walker, and he also collaborated with violinist Jesse Zubot on some of the tracks. Jordy created a score that is strongly rooted in the landscape and in our subjects' lives, and audiences are curious about how we used music from these places.
When Fritz filmed Wayne paddling with several Tlingit women, he knew they were also members of a singing group, and he asked some of them to wear mics. They sang throughout the day, and in the edit we used the 'Killer Whale Migration Song' and received permission from the Daḵl'aweidí clan. At the tree blessing, Wayne chose to sing the 'Chilkoot Entrance Song,' and we asked Tlingit song keeper Lance Twitchell of Juneau for permission to include it.
Two decades ago, Halin did a number of trips down the Yukon River in Voyageur canoes, and often someone would bring along a fiddle. We had some camcorder footage but the fiddler was off-camera and Halin wasn't sure who it was. I did some detective work and soon tracked down the fiddler, Amelia Rose Slobogean, who is now a music teacher in Whitehorse. Jordy invited Amelia into his studio and she re-recorded the 'St. Anne's Reel' for the score.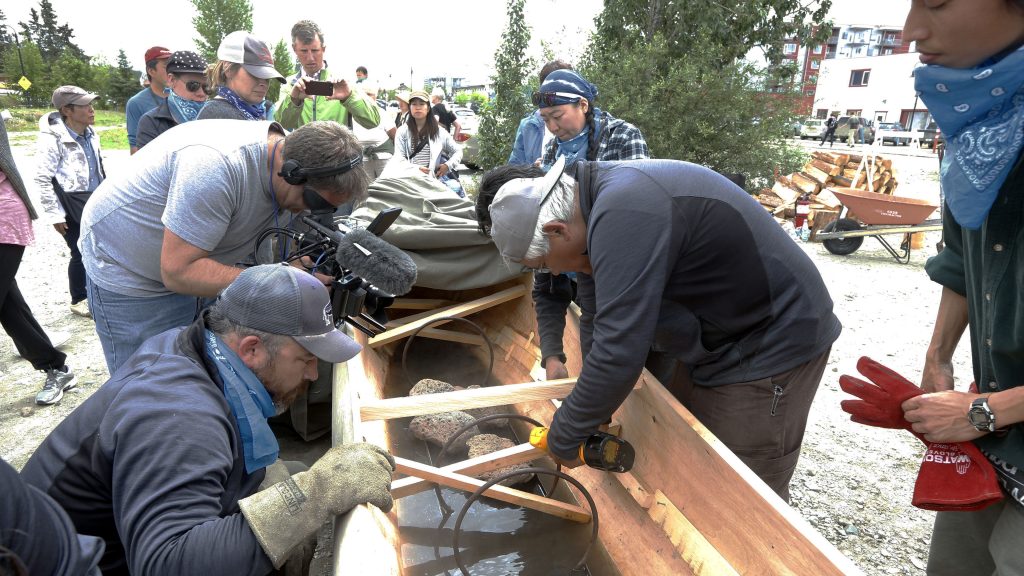 The process of building a whole canoe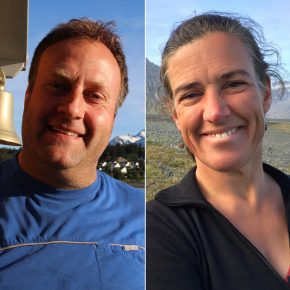 FRITZ: I filmed with Wayne and Halin over a three-year period, and during that time each of them built multiple canoes. Though it's not a film about how to build a traditional canoe, Wayne and Halin were both so committed to having their work filmed, and I wanted Voices Across the Water to be an accurate record. Editor Graham Withers and I worked hard to make sure that we showed the process accurately. Despite all my trips to see Halin, it never lined up that I was there when he put in the ribs, so in the film we see ribs at other stages.
TERESA: The documentary genre is unpredictable to work in and often you have to shift gears or pivot to respond to changes or new opportunities. What started as a significant delay in the project ended up leading to some wonderful new stories. Wayne couldn't film with us one summer as planned, and he had just landed a new job as an assistant professor at the University of Alaska. Fritz followed him there that winter and spent some time filming at the campus. We expected Wayne would be commissioned to build another dugout in Southeast Alaska, but it turned out he spent that summer building a canoe in Carcross, which is in the Yukon and close to home for us. His apprentice was Violet Gatensby, who turned out to be a star of the film. Wayne and Fritz schemed all summer about going halibut fishing from the canoe, but a ferry strike cancelled their trip. But they soon came up with a new plan, and that winter, Fritz went to Juneau to film Wayne hunting from his dugout.
FRITZ: One of the first questions audiences ask Violet is if she will make another canoe. She enthusiastically says yes. Being mentored by Wayne has shaped her artistic career and fuelled her with a passion for boatbuilding. Since our film, Violet has helped with a canoe in Haines Junction, and she is a lead carver on a team completing a dugout in Whitehorse on their own with limited help from Wayne, which is a first.
---
Voices Across the Water, Fritz Mueller, provided by the National Film Board of Canada