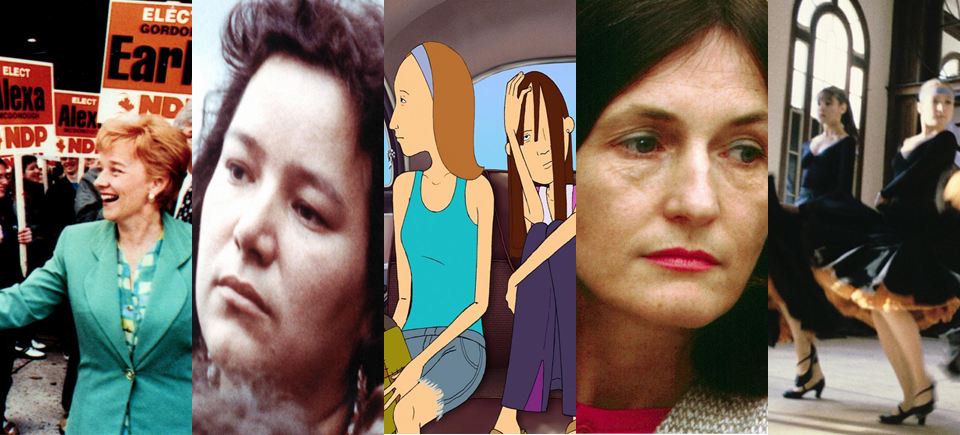 The Wonder Women of the NFB
The headlines blazed across the Internet in June 2017: "Wonder Woman breaks the glass ceiling for female directors." Patty Jenkins' film had the biggest opening weekend ever for a feature film directed by a woman, and in terms of superhero movies, it even beat Iron Man's opening weekend.
I'm not sure why this is surprising. It's as though each time a female-driven story does well, we're shocked. Hidden Figures won the box office for the first two weeks it was in theatres, coming in ahead of Rogue One. Remember the upset when Kathryn Bigelow's Hurt Locker beat out James Cameron's Avatar for the Oscar?
Here at the NFB, we have a long, proud history of films about women, directed by women – and quite a few of them are Oscar® winners, too. In a sense, they're our own Wonder Women, and here's a small sample:
Flamenco at 5:15
Filmmaker Cynthia Scott earned an Oscar® for this short film that captures the spirit, energy, and joy found in Flamenco dancing and embodied by the great Susana Robledo. Along with her husband, Susana taught the Flamenco to senior students at the National Ballet School of Canada (NBS), encouraging young women to feel the ground beneath them, and become one with the earth.
The Flamenco is an empowering dance, filled with drama and emotion yet guided by precision, and both she and the dance touched the lives of every woman who passed through her class.
Flamenco at 5:15, Cynthia Scott, provided by the National Film Board of Canada
Big Drive
Animator Anita Lebeau hails from Winnipeg, and has studied her craft alongside the likes of Cordell Barker and Richard Condie, two of city's most famous animation filmmakers. After working on their films, she struck out on her own and created two female-centric films with us at the NFB – Louise and Big Drive.
Big Drive takes viewers on a road trip across the prairies along with 4 sisters, back in the days before iPads and in-car entertainment systems. The girls cycle through moods, at first bored, and then restless as they annoy each other as only siblings can. But eventually, the bonds of sisterhood break through and the 4 girls use their imagination to turn a potentially disastrous situation into a journey of the imagination.
Big Drive , Anita Lebeau, provided by the National Film Board of Canada
My Name is Kahentiiosta
Filmmaker Alanis Obomsawin needs no introduction, as she has spent her entire career documenting the lives and struggles of Canada's Indigenous population in award-winning documentaries. In her film, Kanehsatake: 270 Years of Resistance, she documents the Oka Crisis' 78-day armed stand-off. In this film, she documents the story of one Mohawk woman who was part of the resistance, Kahentiiosta.
My Name Is Kahentiiosta, Alanis Obomsawin, provided by the National Film Board of Canada
If You Love This Planet
Filmmaker Terre Nash is no stranger to making films about strong female thought leaders. In addition to Look Who's Counting: Marilyn Waring on Sex, Lies, and Global Economics, she also directed If You Love This Planet with the NFB. This Oscar®-winning short offers a brief history of the development of nuclear weapons while focusing on a lecture given by Dr. Helen Caldicott, a physician, author and outspoken nuclear critic.
If You Love This Planet, Terre Nash, provided by the National Film Board of Canada
Why Women Run
Hillary wasn't the first female politician to be described as "nasty," and sadly, she probably won't be the last. In this film, director Meredith Ralston follows the "nasty" campaign that saw Liberal candidate Mary Clancy and NDP candidate Alexa McDonough battle it out in Halifax during the 1997 federal election. It's a film that not only profiles two larger-than-life women, but that also highlights the problems many women face when participating in the political process.
Why Women Run, Meredith Ralston, provided by the National Film Board of Canada