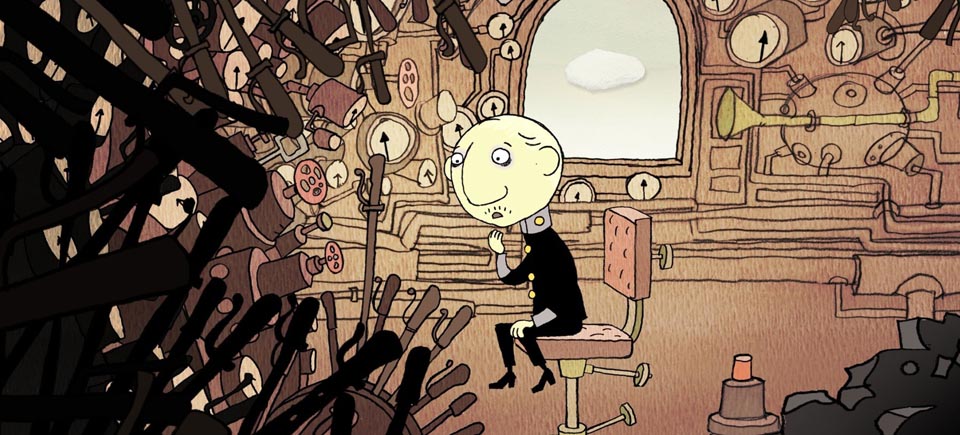 All trains lead to… the movies!
At the NFB, we like to travel!
Whether it is going from home to work, from the studio to a big film festival, or from one ocean to the other across our beautiful country, there's nothing like the excitement of a new adventure. And the best thing about it? Our vast collection is full of fascinating works to take you along for the ride without having to leave the comfort of your living room.
So hop aboard the NFB train, get comfortable, and let yourself be carried away with these 5 short films about trains!
The Railrodder by Gerald Potterton
A legend from the Hollywood's silent movie era, Buster Keaton really doesn't need an introduction. In The Railrodder (one of the last films in his long and memorable career), the star of The General returns to his origins by crossing Canada on a railway track speeder. Enjoy his legendary sense of the burlesque on this uniquely Canadian trip directed by Gerald Potterton!
The Railrodder, Gerald Potterton, provided by the National Film Board of Canada
Madame Tutli-Putli by Chris Lavis and Maciek Szczerbowski
The winner of numerous international awards and nominated for an Oscar® in 2008, Madame Tutli-Putli is a must-see in the already impressive filmography of duo Lavis and Szczerbowski (Clyde Henry Productions). Somewhere between a Jungian thriller and Hitchcockian suspense, it tells the story of a woman's strange trip as she travels alone on the night train.
Madame Tutli-Putli , Chris Lavis & Maciek Szczerbowski, provided by the National Film Board of Canada
Engine 371 by Kevin Langdale
In this silent, animated film from 2007, the train symbolizes progress. Through the construction of the Canadian transcontinental railway, the relationship between humans, nature, and the machine is explored by following a miniature locomotive in a unique visual adventure offering a poetic vision of the effects of development on the world.
Engine 371, Kevin Langdale, provided by the National Film Board of Canada
Railroaders by Guy L. Côté
Filmed in the 1950s in the midst of the magnificent, snow-covered Rockies in British Columbia, this documentary by Guy L. Côté tells the story of the railwaymen who were responsible for keeping the lines clear in bad weather. Part of the Human Geography series, this is a fascinating time capsule that pays tribute to the dedicated men working at a little-known job.
Railroaders, Guy L. Coté, provided by the National Film Board of Canada
Runaway by Cordell Barker
Combine the music of Ben Charest (composer of The Triplets of Belleville) and the wacky world of animator Cordell Barker (The Cat Came Back), and you get Runaway! It's a high-speed journey on a packed train carrying passengers from different social classes, but sharing the same amusing, but fatal fate.
Runaway, Cordell Barker, provided by the National Film Board of Canada
Enjoy the trip!