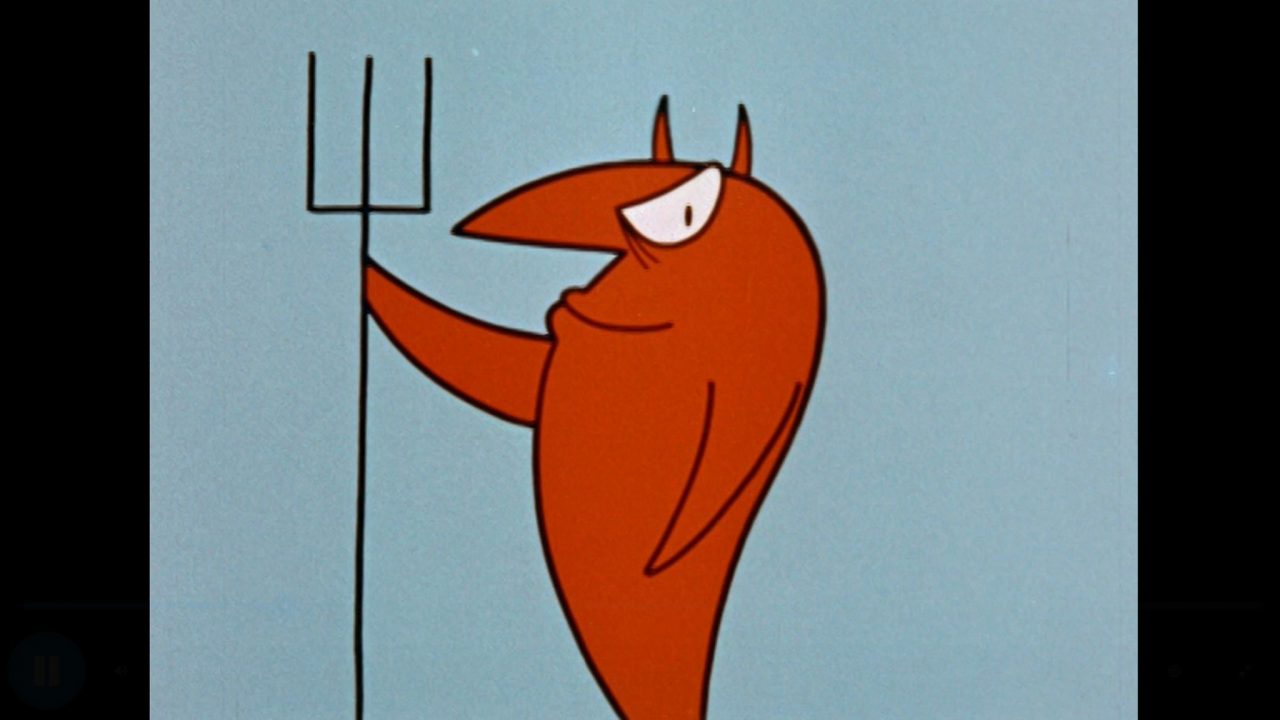 Little Gems: The Sponsored Animated Film | Curator's Perspective
From its creation in 1939 all the way through to the 1980s, the National Film Board of Canada was mandated to produce films for all federal government departments and agencies. These sponsored films were made according to the needs of the agency or department, to be shown in a variety of places. In many cases, humour was used to help convey a message. As we've arrived at another International Animation Day, I thought I'd introduce you to two sponsored animated shorts from the 1950s that are brilliantly made, and hilarious to boot.
Fish Spoilage Control was made for the Department of Fisheries and animated by Gerald Potterton (My Financial Career, Heavy Metal). The request from the Department of Fisheries was for a film that would "illustrate bacteriological contamination of fish during handling." As dry a subject as you can get, but Potterton and the rest of the animation team had some fun with it. For one thing, the bacteria are shown as little, red, evil drooling demons (complete with tridents!). They multiply rapidly and march onto the fish, spoiling it quickly. The film illustrates what not to do when handling the fish, so that it will be delicious when it reaches the table (much to the delight of a mustachioed restaurant patron). The short also includes a very jazzy score (by Eldon Rathburn) that sets it apart from similar sponsored titles. While the film was intended for audiences in the fishing industry, it was so funny and well-made that the NFB entered it in several festivals. It even won an award at the Golden Reel Film Festival in New York in April 1957.
Fish Spoilage Control, , provided by the National Film Board of Canada
Most federal departments and agencies preferred a more conservative approach to their sponsored films, but some departments started to ask for a more humorous type of film, thinking that the message would go over easier if the film was funny. The Department of Labour was interested in a film to show how seasonal unemployment could be reduced if people and industry took advantage of the labour force during the winter months. Potterton finished Fish Spoilage Control and immediately started to work on the new request. Wolf Koenig (who had been assistant animator on the previous film) was tapped to direct from a script by Roman Kroitor. They came up with a parody of the popular film The Third Man. Rathburn contributed the score once again and even incorporated zither music, which featured prominently in The Third Man's score.
The film is all about a gentleman thief who laments the lack of available money to steal during the winter months, as many industries shut down during that time. He realizes that those difficult months can be spent doing very important work such as construction and renovation. NFB producer Guy Glover lent his voice to the thief, whose only concern is the well-being of the various industries… and his pocketbook, of course. It's a charming performance, and very funny.
The finished film, titled It's a Crime, was so good that the NFB decided to submit it to several festivals as well. It played to terrific reviews at the 2nd Annual Stratford Film Festival in July 1957. It also played at festivals in Edinburgh, Locarno and Antwerp, winning awards at the latter two. The Toronto Star said it "offered a whimsy-coated lesson in economics." Time Magazine called it "a whimsical cartoon."
It's a Crime, Wolf Koenig, provided by the National Film Board of Canada
There was such a demand for the film that it was booked for hundreds of community screenings across Canada. The CBC were so impressed that they broadcast it on January 26, 1958. Pretty good for a film that was originally slated to be shown in trade union locals and service clubs only.
Both of these titles were animated in the same "cartoony" style as the multi-award-winning, Oscar-nominated animated short The Romance of Transportation in Canada (1952).* Both sponsoring agencies had used this film as an example of what they wanted when they discussed their needs with the NFB. As you'll see when you watch them, there are many similarities between the three films, including the music and humorous approach.
The NFB continued to make sponsored films (hundreds of them) into the 1980s (most were documentaries). The law was changed in the 1980s to allow federal departments and agencies to have films made in the private sector. Thus ended an era at the NFB. Luckily, these films are not lost. They are a terrific look at our past and, in the case of the two I've shared with you today, as charming and funny today as when they were released. They're excellent examples of what a little bit of imagination can do when you're covering a seemingly uninspiring subject.
Enjoy the films.
You can access NFB animated content at any time on our Animation page, here.
---
*Interestingly, the minister in charge of the NFB, Robert Winters, was not at all happy with The Romance of Transportation in Canada's cartoony style, and he lambasted Film Commissioner Arthur Irwin about it. Irwin said he loved the film and predicted it would win multiple awards. It did. It received a BAFTA, an award at Cannes, a Canadian Film Award and five others, in addition to an Oscar nomination.