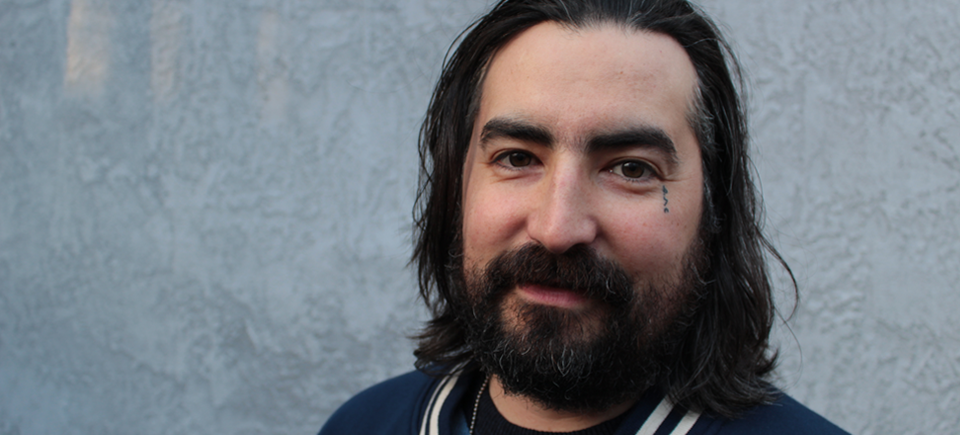 Jay Cardinal Villeneuve Tackles Unholy History
Jay Cardinal Villeneuve got the idea while working with the Truth and Reconciliation Commission. The Cree/Métis filmmaker had been hired by the Commission to record testimony from adult survivors of Canada's residential schools system and among those who came forward to tell their stories was Lena Wandering Spirit.
Fast forward a few years and Wandering Spirit is now the featured subject of Villeneuve's redemptive and ingeniously crafted short doc Holy Angels. Employing a potent blend of shadow puppetry, dance and interview footage, he documents Wandering Spirit's return to Fort Chipewyan, site of the residential school that stole much of her childhood.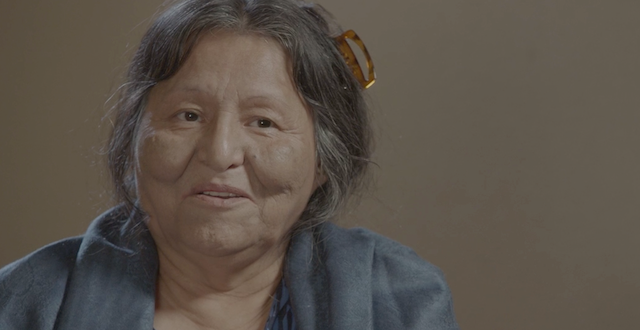 Now abandoned, the Convent of Holy Angels stands as an uneasy monument to Canada's all too recent history of internal colonialism — and provides Villeneuve with a powerfully evocative location. Wandering Spirit (above) spent 6 years here, one of an estimated 150,000 Indigenous children across Canada forcibly removed from their families over the decades, severed from their ancestral communities and cultures.
"The first decommissioned residential school I visited was St. Mary's Indian Residential School in Mission, BC, and it filled me with apprehension," says Villeneuve. "Since then I've been inside others and they all have the same feeling — the same history of forcing language and religion on children, and then, if the children survived, sending them back into the world, broken and lost."
Villeneuve, whose own grandmother was sent to residential schools, records Wandering Spirit's moving and measured memories of Holy Angels, juxtaposing her testimony with scenes of child performer Phoenix Sawan, innocently exploring the empty halls of the haunted institution. At one point Phoenix performs her own joyous version of the Jingle Dress dance, a tradition associated with the healing power of women, as if doing so will somehow purify the place, as if to turn the page on history.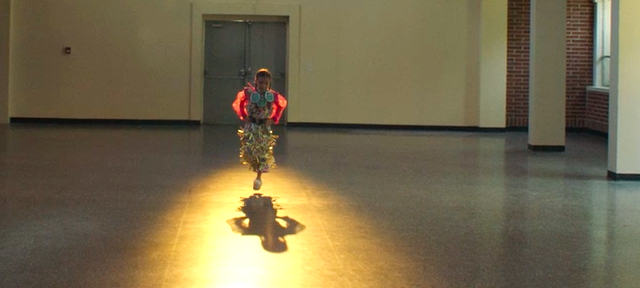 "It's time for some healing."
"It's time for some healing," says Villeneuve. "I wanted to make a film about residential school that would resonate in new ways with audiences, one that focuses more on the beauty of these children and less on the abhorrent events. I want to honour the survivors."
Raised in Slave Lake, Alberta and now based in Vancouver, Villeneuve works as a writer, director, actor and cameraman. His acting credits include a starring role on the APTN series Coyote's Crazy Smart Science Show and an appearance in Alejandro González Iñárritu's Oscar-winning feature The Revenant.
Among his director credits are no dogs and no Indians allowed, an experimental music video that debuted at 2010 ImagineNATIVE Film Festival; The Hanging of Louis Riel, a historic doc that premiered at San Francisco's American Indian Film Festival; Mîkiwâm, which screened recently at the LA Skins Film Fest and Indianer Inuit Festival in Germany; and the comic short Hickey Gone Wrong, an adaptation of a graphic novel by Richard Van Camp, which will be screening at the upcoming Asinabka Film & Media Arts Festival in Ottawa.
The producer of Holy Angels is Selwyn Jacob whose many credits include the recent hit Ninth Floor, a feature doc about the infamous Sir George Williams Riot which got its world premiere at the Toronto International Film Festival, making it onto TIFF's 2015 list of top ten features.
"Jay addresses the difficult subject of residential schooling in his own original and beautiful way," says Jacob. "This is painful history, one we're all still coming to terms with, and Jay manages to tackle it head-on while crafting a thoughtful and uplifting film."
Holy Angels was shot by Amy Belling and edited by Ileana Pietrobruno. It was directed by Jay Cardinal Villeneuve, and produced by Selwyn Jacob for the BC & Yukon Studio. Executive producer is Shirley Vercruysse. Watch for news of a fall launch.
New wave of Indigenous filmmakers
"There's a new wave of Indigenous filmmakers, in BC and right across the country, who are using cinema to expand our collective understanding of First Nations history and experience," says Vercruysse. "Jay is part of this exciting movement and we're delighted to get the chance to work with him."
The Convent of Holy Angels casts a shadow over another recent NFB production, Birth of a Family, a feature doc about the infamous Sixties Scoop that premiered at Hot Docs this spring. Directed by Tasha Hubbard in collaboration with writer/journalist Betty Ann Adam, it documents the first time that Adam unites with her three adult siblings, all victims of the Scoop. Hovering over their story, vivid in her absence, is the figure of their late mother, Mary Jane Adam, whose own childhood was scarred by Holy Angels.
A number of other titles in the NFB collection deal with residential schooling and its far-reaching intergenerational repercussions – films like Tim Wolochatiuk's We Were Children and the late Gil Cardinal's extraordinary autobiographical doc Foster Child.
The subject of Indigenous children and their welfare has been a central theme in the work of Alanis Obomsawin – in films like Richard Cardinal: Cry from a Diary of a Native Child and We Can't Make the Same Mistake Twice, a masterwork of documentary cinema that premiered at TIFF in 2016.
Back in 1971 Obomsawin launched her remarkable career with a simple but powerful short called Christmas at Moose Factory, featuring children from a residential school on the shores of James Bay. It was one of the first Canadian documentaries to accord a central place to Indigenous voices.
Christmas at Moose Factory, Alanis Obomsawin, provided by the National Film Board of Canada