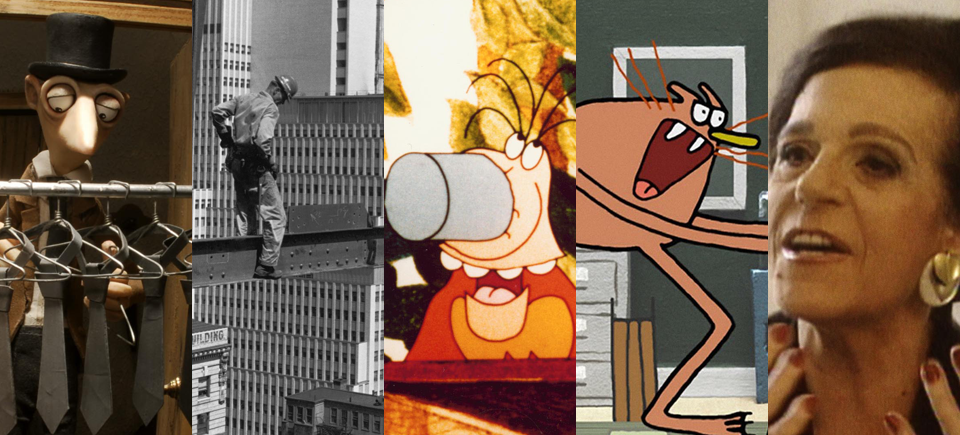 Work Work Work Work | Watch 5 Films This Labour Day Weekend
The Labour Day weekend is quickly approaching.
Every year, the Labour Day weekend marks the end of summer holidays and ushers in the dreaded grind of work and school. But before you try to remember your math formulas or how to tie a Windsor knot, you still have a glorious weekend all to yourself. What better way to enjoy that time off than by watching some free movies?
Enjoy a list of 5 short films about work… and just how far some people will go to avoid it.
Dangers at Work
Don Owen's High Steel (1965) opens on a New York skyscraper that Mohawk steelworkers are erecting—without wearing safety harnesses or using a safety net. The film is inter-cut with images of the Kahnawake Reserve and archival photos from the construction of the Quebec Bridge in the early 20th century where more than thirty Indigenous workers lost their lives. This film is a dizzying look at how sometimes, that mandatory office safety seminar is a good thing.
High Steel, Don Owen, provided by the National Film Board of Canada
Monotony at Work
Jean-François Lévesque's award winning animated short, The Necktie (2008), critiques the monotony and routine of a dead-end job. Years pass, and boredom replaces all aspirations for our protagonist, Valentin, until an old accordion emerges from the depths of a closet.
The Necktie, Jean-François Lévesque, provided by the National Film Board of Canada
Frustrations at Work
We've all had this happen to us: what do you do when a noisy co-worker invades your space and gets on your nerves? In, Elbow Room (2002), filmmaker Diane Obomsawin tackles that age old question while offering some humorous solutions.
Elbow Room, Diane Obomsawin, provided by the National Film Board of Canada
Procrastinators at Work
Some days, you just don't want to work at all! Just ask Eugene, the protagonist in Richard Condie's Getting Started (1983). Eugene is a concert pianist with only a few days to rehearse before an important recital. The problem? He keeps getting distracted by things around his apartment! Can he pull it together and buckle down and practice? Find out!
Getting Started, Richard Condie, provided by the National Film Board of Canada
Reflections on work
At the turn of the 21st century, filmmaker Jean-Claude Bürger wondered what the future would hold for Western workers in a world where the economy was increasingly globalized and where the gap between the rich and the poor was constantly increasing. While the alarmist predictions of the speakers in the film didn't quite come true, For Man Must Work or The End of Work (2000) is still worth viewing due to the insightful perspectives and pertinence of the questions raised in the film.