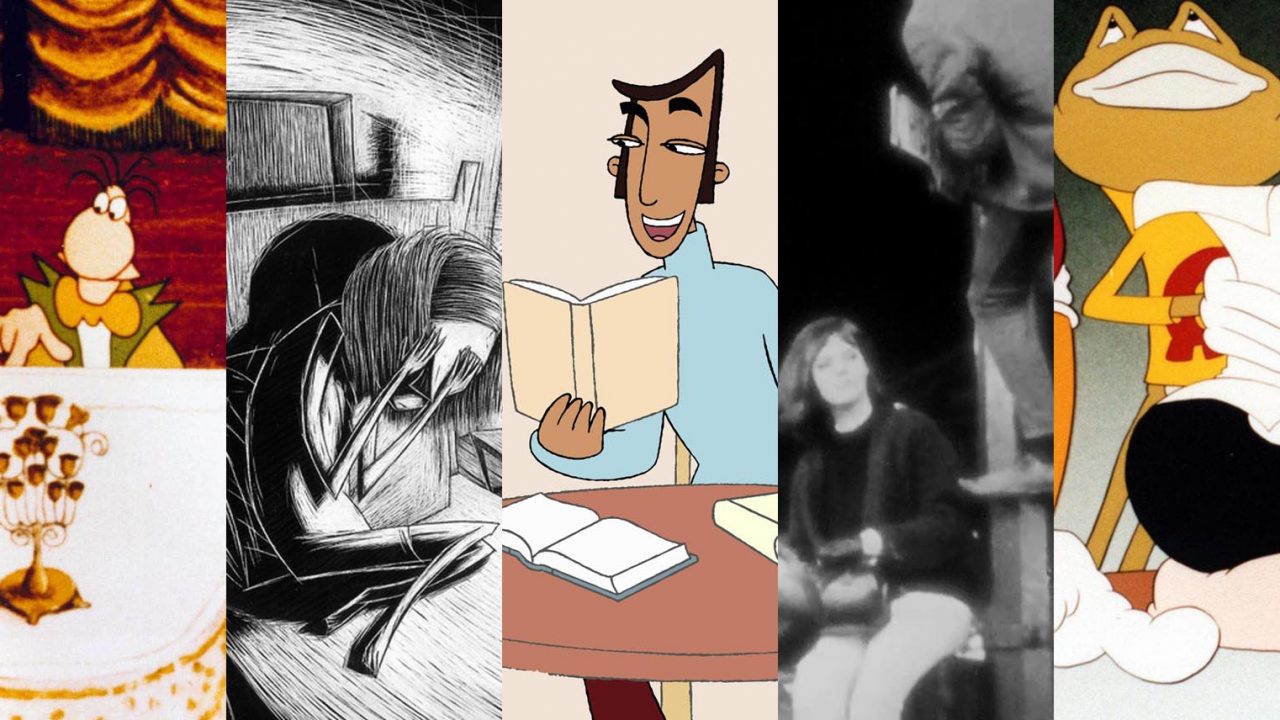 Watch 5 Films That Explore our Relationship with School
We have done the back-to-school thing on this blog so many times it's become a challenge to come up with new films to share. So, this year I decided to go a different route. Rather than selecting films about the institution itself, I've chosen five films that deal with our emotions around, and relationship to, school.
You'll notice I go from funny to dead serious in this post, and I apologize for the literary whiplash, but the truth is school brings out different feelings in each of us. For some of us, it's a place to learn and thrive, for others, it's a place to escape whatever's going on at home. Still for others, it can be a hostile place that induces fear and anxiety. We all experience life differently, and the same goes for school.
So, as summer wraps up, it's a good time to contemplate what school means to you. Maybe these five films will help.
Getting Started
Richard Condie is one of the wackiest filmmakers I've come across during my time at the NFB. Each of his films are different, but they're all instantly recognizable as one of his creations. They've all got this frantic, absurdist energy to them that's almost impossible to resist.
This film is about a man who knows it's time to get down to work and get serious but is completely unable to. This guy is a master procrastinator. He even gives me a run for my money. But it seems like there is nothing on earth that's going to get him to commit his rear to that bench and practice the piano.
I don't know about you, but nothing captures the mood of late August/early September in our house better than this film. There's even a temper tantrum thrown in for good measure! Getting my kids out of summer mode and into school gear is one of the more challenging aspects of parenthood, especially as they grow older. The novelty and excitement of back-to-school has worn off, and they're recognizing it as the 20-year sentence it really is.
Getting Started, Richard Condie, provided by the National Film Board of Canada
The Girl Who Hated Books
I have a soft spot in my heart for this film, possibly because it was one of my daughter's favourites when she was younger; probably because the wonderful Joe Meunis took the time to meet her and give her a signed copy.
I'm including the film in this post because it perfectly captures what transpired with my own kid over the past year. We are a family of readers, all except my daughter. While the rest of us would have our noses in a book, she'd be running around, looking for action. But last winter, something happened. She discovered a series she enjoyed. From that moment on, she never looked back. Gone was her distaste for books, replaced with an unquenchable thirst for stories.
School is great for exposing us to books we might never have otherwise picked up. How many of us would have read Animal Farm, Paradise Lost, or even Of Mice and Men on our own? My own love of Shakespeare comes directly from a teacher who'd stand on her desk reciting soliloquys with enormous passion. Isn't that what education is all about? Opening our minds to new stories, and new ideas?
The Girl Who Hated Books, Jo Meuris, provided by the National Film Board of Canada
Tragic Story with Happy Ending
This haunting animated film from Regina Pessoa is about a young girl who feels like she was born into the wrong body. Equipped with a heart that beats too loudly, she's convinced she was meant to be a bird. She is at first shunned by her community, but as she grows to accept herself, so do the others around her.
I realize this might seem like a bizarre choice to include in a back-to-school post, but in fact it makes total sense. While most kids find the prospect of heading back at least tolerable, there are some kids who dread the return more than anything. Kids who are unhappy, who are bullied, or who feel different. Any kid who's not feeling comfortable in their own skin is not going to be happy in a crowd full of others.
I recognize this feeling well. Grades three to five were a special kind of torture for me. I was bullied endlessly, and as I watched the little girl in this film curl into a ball on her bed, I could feel the knots forming in my own stomach. Feeling different is never fun, and this film is a great reminder of how a little compassion can go a long way.
Tragic Story with Happy Ending, Regina Pessoa, provided by the National Film Board of Canada
The Invention of the Adolescent
By taking us back to the 16th century, this film shows us how much we take the expression "back-to-school" for granted.
Back then, there was no formal education system. You basically picked up what you picked up being around adults. If you were lucky, you would apprentice with a craftsman, tradesman, or artist. You'd learn all you needed to know to get by in life. But there was certainly no back-to-school shopping and overpriced textbooks.
This short documentary was filmed in the late 1960s and it shows us the changing meaning of youth through the ages, dating back to the 16th century. Then, children were just smaller adults waiting to happen. They started work at the tender age of 7 and never looked back. There was little separation between young and old. It was like one big party.
Obviously, that's changed. It was sometime around the 19th century when educators and reformers came together to shape a different future for our youth. I'll tell you one thing – that future sure came with a lot of angst and drama.
The Invention of the Adolescent, Patricia Watson, provided by the National Film Board of Canada
Get a Job
If ever your kid needs motivation to get into the spirit of back-to-school, show them this film.
This classic from 1985 features a down-on-his-luck pooch searching for employment. Utterly unqualified, and seriously under-educated, he bounces from interview to interview with nothing but the guidance of a motley crew of doo-wop singers.
It's a fun film, and the music is great and catchy – I especially loved their take on Glenn Miller's In the Mood. But it deals with some major stuff – self-motivation, confidence, entering the job market, and putting yourself out there. You know what prepares you really well for all of these things? A good education.
So, beneath the humour of the film, there's a serious message: stay in school.
Get a Job, Brad Caslor, provided by the National Film Board of Canada
Discover more Educational blog posts | Subscribe to the NFB Education Newsletter | Follow NFB Education on Facebook | Follow NFB Education on Twitter | Follow NFB Education on Pinterest