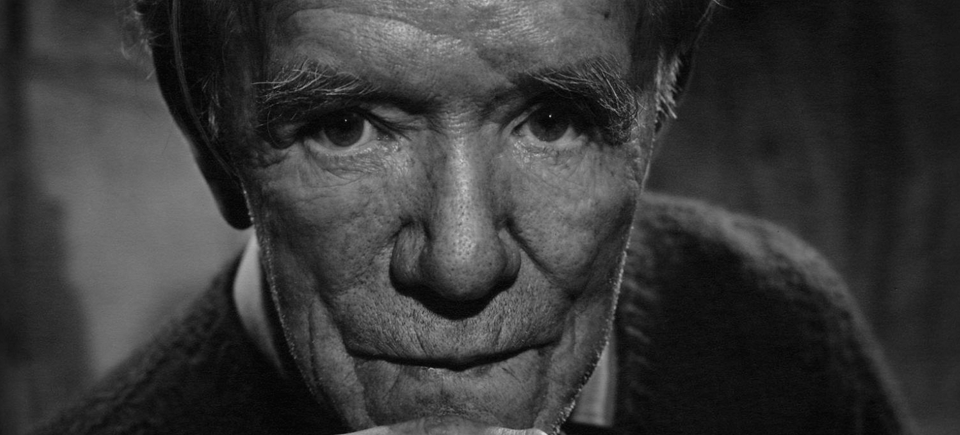 The Haunted Artist of Canada
On September 8, 1969, renowned Canadian artist Frederick Horsman Varley died at the age of 88. Varley was an official war artist during World War One as well as a founding member of the celebrated Group of Seven. Late in his career, the NFB profiled him in a documentary that was part of the Canadian Artists film series. The film Varley, produced in 1953, is the subject of my blog post today.
Varley is not a typical documentary. For one thing, the entire film was staged. As a matter of fact, it was shot, directed and scored like a fiction film. I think director Allan Wargon should be applauded for this approach. Varley could have been a standard documentary portrait, which would have dated quickly. Instead, we get a biopic of the great artist in line with some of the best fictionalized biographies out there.
Wargon shot the film in colour and 35mm. Had he shot it in black and white (which was very common at the time), the film would have suffered greatly. Varley's paintings, on display in the film, would have lost a great deal of their impact. The 35mm cinematography is glorious. Kudos to cinematographer Denis Gillson.
The film's "script" is very simple. Varley, who was in his 70s at the time, returns to his studio in Toronto from the countryside where he has been sketching. He first admires a leaf he finds on the ground, then a beautiful woman who walks by. There is nothing sexual about this. He is an artist admiring the beauty all around him. He enters his studio and looks at his sketches to decide what he will paint. He doesn't get far. He is hungry and must go out to get some food before he can put his vision on canvas.
Wargon then cuts away from the artist to show us his paintings. The narrator recounts some of the terrible war experiences Varley lived through – horrors that damaged his soul and forever influenced his paintings. All accompanied by Louis Applebaum's dramatic musical score. Varley returns to the studio with food and begins his painting.
It is the very simplicity of this film that I love. In 16 minutes, it paints a portrait (sorry, I couldn't resist) of the tortured artist. A simple film about his unique process.
Varley, Allan Wargon, provided by the National Film Board of Canada
Wargon, an artist himself, had met Varley in the late 1940s and had always wanted to make a film about him. As a young filmmaker, he asked the NFB if he could direct a film on the great artist. The NFB hesitantly accepted, but the budget allocated was not sufficient to shoot in 35mm and colour. The National Gallery of Canada stepped up and added some money so that the film could go ahead. Varley's actual studio was much too small to shoot in so it was recreated in a film studio in Toronto with moveable walls to allow the bulky 35mm camera to move around.
Wargon was given the opportunity to finish the film at Warner Bros. studios in Hollywood, where they had very sophisticated methods for colour correction, something that was not available at the NFB. This was Warner Bros.' way of thanking the NFB for using Eastmancolor 35mm film to shoot Royal Journey, the first film ever to use this stock. The studio was very satisfied with the result and embraced this process.
Whether you're an art lover or not, I invite you to watch this beautiful film portrait of a great Canadian artist. It shows a tortured soul who still found beauty in everyday life.
Enjoy the film.