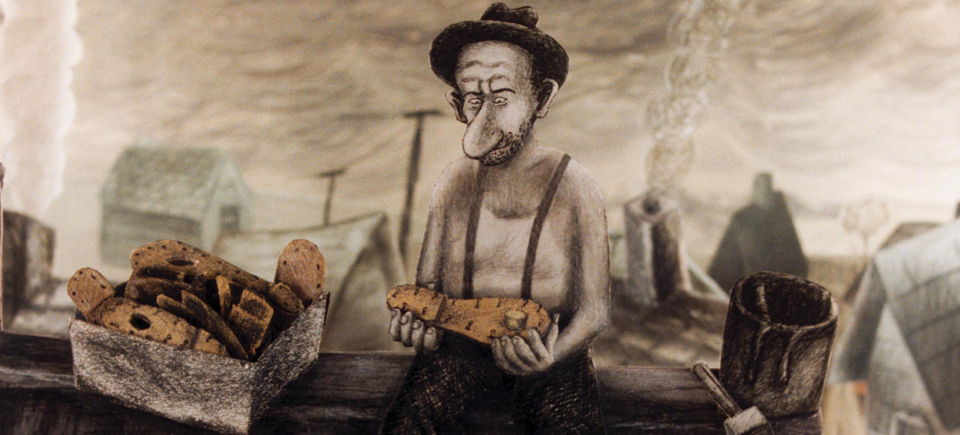 Animated Folklore | Watch 5 NFB Folk Tales
In Canada we take a lot of pride in our diversity and that extends to our stories and folk tales, too. Many great NFB animated shorts have been inspired by these different and unique stories—here's a selection of 5 animated films about folk tales that we hope you'll enjoy.
One such work is The Magic of Anansi by Jamie Mason, based on short fiction by Sugith Varughese. A key trickster figure in West African folklore, the spider Anansi has been the hero of countless tales. Here he stars in a 2001 short from Talespinners, an NFB animated collection that brings children's stories to the screen from diverse Canadian communities.
The Magic of Anansi, Jamie Mason, provided by the National Film Board of Canada
Last year the NFB blog brought together four Mi'kmaq legends. In How People Got Fire, director Daniel Janke now brings us to the Yukon's Tagish First Nation to explore how the legend of fire lies at the heart of this community, in a work that garnered top honours at Indigenous film fests in Canada and the U.S.
How People Got Fire, Daniel Janke, provided by the National Film Board of Canada
Ben Zelkowicz's The Erlking is a nightmare come to life, with a poem by Goethe set to the music of Franz Schubert, as a father loses his child to the clutches of the elf-king: a figure from Danish folklore who's given a very nasty makeover in this wood cut-style adaptation. Not for the young ones!
The ErlKing, Ben Zelkowicz, provided by the National Film Board of Canada
On a much lighter note, Jewish folk humour is on hilarious display in Eugene Fedorenko and Rose Newlove's Village of Idiots. This short chronicles the comic misadventures of "Shmendrik"—it helps to speak a little Yiddish to appreciate the name—as he sets out on his new life. Written by John Lazarus, this 1999 film amassed a staggering 19 prizes.
Village of Idiots, Eugene Fedorenko & Rose Newlove, provided by the National Film Board of Canada
It's fascinating to see how the classic German folk tale of Hansel and Gretel finds new life in the Caribbean in Mind Me Good Now!, co-directed by Chris Cormier and Derek Cummings. Another from the NFB's Talespinner series, this 2005 short was based on story by Trinidadian author Lynette Comissiong. 
Mind Me Good Now! , Chris Cormier & Derek Cummings, provided by the National Film Board of Canada