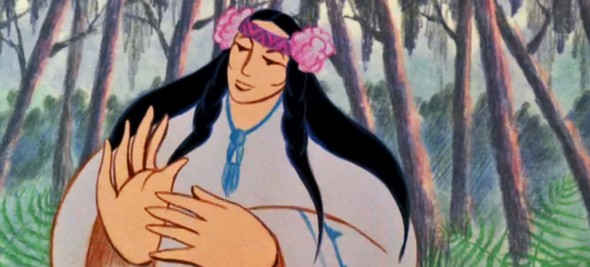 Watch 4 Mi'kmaq Legends Come to Life on NFB.ca
Films
Mi'kmaq or (L'nu, "the people" in Mi'kmaq) are Aboriginal peoples who are among the original inhabitants of the Atlantic provinces of Canada. Today, Mi'kmaq communities are located mainly in Nova Scotia and New Brunswick, but with a significant presence in Quebec (Restigouche/Listuguj), P.E.I., Newfoundland, Maine and the Boston area.
Get a taste of this people's fascinating ancestral mythology with these 4 short films that bring, through ingenious animation and theatre, their legends to life.
Maq and the Spirit of the Woods
Maq and the Spirit of the Woods, Phyllis Grant, Office national du film du Canada
Meet Maq, a young Mi'kmaq boy who discovers his true potential while traveling through the woods to meet his grandfather. Directed by Mik'maq artist Phyllis Grant, this cartoon with a message is part of the Talespinners series, which uses vibrant animation to bring popular stories from a wide range of cultural communities to the screen.
Summer Legend
Summer Legend, Françoise Hartmann, Office national du film du Canada
Watch great spirit (and Mik'maq cultural hero) Glooscap battle Winter in order to bring young, beautiful and sultry Summer to the North, in this stunning animation by Françoise Hartman.
Vistas: Little Thunder
Vistas: Little Thunder, Nance Ackerman et Alan Syliboy, Office national du film du Canada
Inspired by the Mi'kmaq legend The Stone Canoe, this very short animation follows Little Thunder (Apje'ji'jp Gagtugwaw, in Mi'kmaq) as he leaves his family and sets out on a cross-country canoe trip to become a man. Directed by Halifax "artivist" Nance Ackerman and Alan Syliboy, a visual artist renowned for his use of Mi'kmaq petroglyphs (rock drawings), Little Thunder was created as part of Vistas: Aboriginal Expressions, a series of 13 short films by Aboriginal filmmakers on the subject of nationhood.
Medoonak the Stormmaker
Medoonak the Stormmaker, Les Krizsan, Office national du film du Canada
Join the Mermaid Theatre of Nova Scotia for a colourful retelling of the legend of Medoonak, the reckless ruler of the winds and the seas who was persuaded to quieten his magical wings and calm the churning waters so that the Mi'kmaq fishermen could catch food for their people. Here, the story is interpreted in mime, dance and narration by elaborately garbed and masked actors.