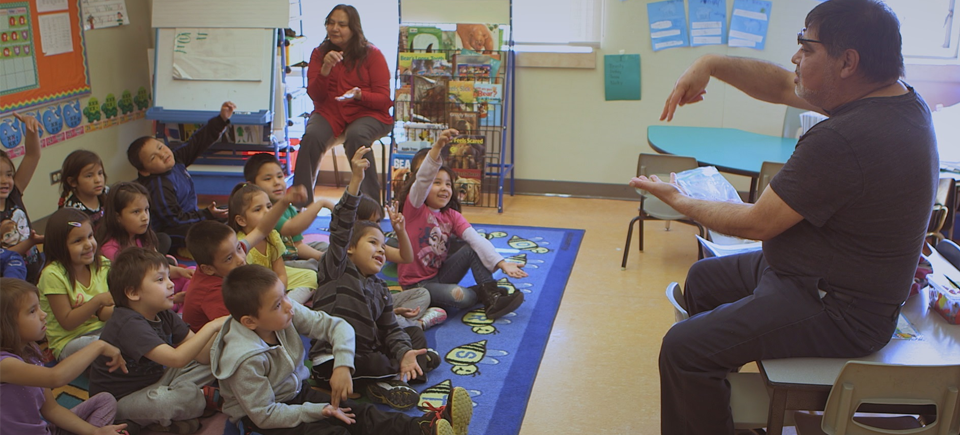 NFB Film Club – Spring 2018
What better way to get through the last third of winter than looking ahead to spring and the incredible program we have lined up for the NFB Film Club. For those of you not in the know, the NFB Film Club provides the opportunity for people to watch new, thought-provoking documentaries, along with classic films and animation for the whole family. And it's all free! Just check with your local library.
This spring, we've put together 6 different programs, 5 for the general public and one geared towards kids.
Aabiziingwashi (#WideAwake)
This program is part of our Indigenous Cinema on Tour program, which offers over 250 films from the NFB's collection for free to communities and associations who want to screen them across Canada. Included in this program are:
Our People Will Be Healed
Alanis Obomsawin's 50th film delves into the Cree Community in Norway House, Manitoba and shows how its been affected by the education system. It's a hopeful film that shows how in an appropriate learning environment, Indigenous youth can gain the power to realize their dreams.
Our People Will Be Healed, Alanis Obomsawin, provided by the National Film Board of Canada
A Better Man
This captivating doc by Attiya Khan and Lawrence Jackman portrays a series of intimated conversations between a formerly-abused girlfriend, and her abuser. It offers a new way of approaching an age-old issue, infusing new energy into the movement to end violence against women.
Memento Mori
Enter Canada's busiest organ-transplant hospital and see human drama unfold like it's never before been captured on film. As we pass through the hospital, among the living and the dying, we encounter one family who must make an agonizing decision after the loss of a child.
Gulîstan, Land of Roses
Meet the female fighters of the Kurdistan Worker's Party (PKK) as they battle for democracy in the Middle East. They represent a hidden face of a highly mediatized war: the feminist who stands against ISIS, the armed militants of the so-called Islamic State group.
Freelancer on the Front Lines
We've entered an entire new era of news, one in which freelance reporters must figure out how to eke out their living. Enter Jess Rosenfeld, a reporter who covers the thorny politics of the Middle East and is making use of a form of independent, unconventional journalism.
Freelancer on the Front Lines, Santiago Bertolino, provided by the National Film Board of Canada
For Kids – Children's Program
Seven films have been hand-selected for this program which is sure to please your little ones. It includes two brand new releases.
Hedgehog's Home
In a lush and lively forest lives a hedgehog. He is respected and envied by the other animals. However, Hedgehog's unwavering devotion to his home annoys a quartet of insatiable beasts. Together, they march off towards Hedgehog's home and spark a tense and prickly standoff.
Hedgehog's Home, Eva Cvijanovic, provided by the National Film Board of Canada
The Mountain of SGaana
This film spins a magical tale of a young man who is stolen away to the spirit world, and the young woman who rescues him. Haida filmmaker Christopher Auchter's dream-like gem brilliantly entwines traditional animation with formal elements of Haida art, which are brought to life by a rich, evocative palette and stylized effects.
Ludovic: A Crocodile in My Garden
In this short film from the Ludovic collection from Co Hoedeman, our young bear reigns over his menagerie of paper animals and their jungle home.
The Dingles
Based on the book of the same name, this animated short shows what happens when an unexpected violent wind disrupts a family's idyllic life.
I Want a Dog
Sheldon Cohen's classic tells the tale of a little girl who will do just about anything to prove to her parents she's ready to take care of a dog of her own.
How Dinosaurs Learned to Fly
Young children everywhere will enjoy the possibly-true story of how a group of rebellious dinosaurs discovered they could fly.
The Juggler
Embark on a surrealistic adventure in this live-action short that features a street-busking juggler who's mutinous juggling balls take him for a ride.
For more information on the NFB Film Club, contact:
Marianne Di Domenico | 514-283-8953 | m.didomenico@nfb.ca