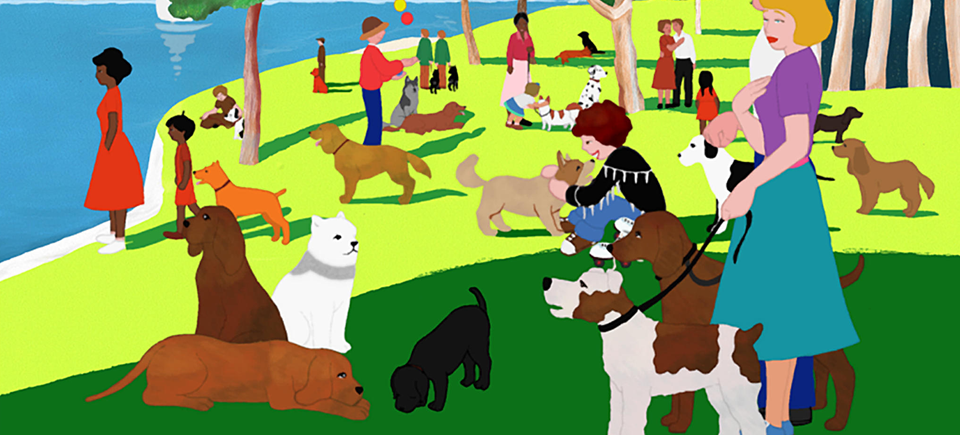 Woof Woof Bark (or 4 Films About Dogs)
Ah, dogs. They're like wolves who really like belly rubs. Indeed, from the stalwart guarding of a Great Dane, to the yelping moxie of a tiny Chihuahua, dogs are perhaps our most endearing companions and loyalest of friends.*
So, pawing around the NFB archival backyard, we've dug up some old treasure in the form of four films that revolve around our favourite furry ruffians. Simultaneously funny, heart warming and entertaining, these candid films about canines offer a personal perspective that goes to the very center of the relationship between human beings and our four-legged doggy life-partners.
* Take that, cats.
I want a Dog
Based on the Dayal Kaur Khalsa book of the same name, this adorable, short animation follows May, a young girl who desires a dog more than anything else in the universe. The problem is, however, that her parents remain adamant that she should wait until she is older. But, keeping with her motto of  "if first you don't succeed, try try again" May refuses to give up. With a catchy soundtrack you'll be humming all day, this charming animation is sure to put a smile on your face.
I Want a Dog , Sheldon Cohen, provided by the National Film Board of Canada
Every Dog's Guide to Complete Home Safety
Meet Wally, he's a good boy. He's also very concerned about safety. Which turns out to be very handy when he's assigned to a new home with owners who are quite low on safety consciousness. So watch as Wally provides over 40 handy safety tips and tricks for homes with young children in this endearing, short, funny animation.
Every Dog's Guide to Complete Home Safety, Les Drew, provided by the National Film Board of Canada
The Sparky Book
A film sure to tug on your heart strings, this half live-action, half animation tells the tale of a dog named Sparky(as narrated by a talking goldfish). Sparky and his human, Brigitte, are the best of friends and companions. Unfortunately, Brigitte suffers from a debilitating heart condition. A  heartbreaking film about the deep bonds between humans and dogs
The Sparky Book, Mary Lewis, provided by the National Film Board of Canada
It's a Dog's Life
Do you like dogs? Do you like inter-galactic travel? Well, you're sure barking up the right tree with this film. It's a Dog's Life follows the loveable Fifi, a dog who loves to read the science section of the newspaper and fantasizes about flying away on a spaceship. Unfortunately for him, however, Fifi is perpetually blamed for his families own follies, and what follows is an important urban fable about learning to live together. A fun film for anyone who loves dogs.
It's a Dog's Life, Julie Rembauville & Nicolas Bianco-Levrin, provided by the National Film Board of Canada