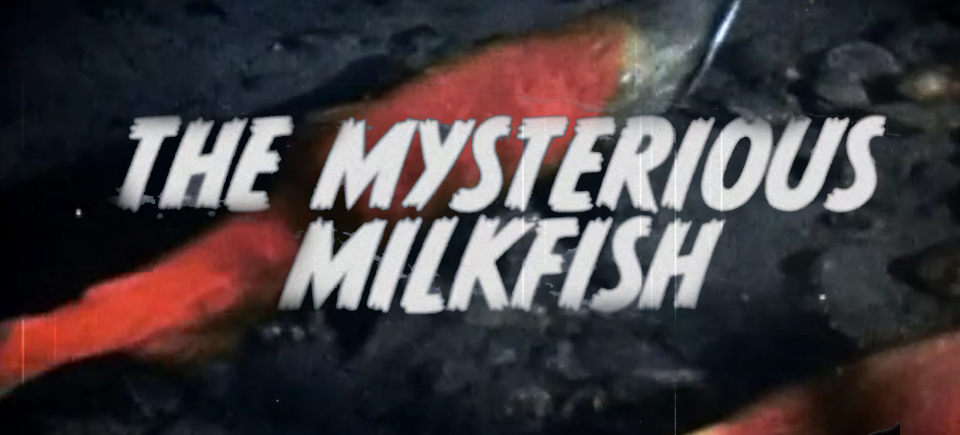 The Mysterious Milkfish and Other Totally Real Animals
This April Fool's Day, we had a little fun.
Born from a love of our classic docs and a puckish desire to make you laugh, we created a fake trailer for a fake film that totally probably could have existed, called The Mysterious Milkfish.
We claimed that this 100% real fish could have been found in British Columbia's Fraser River, and that it  was prized for being a rich source of protein, which was found both in its flesh, and in the milk-like substance it secreted. Again, we have to assure you this fish could maybe exist.  We even went so far as to make a fake electronic press kit that you can grab some images from and see what super real film festivals absolutely without a doubt accepted this 100% real film.
But, because we value truth and honesty here, we decided to put together a list of all the other completely real animals that we've made films about over the years. No need to check your Encyclopedia Britannica here, I assure* you these wonderful animals are the real deal**.
Pigbird
Get ready for disaster with Richard Condie, a man renown throughout the land for his documentary prowess, as he regales you with the zany tale of what he managed to document in 1981 when a seemingly clever young man managed to smuggle his exotic pet through customs.
Pigbird, Richard Condie, provided by the National Film Board of Canada
Arkelope
Meet the arkelope, the endangered, prehistoric animal at the center of Roslyn Schwartz's documentary short who was nearly driven to extinction when faced with humanity's passivity before the all-consuming TV set. Such a tragic, historical tale.
Arkelope, Roslyn Schwartz, provided by the National Film Board of Canada
The Phoenix
You might be thinking that the phoenix is just an ancient myth, but you'd be wrong. This legendary bird with the amazing power of self-regeneration, was bravely captured on film by Gayle Thomas in 1978, but due to the bird's flame powers, all footage was burned. Thomas spent 12 years meticulously recreating her footage with animation, and we invite you to watch it now.
The Phoenix, Gayle Thomas, provided by the National Film Board of Canada
*I absolutely do not
**They aren't