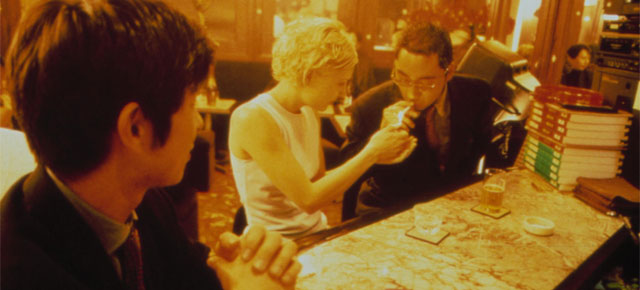 Top 5 most-viewed films published on NFB.ca in 2013
In 2013, we continued to add to our online collection, which currently has over 1700 films for your viewing pleasure. Curious to know what the most viewed films online are lately around these parts? Here's your countdown of the Top 5 most-viewed NFB films that were published online in 2013:
This feature documentary begins with the words: "It's a game we all agree to play.  We are buying and selling dreams." The film follows 4 young Canadian women who worked in Tokyo as hostesses in the "mizu-shobai," exclusive Japanese nightclubs running a not-quite-legal enterprise. Here, powerful men pay for companionship, to feel special, interesting and attractive. The women are paid to talk, laugh and ensure the drinks keep flowing.  Some may call it easy money, but this film's closer examination of the trade shows it's anything but.
Tokyo Girls, Penelope Buitenhuis, provided by the National Film Board of Canada
Koenig and Kroitor teamed up (as they did to follow Paul Anka in classic short doc Lonely Boy, recently explored on our blog), to follow famed Canadian pianist Glenn Gould to New York City for a behind-the-scenes look at him recording at Columbia Records in this short documentary.  If you enjoy this film, I recommend you also take a look at Glenn Gould – Off the Record (1959), in which Koenig and Kroiter joined Gould at his cottage!
Glenn Gould – On the Record, Roman Kroitor & Wolf Koenig, provided by the National Film Board of Canada
Tracing the movement of people from poor rural villages to industrialized cities in developing nations, this short documentary examines challenges that still hold true. Transportation affects the most basic needs of inhabitants, many of whom have arrived in utter poverty seeking better lives and opportunities. This doc shares amazing, disturbing and thought-provoking visuals from cities around the world, and how people move within them, and offers what still may be a surprisingly simple solution.
Mobility, Roger Hart, provided by the National Film Board of Canada
This hilarious, short animation was produced for Customs and Excise Canada, by Oscar®-nominated animator Richard Condie. A hapless man tries to smuggle a creature through customs, and we are treated in the most amusing way possible to the disastrous consequences that ensue.  (I wondered if the appearance of Pigbird at #2 on this list had anything to do with this year's infamous case of Justin Bieber's customs-confiscated capuchin monkey?  Justin: watch this film. You can thank me later.)
Pigbird, Richard Condie, provided by the National Film Board of Canada
Our most-viewed film published online this year is longtime NFB filmmaker Alanis Obomsawin's vital documentary on the ongoing housing crisis faced by the First Nations people of Attawapiskat.  This past year, the Idle No More movement made headlines as Chief Theresa Spence went on a hunger strike and called for emergency help to address the crisis.
This film gives a deeper understanding to the people affected by this crisis – which is far from solved – and how we are all implicated. I'm glad to see this film has been the most-viewed of our films published in 2013, and I'm hoping so much that together, we are doing more than just watching, but working toward real solutions. (Note: This film is available for download and/or 48-hour rental.)
The People of the Kattawapiskak River, Alanis Obomsawin, provided by the National Film Board of Canada