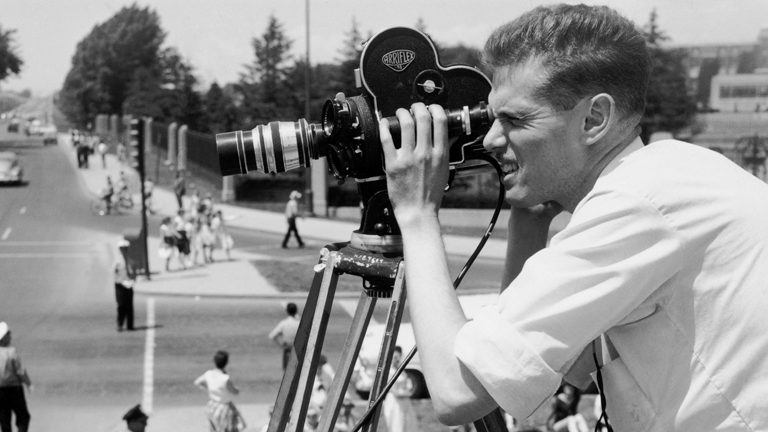 The Masters Series: Wolf Koenig
Wolf Koenig was born in Dresden in 1927. In 1937, he fled Nazi Germany with his family to seek a new home in Canada. They ended up in Cambridge, Ontario, on a 45-acre farm.
Wolf came to filmmaking as a career in his early 20s, when an NFB crew arrived on his farm to film the demonstration of a new machine. He approached them, and six weeks later was working as a junior splicer.
He worked his way up through the ranks, being multi-talented and a quick study. He collaborated with some of the greats, like Colin Low and Roman Kroiter. In addition to his work in animation, he was also one of the founders of the Direct Cinema at the board.
His goal was simple –
"Show our world and the lives lived by ordinary people, but without influencing or manipulating them. Observe but do not disturb. Preferably, remain invisible. All with the purpose of showing us all who we are."
Wolf was a master with the camera, having done the groundbreaking work featured in Norman McLaren's Neighbours. He was as fascinated by the technical aspects of filmmaking as he was by the images and the storytelling. And he was uniquely suited to excel in all three.
He retired in 1995, moving back to Ontario to build furniture. He passed away in 2014, but his contributions and his legacy will live on in documentary cinema forever.
City of Gold
In this film, made together with Colin Low, we go back in time to the heyday of Dawson City, during the gold rush. Celebrated Canadian author, Pierre Berton, who was born there in 1920, tells the story of his father's attempts to strike it rich in 1897.
City of Gold shows the stark contrast between Dawson City during its one crazy summer and the town it had evolved into by the time Berton was born. He's a brilliant storyteller, and its easy to get sucked in and swept along on the journey. It's crazy to think that of the tens of thousands who made it there, only a few struck gold.
The film came about when Colin Low was called in to look at some photos that had been discovered in an old, run-down house. He called in Wolf and Bob Verrall, and the rest is history. Low actually made two films out of the material, it was so abundant. The other was simply entitled, Gold.
City of Gold, Colin Low & Wolf Koenig, provided by the National Film Board of Canada
Glenn Gould: Off the Record
This is such a great slice-of-life film that captures the personal side of one of the greatest classical pianists of the 20th century, Glenn Gould. Gould, boy genius, had developed perfect pitch by the age of 3, and by the age of 6 was performing concerts for large gatherings at his local church.
But this film isn't about Gould's performances – for that you need to watch Glenn Gould: On the Record. This one is about what goes on when Gould isn't performing. Or, perhaps more accurately, when he isn't recording. That's one of the things you'll learn about him in this film, that he's much more comfortable in studio than he is on stage.
From his famous adjustable chair to his introvert's paradise on Lake Simcoe, we get to peek into many different facets of the artist's life. Gould talks a lot about his life and work, and it's a fascinating tale that he weaves. One of kookier artists (if that's the right word), it's a pleasure to get to know him a little bit better.
Glenn Gould – Off the Record, Roman Kroitor & Wolf Koenig, provided by the National Film Board of Canada
It's a Crime
Back in the day, it seems that NFB filmmakers moved fluidly between genres, from animation to fiction to documentary and back again. I guess it was a by-product of having all the talent in-house, rather than on a contract or freelance basis.
This film was a joint project between Wolf Koenig, who directed, and Gerald Potterton, who animated. Talk about a dream team! Potterton, of course, went on to work on films like The Yellow Submarine and Heavy Metal, furthering his pedigree.
In this story, animation and humour are used to present options to seasonal unemployment. There are many industries where this is an issue, and the point is driven home by none other than a thief. Yup, a thief. He's irritated because during the off months, all the safes he cracks are bare, forcing him to undertake less desirable jobs to get by.
It's a Crime, Wolf Koenig, provided by the National Film Board of Canada
Lonely Boy
"We want Paul! We want Paul!" chant the many, many women standing outside the theatre door. And they're not talking about Paul McCartney. In fact, he's not even a blip on their radar yet. They're screaming for Paul Anka.
"Who's Paul Anka?" my 10-year-old daughter asked.
"The Justin Bieber of his day," I replied.
"But he's wearing a suit."
And he was. There was absolutely nothing counter-culture or rebellious about Paul Anka. He was clean-cut, well-dressed, and polite as hell. In fact, within the first 5 minutes of the film we get a full rundown of his great personality by a handwriting analyst. (This was another treat with this film – my mom is a handwriting analyst.) The kid was all right.
With this film, Wolf Koenig and Roman Kroiter have crafted a well thought out look at what happens when you go from being a nobody to a star during the short span of 5 years; what it means to go from mere entertainer to a teen idol. It's quite the ride.
Lonely Boy, Wolf Koenig & Roman Kroitor, provided by the National Film Board of Canada
I Was a Ninety-pound Weakling
This quaint little film from 1960 was a collaboration between Wolf Koenig and Georges Dufaux, who clearly had a thing for sports-based films. It's a look at how luxury has made us lazy and offers some (for the time) non-traditional methods for getting fit.
The theory here is that every time a machine robs us of a job that used to be done by muscle, we get a minute fraction lazier. And this was back in 1960. Talk about prescient! To counteract this problem, we get several suggestions for how to stay fit, including wrestling, weight-lifting, and using those crazy crazy machines I used to find in the gym in the basement of my grandparents' apartment building. You know – the one with the belt that vibrates? Or the roller things you sit on to shape your rear?
We also get to hear some experts weigh in on the topic, like the physical director at the YMCA, who was wearing A SUIT. Or, the famous Ben Weider, who takes us on a tour of "physical culture" centres.
This is really a gem of a film, not to be missed. The storytelling is great, the pacing works well, and it's just an all-around joy.
I Was a Ninety-pound Weakling, Wolf Koenig & Georges Dufaux, provided by the National Film Board of Canada